This page is part of © FOTW Flags Of The World website
Young Greens Parties, Switzerland
Last modified: 2016-01-02 by rob raeside
Keywords: young greens |
Links: FOTW homepage | search | disclaimer and copyright | write us | mirrors

---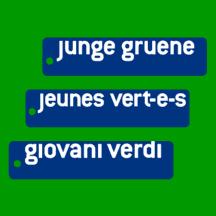 image by M. Schmöger, 13 December 2015
---
See also:
---
The youth branch of the GPS/PES are the Junge Grüne/ Jeunes Vert-e-s/ Giovani Verdi (= Young Greens). Some of the local branches have slightly differing names. It seems to be a general feature of the local or cantonal branches of the Young Greens to have a specific animal as symbol.

The general flag of the Young Greens is just the organization's name in the three languages in white on three blue bars, all on a green field [1,2,3,4,5,6,7,8,9,10,11,12,19].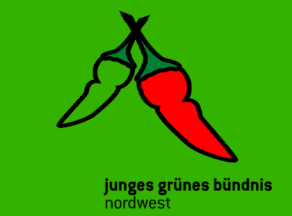 image by M. Schmöger, 13 December 2015

The regional branch in the Northwestern part of Switzerland (cantons Basel-Stadt and Basel-Land) is called "Junges Grünes Bündnis Nordwest" (Young Green Federation Northwest). The flag is green with the organization symbol (a green and a red chili in saltire) in the center and the branch name in the lower fly [13,14,15].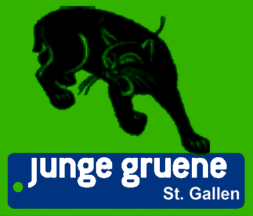 image by M. Schmöger, 13 December 2015
The St. Gallen cantonal branch uses a flag with a black lynx over a blue bar with the branch name in white [16,17,18,19].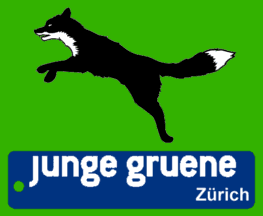 image by M. Schmöger, 13 December 2015

The Zürich cantonal branch uses a flag with a black-white fox over a blue bar with the branch name in white [19,20,21,22].

The symbols of other branches, where I have not found any evidence for a particular flag, are:
Glarus: chamois
Appenzell: shepherd dog
Wil-Fürstenland (in canton St. Gallen): salamander
Vaud: bee
Geneva: snail
Neuchatel: ladybeetle

[1] http://data2.jungegruene.ch/userfiles/files/20131104_150144.jpg
[2] http://www.lu-wahlen.ch/uploads/pics/110402-WAH-JungeGruene-AKWDemo-101-a-DSC_0368.jpg
[3] http://data2.jungegruene.ch/userfiles/images/DSC04539.JPG
[4] http://data2.jungegruene.ch/userfiles/images/photo%203co.png
[5] http://www.1815.ch/site/assets/files/0/75/97/58/466/breithorn.650x0n.jpg
[6] http://data2.jungegruene.ch/userfiles/images/Kiffen2.jpg
[7] http://files.newsnetz.ch/story/1/8/0/18060175/7/topelement.jpg
[8] http://data2.jungegruene.ch/userfiles/images/1maijg.jpg
[9] http://data2.jungegruene.ch/userfiles/images/Asyldemo.jpg
[10] http://www.gruene-zug.ch/uploads/tx_news/DSC_8949.JPG
[11] https://lh3.googleusercontent.com/-rIpdwPF4SzI/VU0h0S0pfCI/AAAAAAAABP4/ISFx1zptwHw/w426-h254/setif.jpg
[12] http://www.krifo.ch/fileadmin/kanton/bilder/rohstoffe.jpg
[13] http://static.a-z.ch/__ip/BEWkXGZHekXjSEE-x6u2qqwq3LQ/d571771a6e8cb0634bd3eeae5c09b326670d0bfb/teaser-medium/walkampf-aktion-von-junge-gruene-buendnis-nordwest
[14] http://data2.jungegruene.ch/page_pics/pic_163.jpg
[15] http://data2.jungegruene.ch/page_pics/pic_122.jpg
[16] http://data2.jungegruene.ch/userfiles/images/SG_stadtparlament_2012%281%29.jpg
[17] http://gruene-sg.ch/wp-content/uploads/2015/10/KandidatenKR2015.jpg
[18] http://data2.jungegruene.ch/page_pics/pic_87.jpg
[19] http://data2.jungegruene.ch/blog_page/blogpage_847.jpg
[20] https://pbs.twimg.com/media/BxfS08CCEAAsLXZ.jpg
[21] https://pbs.twimg.com/media/CP6aPfnWoAAKBEA.jpg
[22] http://static.a-z.ch/__ip/IyWzT6tAGl8w1MjTrWMrvCwAp6M/ea819a6b890ed4226c0f7d027d9fad73c857978b/teaser-verylarge/dietikon1-jpeg

M. Schmöger/em>, 13 December 2015