This page is part of © FOTW Flags Of The World website
Xaxim, Santa Catarina (Brazil)
Last modified: 2021-12-11 by ian macdonald
Keywords: santa catarina | xaxim |
Links: FOTW homepage | search | disclaimer and copyright | write us | mirrors

---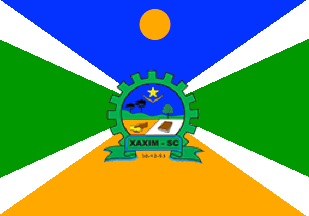 image by Ivan Sache, 8 November 2021
---
See also:
---
Municipality
The municipality of Xaxim (28,424 inhabitants in 2018; 29,472 ha) is located 550 km west of Florianópolis.

Xaxim is allegedly named for its first settler, an African named Josezinho Xaxim, who came there in 1865 from Guarapuava, Paraná. He was soon joined by Italian, Austrian, Irish, Polish, Ukrainian, Czech and Germans immigrants from Rio Grande do Sul. Located on a tropeiro's road, the place was soon known as Passo de Xaxim.
The state government offered the area to the Bertaso, Maia & Cia colonizing company, which sold it to Lunardi Brothers.

The district of Hercílio Luz was established on 13 January 1921, to be renamed to Xaxim in 1929. The municipality of Xaxim was established in 1953, separating from Chapecó, and inaugurated on 20 February 1954.

https://www.xaxim.sc.gov.br/
Municipal website
Ivan Sache, 8 November 2021
---
Description of the Flag
Divided by a white radiating saltire, green to hoist and fly, blue above and orange below, with an orange disk in the blue quarter, and with the municipal arms in the center.
Official website at http://www.xaxim.sc.gov.br
Dirk Schönberger, 25 August 2012
The flag of Xaxim is prescribed by Municipal Law No. 285 promulgated on 10 November 1969.

Article 1.
The flag of the municipality of Xaxim is supported by the following descriptive memoir.
a) Design. The flag's design evokes the combination of letters "Xaxim" arranged like a logotype. From the primary "X" start two rays heading to infinity, as the town aspires to.
b) Colors.
Green. The branches of the horizontal hyperbole symbolize union between humans and the natural environment (Human - Xaxim; Nature - Pinewoods and agriculture).
Blue. The upper branch of the vertical hyperbole symbolizes the sky, while the orange circle symbolizes West Santa Catarina's sun.
Orange. The lower branch of the vertical hyperbole symbolizes fruit, resources, and Xaxim's dynamism.
c) Date.
30 December 1953, date of foundation of the municipality of Xaxim.

https://leismunicipais.com.br/a/sc/x/xaxim/lei-ordinaria/1969/29/285/lei-ordinaria-n-285-1969-institui-a-bandeira-do-municipio-de-xaxim
Leis Municipais database

The description was amended by Municipal Law No. 3,398 promulgated on 27 October 2009.

Article 3.
§1. The formalization of the colors and symbols prescribed in Law No. 285 is kept, while the symmetry of the "X" representing the municipality's name is altered.
[...]
II. The colors are defined as follows
a) Green (Pantone(r)-354C): [...]
b) Blue (Pantone(r)-286C): [...]
c) Orange (Pantone(r)-021 c) [...]

https://leismunicipais.com.br/a/sc/x/xaxim/lei-ordinaria/2009/340/3398/lei-ordinaria-n-3398-2009-dispoe-sobre-a-padronizacao-do-brasao-e-da-bandeira-do-municipio-de-xaxim
Leis Municipais database

Photos
https://www.facebook.com/prefeituradexaxim/photos/2946221975640214
https://www.facebook.com/prefeituradexaxim/photos/2872229513039461
https://www.facebook.com/prefeituradexaxim/photos/2575732926022456
https://www.facebook.com/prefeituradexaxim/photos/2530601673868915

The coat of arms of Xaxim, originally prescribed by Municipal Law No. 505 promulgated in 1977 [text not available], is prescribed by Municipal Law No. 3,398 promulgated on 27 October 2009.

I - A cogwheel surrounds the whole shield, whose elements are all inscribed within it.
II - The cogwheel shall be green (Pantone(r) 345C), with the upper border outlined in black (Pantone(r) Hexachrome Black C), and the lower border outlined in blue (Pantone(r) 286C). The outline provides balance between the elements' colors, making the design visually pleasant.
III - The elements within the cogwheel are;
a) In base, a division. In one part, a white (Pantone(r)-trans.white) background supporting a big, thick book representing the national and municipal Constitutions. The book shall be brown (Pantone(r) 154C), a color representing the seriousness expressed in documents. The book's outline is black (Pantone(r) Hexachrome Black C), with thin white (Pantone(r)-trans.white) lines on one side and in base.
b) The other part of the division has an orange (Pantone(r) 021 c) background symbolizing the soil that offers food and supports agriculture and industry. This base supports a handshake representing people's generosity, friendship and loyalty to the municipality. The different colors represent miscegenation in the municipality. One hand is brown (Pantone(r) 154C) while the other is yellow (Pantone(r) 107C).
c) In the second part is represented a landscape with mountains and Brazilian pines (Araucaria angustifolia). The pines symbolize the native trees while the background represents a landscape at sunset. The mountains are green (Pantone(r) 354C). The leaves of the tree in the foreground are green (Pantone(r) 354C) while their stem and thin outline are black (Pantone(r) Hexachrome Black C). These elements symbolize green fields, pastures and the natural environment.
d) In the upper part the sky with a big star representing Northern Star, once used as a guide by travelers, and wheat plants representing people's food. The sky is blue (Pantone(r) 286C); the star and the wheat plants are yellow (Pantone(r) 107C) with black (Pantone(r) Hexachrome Black C) outline.
IV - In the shield's base, the outer part consists in the municipality's name and state's initials, the name and initials separated by an hyphen ("XAXIM-SC"). The font is Arial Black (Pantone(r) Hexachrome Black C). There shall be a small space between the hyphen and "XAXIM", and between the hyphen and "SC".
V- Beneath, Xaxim's date of foundation (30/12/53) in black (Pantone(r) Hexachrome Black C). The font is Arial Black and the numerals are separated by a bend sinister.

https://leismunicipais.com.br/a/sc/x/xaxim/lei-ordinaria/2009/340/3398/lei-ordinaria-n-3398-2009-dispoe-sobre-a-padronizacao-do-brasao-e-da-bandeira-do-municipio-de-xaxim
Leis Municipais database
Ivan Sache, 8 November 2021