This page is part of © FOTW Flags Of The World website
Arapongas, Paraná (Brazil)
Last modified: 2022-03-05 by ian macdonald
Keywords: parana | arapongas | birds: 3 | bird (white) |
Links: FOTW homepage | search | disclaimer and copyright | write us | mirrors

---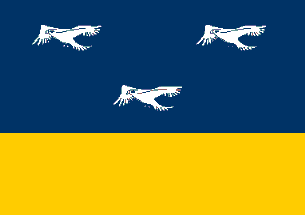 image by Joseph McMillan
---
---
About the Flag of Arapongas
The municipality of Arapongas (124,810 inhabitants in 2020; 38,222 ha) is located 400 km north-west of Curitiba.

Arapongas was established in 1935 by William da Fonseca Brabason Davids, director of the Companhia de Terras Norte do Paraná, at the time Mayor of Londrina. On 28 September 1935, the French merchant René Cellot and his daughter Geanine inaugurated the first commercial estate; the same year, the Brazilian farmer Florinao Freire acquired the first agricultural plot.
The municipality of Arapongas was established by State Law No. 2 promulgated on 10 October 1947, separating from Rolândia.

https://www.arapongas.pr.gov.br/
Municipal website

The flag and arms of Arapongas are prescribed by Municipal Law No. 3,193 promulgated on 26 April 2005.

Article 5.
1. Basic dimensions.
The municipal flag shall have the official dimensions prescribed for the national flag. It shall be formed of a rectangular panel in width 70% of its length. The rectangle shall be divided in two longitudinal parts, without any visible dividing line. The lower part shall match 27% of the length and the upper part shall match 43% of the length.

2. Elements.
In the upper part shall be placed three figures symbolizing araponga bird, inscribed in an imaginary rectangle, in length 22.75% of the flag's total length, in width, 9.75% of the flag's total length.
To insert these elements, the flag's upper part shall be divided in two imaginary vertical parts and another three imaginary horizontal parts, of the same size, forming identical cells. The placement of the figures shall be symmetrical in relation with the imaginary vertical axis, one of them matching the axis and the other ones, above the first, in opposed sides.
The central figure is placed with its upper side tangent to the imaginary horizontal line, with its center matching the flag's imaginary vertical axis.
The two lateral figures have their axis matching the imaginary upper horizontal line, distant of 1/6 of the flag's total length from the imaginary vertical axis.

3. Colors
The upper part shall be deep blue, symbolizing the sky, while the lower part shall be golden yellow, symbolizing the soil resources. The three birds are white.

Article 17.
The coat of arms of the municipality of Arapongas is described as follows: "Modern shield gules tierced per bend surmounted by a four-towered mural crown or proper to municipalities, supporters, motto."
The components are described as follows: "Gules a bend azure charged with three arapongas (Chasmorhynchus nudicolis) argent surrounded by a fleur-de-lis or and a lion rampant of the same. A bordure argent five Brazilian pines (Araucaria brasiliana) proper. The shield supported by stylized coffee branches fructed and yerba mate plants all proper. A scroll argent inscribed in letters azure 'ARAPONGAS' and 'DATA DA EMANCIPAÇÃO POLÍTICA' - '10-10-1947'."

https://leismunicipais.com.br/a/pr/a/arapongas/lei-ordinaria/2005/320/3193/lei-ordinaria-n-3193-2005-dispoe-sobre-a-forma-e-a-apresentacao-dos-simbolos-do-municipio-de-arapongas-revoga-a-lei-n-493-de-19-de-novembro-de-1963-e-da-outras-providencias
Leis Municipais database

The very same description of the coat of arms was supplied by Municipal Law No. 493 promulgated on 15 November 1963.

https://leismunicipais.com.br/a/pr/a/arapongas/lei-ordinaria/1963/49/493/lei-ordinaria-n-493-1963-estabelece-o-brasao-de-armas-de-arapongas-e-da-outras-providencias
Leis Municipais database

Photos
https://www.arapongas.pr.gov.br/7664_noticia_bandeiras-sao-instaladas-no-entroncamento-das-ruas-pavao-e-guaratinga
https://www.arapongas.pr.gov.br/6667_noticia_arapongas-inicia-comemoraeccedileotildees-da-independeecircncia-do-brasil
https://tnonline.uol.com.br/noticias/arapongas/servidores-de-arapongas-terao-que-esclarecer-sobre-auxilio-emergencial-463441?d=1
https://www.facebook.com/PrefeituradeArapongas/photos/3182074348677449
https://www.facebook.com/PrefeituradeArapongas/photos/2836813466536874

The araponga (bare-throated bullbird) is known today as Procnias nudicollis (Vieillot, 1817).
Procnias nudicollis occurs in a wide area of east Brazil, from Sergipe and Bahia in the north, south to Rio Grande do Sul and inland to south Mato Grosso, north-east Argentina (Misiones, with one record in Corrientes) and east Paraguay. In Paraguay, the species is primarily found in the northern part of Eastern Paraguay, in Atlantic Forest in Canindeyú and San Pedro departments, with a few birds also recorded in gallery forest in the Cerrado of Concepcion department. The species is considered extinct from remnant forest patches of north-eastern Brazil north of the São Francisco river, where it was formerly known from the Murici area.
This species is suspected to be undergoing a moderately rapid decline owing to ongoing deforestation and trapping. For this reason, it is listed as Near Threatened.

https://www.iucnredlist.org/species/22700968/177705453
IUCN Red List

Araucaria brasiliana A. Rich. is an obsolete synonym of _Araucaria angustifolia_ (Bertol.) Kuntze.
Ivan Sache, 31 January 2022