This page is part of © FOTW Flags Of The World website
Santa Cruz department, Bolivia
Santa Cruz / Sãg̃takrus
Last modified: 2020-12-26 by rob raeside
Keywords: santa cruz | sang̃takrus | autonomía | cross: potent | cross (green) |
Links: FOTW homepage | search | disclaimer and copyright | write us | mirrors

---

image by Jaume Ollé, 02 November 1996
---
See also:
---
Description of the flag
The green is the vegetation and the hope, and the white is purity and nobility. [m2nXX]
Jaume Ollé, 02 November 1996
---
History of the flag
El Nuevo Día of 24 July 2006 [b9o06] introduces the celebration of the 124th anniversary of the flag of Santa Cruz, which was prescribed on 24 July 1864 by a Prefectural Decree. Prefect of Santa Cruz, Tristán Roca Suárez, prescribed the horizontally divided green-white-green flag that had been used for the first time by a regional movement defending the Constitution and fighting against Mariano Melgarejo's golpe (coup).
In 1980, the Committee for Santa Cruz (Comité pro Santa Cruz) resurrected the flag. A group of citizens of Santa Cruz funded the manufacturing of hundreds of table flags, charged with the department coat of arms in the middle. The Santa Cruz Youth Union (Unión Juvenil Cruceñista), in partnership with the Committee, sent a department flag to be hoisted in Puerto Suárez during a demonstration against the central government.
Ivan Sache, 25 July 2006
If it was created in 1864 and revived in 1980, when was it abandoned? And why?
António Martins, 30 Nov 2006
The current Santa Cruz department flag is the flag used by Ignacio Warnes Mercado and other patriots in the war of independence. [m2nXX]
Jaume Ollé, 02 November 1996
First, this statement seems to include a gross mistake. From what I have read from the local history, «Ignacio Warnes Mercado» should be replaced by «Ignacio Warnes (an Argentine colonel sent by Belgrano) and Mercado (one of his local lieutenants)». Second, this statement contradicts the report in El Nuevo Día [b9o06], since Ignacio Warnes (c. 1771-1816) could not have fought Mariano Melgarejo (1818-1871)! It would be interesting to check what is exactly written in Atlas de Bolivia [m2nXX].
Ivan Sache, 25 July 2006
---
Flag with coat of arms
image by Ivan Sache, Enrique Noria and António Martins, 22 June 2006
(clipart source: www.ngw.nl/int/bol/santacru.htm)

The flag is the horizontally divided green-white-green flag of the department of Santa Cruz, charged in the middle with a coat of arms. A picture by David Mercado (Reuters) shows Ruben Costas, President of the Santa Cruz Civic Union holding a flag during a rally in Santa Cruz, Bolivia, 28 January 2005. Tens of thousands of residents of Santa Cruz demanded the Bolivian government grant autonomy for their region. No doubt it would become the flag of the autonomous region, if granted.
Ivan Sache, 02 February 2005
---
Autonomist flags, 2005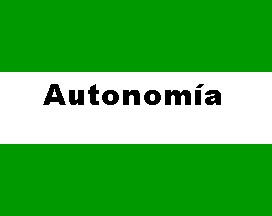 image by Eugene Ipavec, 04 February 2005

In a demonstration in Santa Cruz, in addition to a sea of regular Santa Cruz state green-white-green flags there were several examples of this variant: Identical but somewhat squarish in proportion and with the caption «Autonomía» in the upper half of the white, central third. They looked printed, not handmade.
Eugene Ipavec, 04 February 2005
Autonomist "conservative" flag, 2005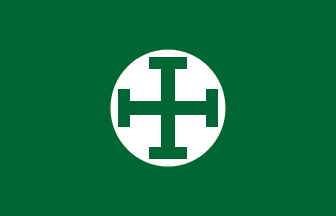 image by Eugene Ipavec, 24 January 2006

Dark-green with a potent cross in a white circle. This could very well be just a literally-appropriate flag for Santa Cruz, but since the political conflict pits a pro-indigenous federal government in La Paz against a «European-descended conservative elite», to quote the article, might this be a racial-separatism flag? Color scheme aside, it bears a distinct similarity to white-power designs.
Eugene Ipavec, 04 February 2005 and 24 January 2006

The cross (in Spanish, cruz) is canting.
António Martins, 30 November 2006
---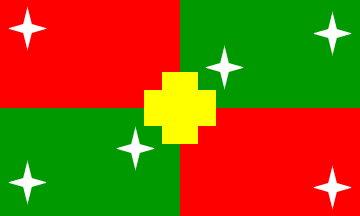 image by António Martins, 18 November 2017
In 2006 a proposal was launched, claiming most of the remaining Santa Cruz department to form the new department of Chiquitos y Guarayos, a.k.a. Chiquitanía y Guaraya. It would include the six eastern provinces of Santa Cruz, reducing it to its smaller, yet dominant western area (8 provinces in the Andes). More details in https://es.wikipedia.org/wiki/Proyecto_de_departamentizaci%C3%B3n_de_Chiquitos_y_Guarayos.

Its flag is proposed to be 3:5 quartered red and green (a rare combo shared with Lapaz dep.) with a yellow very stubby Greek cross (a chakana?) centered on the flag, and six white four-point stars: One on each corner and two more next to the cross, placed diagonally to it on the green quarters.

The Spanish Wikipedia reports (since March 2008: http://es.wikipedia.org/w/index.php?title=Proyecto_de_departamentizaci%C3%B3n_de_Chiquitos_y_Guarayos&oldid=15858989) and illustrates (since February 2012: http://es.wikipedia.org/w/index.php?title=Proyecto_de_departamentizaci%C3%B3n_de_Chiquitos_y_Guarayos&type=revision&diff=54174392&oldid=38288753) this flag without any sources. Wikimedia user Abel Stob states that its designer is unknown as this is not a colonial flag and that it started showing up in demonstrations «recently» («hace algunos años»), as of 2008. I could not find any photographic evidence supporting the latter statement.

Making use of the same image as the Spanish Wikipedia (https://commons.wikimedia.org/wiki/File:Bandera_del_Departamento_de_Chiquitos_y_Guarayos.png), the ephemeral 2008 weblog Bolivia14dep informs us of a (relatively modest) 2008 campaign to have this flag replacing the dep. flag of Santa Cruz in several schools (http://bolivia14dep.blogspot.com/2008/04/bandera-chiquitana-izada-en-escuelas-de.html).

The flag is displayed (always the same image, scanned flat from a paper source, not cloth) in another post of the weblog
at http://bolivia14dep.blogspot.pt/2008/03/bandera-de-chiquitana-y-guarayos.html ], illustrating the proclamation of the department of Chiquitos y Guarayos, credited to the newspaper Semanario Oriente Boliviano (not clear whether the image shares also this, more respectable, source).

The matter of splitting Santa Cruz into three separate departments (CyG, Chaco, and rump), within Bolivia, arises as a reaction against the ventilated separatism of Santa Cruz department as a whole, to become an independent country, fueled by ethnic unrest and the perspective of revenues from successful oil drilling in eastern Bolivia in the mid
2000s — see this newspaper cartoon (http://bp1.blogger.com/_cY6Yq5eCUng/R-VXfYdlqYI/AAAAAAAAACo/9MqvZCRUVcg/s1600-h/nuevo-1.gif), http://commons.wikimedia.org/wiki/File:Bolivia_secession.png (context: http://fr.wikipedia.org/wiki/Bolivie) and http://en.wikipedia.org/wiki/Camba.
António Martins, 18 November 2017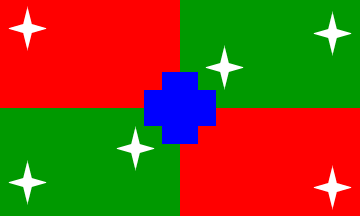 image by António Martins, 18 November 2017
Also without sources in the Spanish Wikipedia it is reported (since March 2008: http://es.wikipedia.org/w/index.php?title=Proyecto_de_departamentizaci%C3%B3n_de_Chiquitos_y_Guarayos&type=revision&diff=16152186&oldid=15954896, also by Wikimedia user Abel Stob) that the color of the cross is blue in peace times and yellow in war times; nonetheless all that can be seen in imagery of this flag shows a yellow cross; furthermore, this statement is not confirmed in any post in the otherwise supportive weblog Bolivia14dep.
António Martins, 18 November 2017
---
Independentist flag, 1904-1960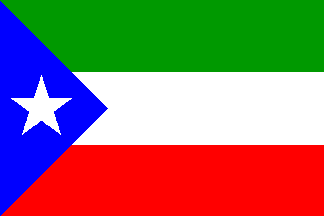 image by Jaume Ollé, 08 July 2000

Santa Cruz de la Sierra (Republic 1904)
Jaume Ollé, 20 January 1997

Flag used by independentists in 1904-1960s.
Jan Zrzavy, 01 September 1999