This page is part of © FOTW Flags Of The World website
Paclín Department, Catamarca Province, Argentina
Last modified: 2022-11-05 by rob raeside
Keywords: paclín department | catamarca province | argentina |
Links: FOTW homepage | search | disclaimer and copyright | write us | mirrors

---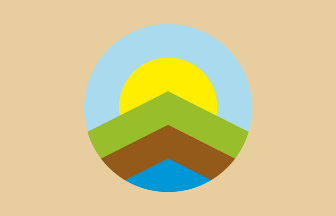 image by Tomislav Todorovic, 15 October 2022
---
See also:
---
Deputies gave definitive sanction (in July 2022) to the project initiated by Senator Omar Rodolfo Noriega through which the representative flag of the Paclín department is made official, an insignia instituted by ordinance and sanctioned by the Deliberative Council of that district. The president of the Frente de Todos bloc, Ramón Figueroa Castellano, was in charge of laying the foundations for the project. He recalled that in 2018 a contest was started that was open to the entire Paclín community.

"The Deliberative Council approved resolution number 014/18, through which it empowers the Municipal Executive to make a call for competition for the selection of the design of the official flag of the department, which identifies the people of Paclin with the past, the activities of the present and the projections towards the future, that it becomes an emblem of identity, roots and belonging to their land" he reviewed and then detailed the meaning of the colors that the flag of that department has.

Armando López Rodríguez (FT) told his peers that the mayor Eduardo Menecier told him that the contest was before his inauguration and that, however, the "priority of the community chief exceeds partisan political issues and advances on the needs and the will from town". Later, Luis Lobo Vergara (president of the UCR bloc) pointed out that the initiative "comes to resolve a demand from the residents of Paclin who, at the request of a citizen, began the selection process." "Flags are the procedure through which peoples identify themselves," he said.

https://diputados-catamarca.gov.ar/sancion-definitiva-para-instituir-la-bandera-de-paclin/


PACLIN YA TIENE SU BANDERA!!
La Bandera pretende reflejar al departamento Paclin en su totalidad, incluyendo en ella, a todas las localidades que la conforman. Su finalidad es destacar la unidad e identidad de los habitantes, convirtiéndose en el símbolo que hermane a todos los paclinenses.
Cada una de las partes que la componen tiene un significado estrechamente relacionado a la vida de su gente, a los primeros habitantes hasta la actualidad.

Significado de los atributos y elementos que la componen la Bandera:
a) El diseño SENCILLO está ligado a la sencillez de su pueblo y su gente.
b) Los COLORES representan nuestra tierra y nuestra naturaleza.
c) El PAÑO de color marrón claro, se constituye en la representación de la jurisdicción departamental.
d) El SEMICURCULO AMARILLO en el centro del paño congrega a los paclinenses en su terruño, el sol que viene asomando, que alude a la salida o puesta del sol, fuente de vida y de luz. El Sol de Mayo, el sol revolucionario de la libertad, que de igual modo, se manifiesta en nuestra Bandera Nacional.
e) En el espacio superior del semicírculo amarillo, se ubica un BORDE CELESTE. Es el cielo en su plenitud y que los paclinenses lo sienten diferente a otros, porque nada se compara con su propio cielo.
f) La parte inferior del semicírculo se presentan TRES FRANJAS EN PUNTA con dirección norte, que simbolizan el territorio montañoso que caracteriza al Departamento Paclin.
La FRANJA VERDE representa la variada vegetación, la vida silvestre, la fertilidad del suelo, la flora y la fauna.
La FRANJA MARRÓN personifica la tierra, el trabajo labriego, la madera y el cuero, actividad económica y sustento de la población.
La FRANJA AZUL encarna los ríos que bañan la tierra en producción, la fertilidad, el fluir y transcurrir de la vida, como lo entendían nuestros antepasados.
Muchas gracias a todos los que participaron del concurso "Una Bandera que nos identifica". Felicitaciones al Ganador ENZO SOSA. Un vecino de nuestro querido Departamento!! Gracias por su propuesta y por haber diseñado está Hermosa Bandera de Paclin!!

Original text from 2018 in the time of the flag contest https://www.facebook.com/municipalidad.paclin/photos/a.851858578217588/2850549988348427/

And technicalities https://sitiosenado.catamarca.gob.ar/media/legislativo/proyecto/2020/00000294N.pdf
Vanja Poposki, 13 October 2022
PACLIN ALREADY HAS ITS FLAG!!
The flag intends to reflect the Paclin department in its entirety, including in it, all the localities that comprise it. Its purpose is to highlight the unity and identity of the inhabitants, becoming the symbol that unites all Paclinenses. Each of the parts that compose it has a meaning closely related to the life of its people, from the first inhabitants to the present day.
Meaning of the attributes and elements that make up the Flag:
a) The SIMPLE design is linked to the simplicity of its town and its people.
b) The COLORS represent our land and our nature.
c) The FIELD of light brown color, is constituted in the representation of the departmental jurisdiction.
d) The YELLOW SEMICIRCLE in the center of the cloth gathers the Paclinenses in their homeland, the rising sun, which alludes to sunrise or sunset, source of life and light. The Sun of May, the revolutionary sun of freedom, which likewise manifests itself in our National Flag.
e) In the upper space of the yellow semicircle, there is a LIGHT BLUE EDGE. It is heaven in its fullness and that the Paclinians feel it differently from others, because nothing compares to their own heaven.
f) The lower part of the semicircle shows THREE POINTED STRIPES pointing up, symbolizing the mountainous territory that characterizes the Paclin Department.
The GREEN STRIPE represents the varied vegetation, wildlife, soil fertility, flora and fauna.
The BROWN STRIPE personifies the land, farm work, wood and leather, economic activity and livelihood of the population.
The BLUE STRIPE embodies the rivers that bathe the land in production, fertility, the flow and passing of life, as our ancestors understood it.

Many thanks to everyone who participated in the "A Flag that identifies us" contest. Congratulations to the Winner ENZO SOSA. A neighbor of our beloved Department!! Thank you for your proposal and for having designed this Beautiful Paclin Flag!!
Vanja Poposki, 13 October 2022