This page is part of © FOTW Flags Of The World website
Reports of other flags seen in Tibet
Last modified: 2020-07-11 by ian macdonald
Keywords: tibet | lion | snow lion | lhasa |
Links: FOTW homepage | search | disclaimer and copyright | write us | mirrors

---
See also:
---
Report of a 1913 flag
I have an history book of Tibet by Laurent Deshaies, and it is said that in 1913, the Dalai Lama came back to Lhasa after a short Chinese invasion in reply to the English attempts to extend their sphere of influence. The Chinese troops were left to their fate by the old empire and then expelled from Tibet.
The new "independent" country began with creating a national army with the help of English, Russian and Japanese officers. These troops paraded with the first national flag which was "crimson with an embroidered lion", according to Alexandra David-Neel, the first western woman who had entered into Lhasa in 1914.
Corentin Chamboredon, 20 May 2004
---
Possible Lhasa Flag
In the movie "Seven Years in Tibet" there are many supposed images of Lhasa, and in many parts of the city are flown an unknown flag, probably the local flag. It is horizontally blue, yellow and red horizontal, with two white stars in the upper stripe.
Jaume Ollé, 22 January 1998
After a long time I think I have finally identified what Jaume had reported some twenty-one years ago. It puzzled me because I couldn't find that flag, even after watching that film a few time. And now I think I have finally understood. This flag is, in fact, a typical door curtain. And it is, indeed, horizontally blue, yellow and red, with some white squares and lozenges (not stars) in the blue stripe. Here is an examples: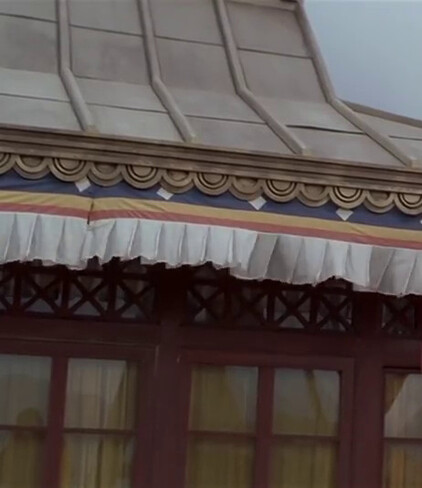 image located by Corentin Chamboredon, 30 October 2019

Compare with the door curtains one can buy on internet :
https://www.exploretibet.com/blog/tibet-door-curtains/
https://tibetanhandloom.com/product/productbycategory/10
https://www.nepacrafts.com/collections/home-decor
Corentin Chamboredon, 30 October 2019

---
White snow lion flag
Although I have no confirmation of this, I have heard tell of a white flag with either one or two snow lions in the center. The snow lion is a symbol on the standard Tibetan flag, and could well be used for other banners. However, the place to inquire may well be the Tibetan Government in Exile.
Thomas Robinson, 31 January 1998
---
Qomolangma Feng National Nature Reserve
On Flickr there is an image of a flag which is apparently used by the Qomolangma Feng National Nature Reserve. Qomolangma 珠穆朗玛峰 is the Chinese transcription of the Tibetan name Jomolangma ཇོ་མོ་གླང་མ, i.e. Mount Everest.
The upper half of flag shows the shape of the mountain in light blue and white (the white parts being the snow, I guess). The lower half, which is surrounded by a black line, is white and shows three lines of text in different scripts : Nepalese (Mount Everest is on the border between Nepal and China), Chinese and English. The last line is partially hidden, but we can read the words "...angma National Nature Preserve" [sic]. On the lower fly, there is a black stupa inside a black circle.
Corentin Chamboredon, 29 November 2008
I realized today that the first line wasn't in Nepalese script but in Tibetan drugtsa script, which is quite different from the capital uchen script.
Source : http://www.inkessential.com/scripts.html
Corentin Chamboredon, 23 August 2009