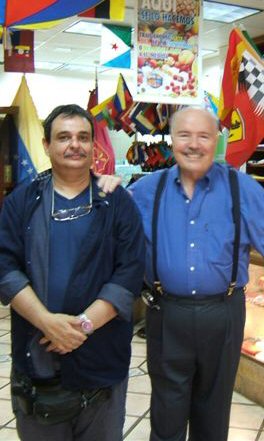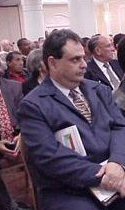 Raúl & Michel Lupant Raúl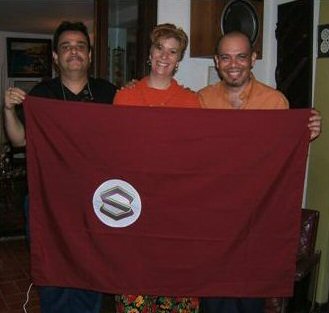 Raúl, Giannina Prorvenzali, and Nestor Garrido (AVS Board Members)
FIAV-VENEZIMBOL 2005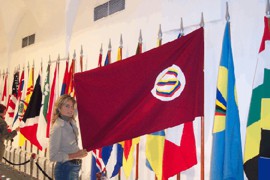 FIAV Display Line of Flags
Cristina Fernandez Alegria displays AVS flag
Buenos Aires ICV 21
Raúl Jesús Orta Pardo
AVS Flag His Personal flag
Born 25 June 1959 in Caracas (Venezuela) - died on 22 June 2010, three days before what would have been his 51st birthday, and sadly just a week after the passing of his elderly mother.
He was the youngest of three brothers and sisters, and as a youngster was very active in the scouting movement and a devote catholic.
He liked music, especially jazz. He was a compositor and played piano
He became the Chief of the Department of Heraldry for the Venezuelan Air Force, and was the first and only vexillologist and heraldist who worked in that function.
In 2000, he opened an interest group about flags on Yahoo for Spanish speakers called "Venezimbol."
Venezimbol evolved into a vexillological association called the "Asociación Venezolana de Simbología" (Venezuelan Association of Symbollogy, or AVS).
Raúl was the first president of AVS and remained in that office until his death.
Raúl took great pride in being a semiologist, heraldist, and especially a vexillologist. He always signed himself on the list as "Truly and Venezimbollogically Yours, Raúl Jesús Orta Pardo."
Although he was a member of the FOTW list, he often weighed in through his friend Dov Gutterman, who relayed information from Venezimbol.
In 2005, the "Asociación Venezolana de Simbología" became a member of FIAV, with Raúl as its president.
The AVS flag first went into the FIAV Members Display Line of Flags at the Buenos Aires ICV 21 conference, when AVS was officially admitted into FIAV, but Raúl could not attend, and AVS' official representative at the congress that year was Gustavo Tracchia.
His personal flag consisted of a 2:3 rectangle divided into three oblique strips from the upper hoist corner, yellow, blue and red. His personal arms was placed in the canton. He explained the stripes had a double meaning: the Holy Trinity (yellow for God the father, blue for God the son and red for the Holy Spirit) and Venezuela (red for her past, blue for her present and yellow for her future). The radial design of the stripes reminded us that all paths end up at the same place.