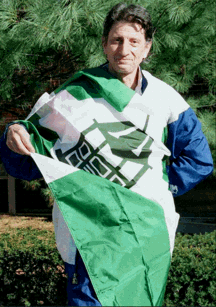 Peter Orenski displays
his favorite flag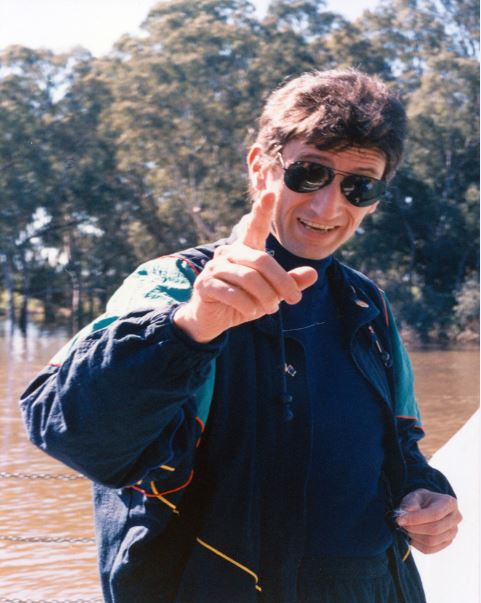 A youngish Peter
IVC 13 - Murray River 1989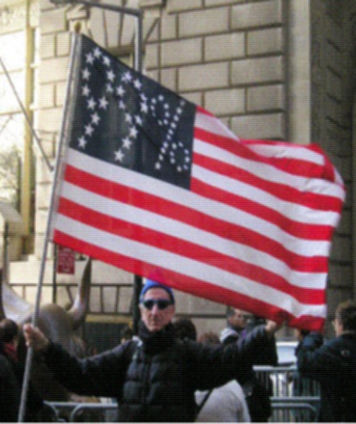 Occupy Protest
New York City 2011
Dr. Peter J. Orenski 1940-2016
A Tribute to a Mate
On Saturday, 13 August 2016, Flags Australia, and the entire international vexillological community lost a friendly, generous Mate (good friend), who died peacefully after a short illness in hospital in his home town of New Milford, Connecticut, USA.
Peter was born on the 21 April 1940, in Czernowitz, then in northern Romania. Due to the effects of the communist regime, he and his parents had to flee, initially to the safety of Austria, before being accepted as refugees to settle in the United States in August 1960. Three years later, in 1963, Peter graduated from Columbia University, in New York which was followed in 1967 with a Ph.D in Chemistry. For almost twenty years Peter worked as chemist at Union Carbide, until the mid-1980s.
We first met Peter at the Welcoming Reception of ICV 13 in Melbourne on 24 September 1989. This was his first flag meeting, and he had already been very generous to the Flag Society of Australia, by donating complimentary crossed ICV 13/Australia Flags lapel pins, for each of the Congress registrants. This kind gesture was later repeated at a number of other ICVs and NAVA meetings, with the most recent occasion being again for the FSA - Flags Australia, at ICV 26 in Sydney, in Aug.-Sept. 2015. Peter was also generous with sharing his intellectual understanding of the practical elements of flag design and making the wider subject of vexillology even more interesting to both fellow vexillologists and the general public.
Regarding his vexillological activities, Peter was active with significant published works. These include:
A Flag for New Milford - The practical Guide to Creating a Successful Civic Flag ("The Flag Bulletin" No.168 - Jan.-Apr. 1996)
Art Editor for Flags of the Native Peoples of the United States (NAVA's "Raven" Vols. 3-4 1996-97)
Quo Vadimus - An Essay on the State and Future of Vexillology (Self-Published 2001 & 2003)
Native American Flags - Jointly with Donald T Healy (University of Oklahoma Press 2003)
Table Top Flags - Australia's Capital City Flags (Flags Australia's "Crux Australis" Vol. 25 - 2012, No.4-104).
Via his own company, TME Co Inc - Ambassador Lapel Flags, established in 1986, Peter successfully produced flags and flag-related items at very economical prices, but high quality, at both small and large production runs, making both full-size and desk-size national or sub-national / municipal flags and custom made flags, and high quality replica historical flags ranging across the history of all regions of the world. He also encouraged and supported various flag projects and publications produced by other vexillologists, and as we can both vouch for, was always happy to accept small quantity flag production jobs for special family events and/or celebrations, whether it be full-size and/or desk size flags.
If this was not enough, Peter had an infectious happy demeanour, always ready with a smile and a joke, or sending numerous "joke" e-mails to all on his mailing list creating smiles far and wide around the world.
Both personally and on behalf of Flags Australia, we thank you, Peter-Mate, for your friendship, advice and generosity over the last 25+ years. Our condolences to his close friends and the local community of New Milford, Connecticut, who became his adopted family.
We will miss you Mate, now flying high above us all.
Ralph Kelly (President & ICV 26 Chairman, Flags Australia.)
Ralph Bartlett (Co-Founder & Secretary, Flags Australia.)