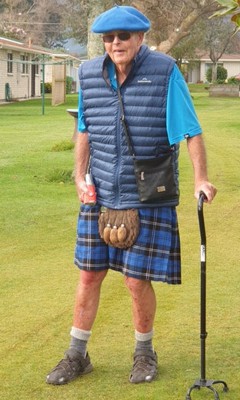 Neale Rosanoski
Photo provided by his sister, Jude Dinsdale
Neale Rosanoski 1942-2021
Born 1942 in Otaki, New Zealand - passed away in his sleep in April of 2021 in Levin.
He was 79 years old. We are pleased to have known him.
I have recently been informed that Neale Rosanoski died in April of 2021. Long-time list members will remember Neale as the provider of hundreds of shipping line flags and funnel markings, often with supporting information about the shipping lines themselves. Neale lived in New Zealand, but even there he managed to amass a collection of over 12,000 flags and funnel markings.
Through correspondence with his sister following his death, I have learned that Neale was an avid collector, and not just of shipping line flags! He also had a large collection of Lladro figurines and of kilts - quite the eclectic assortment, particularly given that he never married, lived alone and had no Scottish ancestry!
Neale worked as an accountant at the Union Steam Ship Company in Wellington and Lyttelton from age 18 years. He "retired" at an early age and relocated his original home area of Levin, the past 7 years in a retirement village following a debilitating stroke in 2016.
Neale sent over 23,299 files on shipping lines flags and funnels! For each shipping line, he provided a graphic and a text files representing over 12,000 companies.
Neale "signed off" from communication with FOTW shortly after his stroke, but he graciously provided to his zipped 400 MB collection to FOTW for safe-keeping
It can be downloaded from here.
Rob Raeside, 4 August 2021