Dov Gutterman
Sanssouci Park
Berlin ICV 2007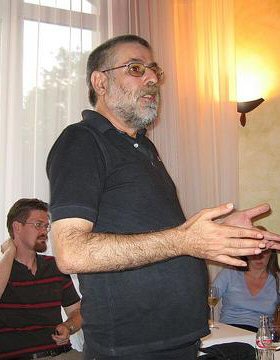 Dov at FOTW Gathering
Berlin ICV 2007
Dov Gutterman (1955-2011)
His personal flag
Born 23 August 1955 - died 16 February 2011. He was 55 years old.



In Dov's non-vexillological life, he was a practicing and respected lawyer in Haifa, Israel.



Dov was a proud husband, the father of two delightful daughters (one is a lawyer), and a proud grandfather.



He was a captain of the Qiryat Haim local section of the National Guard (Qiryat Haim is the suburb of Haifa he lived in)



He was named "Vexillologist of the Year" in 1999 (second award) for his extensive vexiferreting of the Internet and contributions to uncovering flags.



Dov was an avid collector of Israeli flag information, driving to remote towns and villages from Galilee to the Negev in his quest.



Dov was the FOTW editor for Israel, Italy, Baltics, Ukraine, Croatia, Hungary, Central America, northern South America, and the Caribbean.



He was a participant at the ICVs in York, Stockholm, Buenos Aires, and Berlin. He presented papers at most of these conferences.



Dov had a passion for flags bearing bears in their designs. His name, Dov, is Hebrew for "bear."



He edited web pages furiously, often in all-day and all-night sessions, when the Mediterranean summer heat drove him into his basement lair, his "Man Cave," or should we say, his "Bear Cave?"



The top photo of Dov was taken by Rob Raeside after a long hot day in Sanssouci Park, in Potsdam, Germany, during the Berlin ICV.



The bottom photo of Dov, with Jonathan Dixon in the background, was taken by Engene Jan Oskar. It was taken at the FOTW gathering, Potsdam, Germany, during Berlin ICV in 2007.