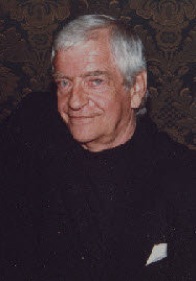 Chrystian Kretowicz
(during his aerospace years)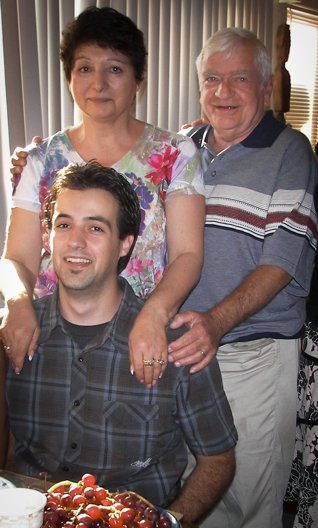 Chrystian, Raisa, and Arthur
(Arthur's birthday in 2007)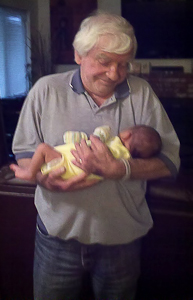 Chrystian Kretowicz
(the proud grandfather - 2011)
Chrystian Kretowicz 1941-2012
Born 4 Sept 1941 - died 4 June 2012. He was 71 years old.



Chris described himself as "an American, by choice and conviction, but of Polish-Tatar, German, Lithuanian and Danish background..." and added the "...old country, for which my ancestors sacrificed a lot, is of a special interest to me, not surprisingly, I guess."



Chrystian was born under the Nazi Generalgouvernement, in 1941, before the Communist regime was imposed on Poland. He lived through the 1944 Warsaw Uprising and somehow managed to survive, but many of his immediate relatives didn't.



His paternal grandmother was shot by the Soviets in Lwów (Lvov) just because she spoke German to them. She barely knew a little bit of Polish, had difficulties learning that language. She had raised four patriotic officers of the Polish Air Force. His maternal grandfather was shot by the SS guards, in the ditch at the roadside, during the attempted evacuation of the prisoners from the Dachau concentration camp. It was just two days before the Americans liberated that camp. Ailing, he couldn't march fast enough in the long column of the hurried prisoners.



Chris, himself, was "kicked-out" (his own words) of Poland for "suspected political activities," but actually didn't belong formally to any of the underground organizations in Poland, but had friends who did, and was under surveillance because of it. After refusing to take a military oath swearing allegiance to the Warsaw Pact and the Union of Soviet Socialist Republics while attending Warsaw University, he was given the choice to go into exile and never return, or face a jail sentence of up to 10 years. They gave him 72 hours to leave the country, revoked his Polish citizenship, and with the help of a friend at the US Embassy he left for America by way of Vienna, Munich and Amsterdam, where the preparations for the American asylum were being processed.



On the arrival in the United States he volunteered and wanted to enlist in the US Army to actually fight the Communists, but they deemed him too old already for it (he had passed 26).



His educational background included law at Warsaw University, political science at NYCU (Hunter College), and engineering at Long Beach City College. A later disability forced to him to retire early after working 30 years as an engineer in the aerospace industry.



Chris did not claim to be a vexillologist, saying rather, "my interest in flags is closely related to the relationship of them to the historic and geo-political context," and considered himself mainly an amature historian, but he was, never-the-less, considered a highly respected vexillologist by all his colleagues.



His special vexi-interest was the North American Indian Nations (especially Californian ones), minor nations of the vast Russian Empire, and the restless areas of North East India, besides the Middle and Eastern Europe. Chris was a very prolific contributor to FOTW in these areas and quite active on both the FOTW List and on FOTW on Facebook.



Chris once told me that he believed the United States is the greatest country in the entire world, and loved living in Rubidoux, a district of Riverside, which is located on a hilly area on the edge of the Great Mojave Desert with spectacular views of the San Bernardino Mountains. He said its main claim to fame was it had one of the first drive-in movie theaters, still in operation. Otherwise it is purely a residential community, some 60 miles east of downtown Los Angeles (again, his own words).



Chris' wife Raisa, and her then 4 year old son Arthur (Nemirovsky), arrived from Russia in 1987, where she met Chrystian and married him the next year. Arthur, grown up, and his wife Monica, would give Chris his first and only grandchild, named Olivia, whose birth Chris was thrilled to witness.