This page is part of © FOTW Flags Of The World website
Historical Flags (Vanuatu)
Anglo-French Condominium of New Hebrides / Nouvelles-Hébrides
Last modified: 2016-06-14 by ian macdonald
Keywords: vanuatu | new hebrides | nouvelles-hébrides | franceville | stars: 5 | historical | cross: lorraine |
Links: FOTW homepage | search | disclaimer and copyright | write us | mirrors

---
---
See also:
---
Anglo-French Commission 1889-1906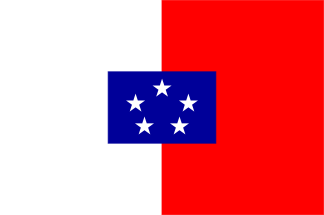 image by Martin Grieve, 13 August 2003
Vertically white-red; in the center, a blue rectangle with five white stars in a pentagonal arrangement. I have not been able to find any trace of that Commission, but the Anglo-French Condominium on the archipelago was established in 1906, so the Commission might have been a bipartite authority which solved the problem of the attribution of the archipelago (which was the last "non-attributed" Oceanian territory.). Source: Flags of Paradise 1996 chart.
Ivan Sache, 19 July 1999
I do not have construction details for this flag, but used a ratio of 2:3 with a blue central panel one-third length and width of flag. As for star diameters and position - guessed.
Martin Grieve, 13 August 2003
I recently found this reference to a flag of Franceville (now Port Vila, Vanuatu), which declared independence about 1889:

" 'Franceville' was formed and proclaimed itself an independent Commune with its own red, white and blue five-starred flag." --from Simpson, Colin (1955). Islands of Men: a six-part book about life in Melanesia. Sydney: Angus & Robertson, p 133.

The description fits the flag of the Anglo-French Joint Naval Commission 1887-1906, which was the predecessor to the Anglo-French Condominium of New Hebrides, but this was the recognized authority which suppressed Franceville's claim to independence. I wonder if Franceville had its own flag or variation of the Commission flag.
David Bedell, 26 November 2007
A more detailed description of the 1889 flag of Franceville is in Tom Harrisson (1937), Savage Civilisation, page 302: "an interesting flag, half blue, half red, vertically (like the 'H' of commercial code), with a blue square in the centre bordered by red and white, and five blue stars." An image based on this description is here: http://commons.wikimedia.org/wiki/Image:Flag_of_Franceville.png.
David Bedell, 12 September 2008
It seems Harrisson's description was based on a mistranslation of the French:
"La description du drapeau de Franceville est jointe à la dépêche adressée à Son Excellence: il est mi partie blanc et rouge, en disposition verticale, comme le drapeau H du Code de commerce, avec un carré bleu au centre, débordant sur le blanc et le rouge et cinq étoiles dans le bleu." --E.N. Imhaus (1890), Les Nouvelles-Hébrides: avec une carte et sept gravures, p 160

A better translation would be: "half white, half red, vertically (like the 'H' of commercial code), with a blue square in the centre bordering on the white and red, and five stars in the blue." This suggests the Franceville flag was identical to that of the Anglo-French Joint Naval Commission.
David Bedell, 6 October 2008
---
British Administration 1906-1980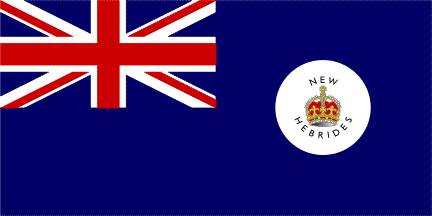 image by Martin Grieve, 12 August 2003
1906-1953 Blue Ensign (Tudor Crown)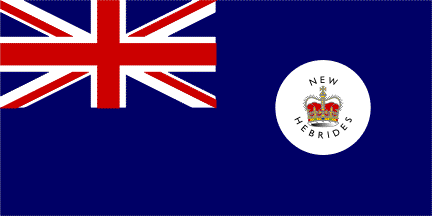 image by Martin Grieve, 12 August 2003
1953-1980 Blue Ensign (St. Edward's Crown)
The flag-badge for the British side of the New Hebrides (now Vanuatu) administration during the Anglo-French condominium was a white disc bearing a royal crown with the words "NEW" (above) and "HEBRIDES" (below) curved around it in black block capitals. The British Solomon Islands had a similar badge, so it looks like the imagination of Whitehall's badge designers had run out by the time they got round to the Pacific. I presume that the French side of the New Hebrides government did not use such a badge.
Roy Stilling, 5 October 1996
I don't know about the French flag during the condominium (probably something straight-forward and logical like the Tricolour), but the British was something like this. In about 1885 the Governor of Fiji, who was also Western Pacific High Commissioner was made responsible for looking after British interests in the New Hebrides. At the time Lord Salisbury said that the Australian colonists of the New Hebrides were,
The most unreasonable people I have ever heard of (...) They want us to incur all the bloodshed, and the danger, and the stupendous cost of a war with France (...) for a group of islands which to us are as valueless as the South Pole.
So if the governor ever went there, his flag would have been the Union Flag defaced with a white disc, containing the letters, "W.P.H.C.", below an Imperial Crown, the disc surrounded by a laurel leaf garland. In 1906 the condominium was established and a British Resident Commissioner appointed. He appears not to have had a flag of his own until 1934, when he got a Union Flag defaced with a garland-surrounded white disc on which was written, in circumferential writing, "NEW", above a crown (changed in 1953 from Imperial to St. Edward's), with "HEBRIDES" below.
David Prothero, 12 July 1997

Flags of Paradise 1996 chart shows it as illustrated on this page.
Ivan Sache, 19 July 1999

New Hebrides Blue Ensign badge: "NEW" above and "HEBRIDES" below crown (1906-1953 Tudor Crown, 1953-1980 St. Edward's Crown). The circle was white, the lettering was black and the crown was in full colour. On Blue Ensign with no garland for British operated official vessels. Note correction to my posting of 12th July 1997.
David Prothero, 1 October 1999

The flags above are typical of those shown by Flaggenbuch (1992) and Flags of Maritime Nations.
Martin Grieve, 7 June 2006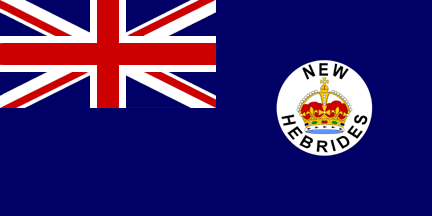 image by Clay Moss, 9 June 2006
My drawing was an infrequent variant I think. I have an actual photo of the New Hebrides ensign that I drew. The bolder letters could be occasionally seen on the British Solomon Islands ensign as well.
Clay Moss, 7 June 2006
---
British Resident Commissioner 1906-1980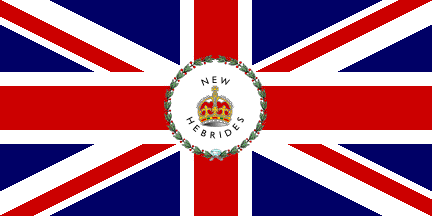 image by Martin Grieve, 12 August 2003
1906-1953 (Tudor Crown)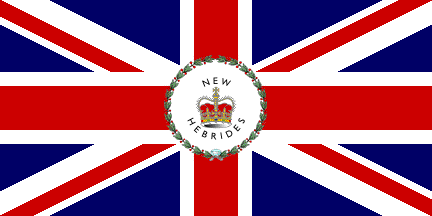 image by Martin Grieve, 12 August 2003
1953-1980 (St. Edward's Crown)
New Hebrides badge on Union Flag with garland (green leaves, red berries and pale blue ribbon) for Resident Commissioner.
David Prothero, 1 October 1999
---
Free French Administration 1940-1945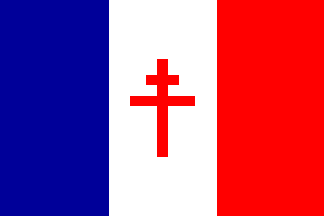 image by Ivan Sache
French Tricolour with a red Lorraine Cross in the white stripe. Source: Flags of Paradise 1996 chart.
Ivan Sache, 19 July 1999
---
Flags at the 1963 South Pacific Games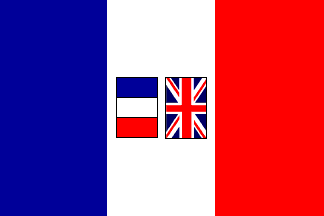 image by Ivan Sache
Sports Team - South Pacific Games (1963). French Tricolour with French Tricolour and Union Jack, rotated 270° and placed side by side in the white stripe. Source: Flags of Paradise 1996 chart.
Ivan Sache, 19 July 1999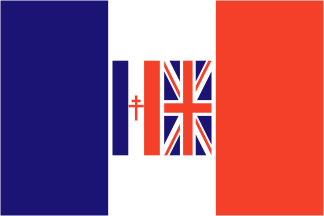 image by Manuel Gabino Villascán, 4 April 2003
In the official web site for the South Pacific Games held in Suva, Fiji, between June and July 2003, there were some photos showing flags.
Manuel Gabino Villascán, 4 April 2003
The use of this flag might be to do with the fact that the French Administration of New Hebrides was proudly loyal to the Free France Movement of Gen. de Gaulle during the Second World War.
Chrystian Kretowicz, 5 April 2003
---
Flag at the 1966 South Pacific Games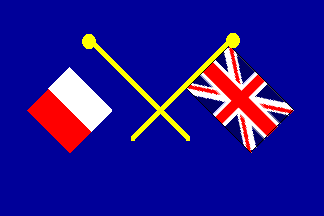 image by Ivan Sache
Sports Team - South Pacific Games (1966). Blue field with French Tricolour and Union Jack on yellow crossed sticks. Source: Flags of Paradise 1996 chart.
Ivan Sache, 19 July 1999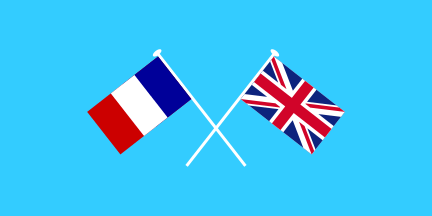 According my sources (Michel Lupant, Jorge Hurtado) the blue [on the 1966 flag] must be light.
Jaume Ollé, 26 July 1999
This flag can be seen in a video about the 1971 Pacific Games in Tahiti, French Polynesia at https://www.youtube.com/watch?v=B_XbvvAA5V4 (at 10:38) as the team from new Hebrides entered. The field is light blue.
Juan Manuel Villascan, 23 May 2016