---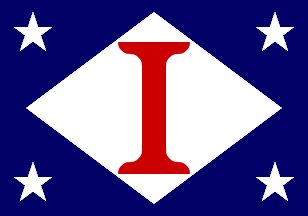 image by Miles Li, 16 September 2019
Ingalls Shipbuilding (Pascagoula, Mississippi, founded in 1938).
Miles Li, 16 September 2019
---

image located by Jan Mertens, 28 October 2005
In the section concerning Huron Cement (or Transportation) there is a quote from Boatnerd which is appropriate here as well (http://www.boatnerd.com/pictures/fleet/townsend.htm):

"Inland Lakes Management was formed in March of 1987 to operate and manage the Huron Cement (National Gypsum) fleet following the purchase of National Gypsum by Lafarge Corp. on January 1st, 1987."

Several of those really old ships are used for storage now; others have replaced them. On various ship photos on the web appear two versions of the house flag, which basically is red with a border and bearing three white initials, the centre one being a large 'I'. A photo of a ship bearing the name 'Huron Cement' on its sides and flying the 'LIT' version with a white border, flag image repeated on the hull (with a dark border, blue I think) can be seen here. Then, a dark-bordered flag and 'LIT' flagoid on the hull here and here (as shown above).

Other photos can be found at:
http://www.nesys.org/photos/boats/Welland/Alpena/Alpena.html (dark-bordered house flag, apparently a 'LIM' version, which is repeated on the hull)
http://www.gbportnews.20m.com/images/News%20Page%20Images/October%2018th/Paul-H.-Townsend-10-18-05-JLL-Through-the-spans.JPG
http://www.gbportnews.20m.com/images/News%20Page%20Images/October%2018th/Paul-H.-Townsend-10-18-05-JLL-Bow-at-dock.JPG (the 'LIM' variety)

An entire page dedicated to the 'LIM' carrying 'Alpena' can be found here except for one photo (near the end, captioned "Docked along side the J. B. Ford in S. Chicago, Luke Collection") where both hull versions – i.e. different sets of initials - are shown! See enlarged picture: http://www.boatnerd.com/pictures/images/alpjb.jpg.

The above Boatnerd 'Alpena' page mentions the name change (moment in time unknown to me but not before 1990 I believe): "Inland Lakes Transportation, Inc. (Lafarge), Alpena, MI (now Inland Lakes Management". So that is where the sets of initials come from. And I think that the dark-bordered flag always carries the 'LIM' initials whereas the 'LIT' initials (on a real flag, that is) appeared on a white-bordered flag. The 'LIM' flag was introduced following the name change, an easy thing to do, and the hull flagoids - which had to be repainted - eventually followed suit.

Jan Mertens, 28 October 2005
The Great Lakes chart shows the flag with LIM (for 'Management'), white on red field.
Jan Mertens, 12 November 2006
---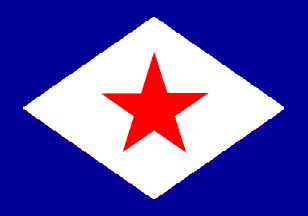 image by Joe McMillan
Inland Navigation Co., Seattle
A regional carrier in the Puget Sound area in the early 20th century. This was also known as the International Steamship Co and the Tacoma-Seattle-Everett Route. The flag was blue with a red star on a large white lozenge.
Source: Lloyds 1912
Joe McMillan, 23 October 2001
Inland Navigation Co. This company was connected with Charles Peabody and Alaska Steamship Co. being run in association with the Puget Sound Navigation Co. from 1903 and merging into that company fully in 1923. Inland Navigation was originally La Conner [possibly LaConner] Trading and Transportation Co. in which Joshua Green was instrumental in founding and after Peabody and Alaska Steamship bought a controlling interest he was still a major shareholder. When LT&T changed name to Inland Navigation is not clear but Lloyds (1912) show it by the latter name. The flag was designed by Green's wife and whilst he was involved his ships kept flying the flag, presumably even after the company was finally absorbed by Puget Sound Navigation but after Charles Peabody died in 1926 Green sold his holding to the Peabody family. In 1928 Alexander Peabody, son of Charles, took control of Puget Sound Navigation and that was the end of the Inland Navigation flag being flown but the flag is still around being that used by the Puget Sound Maritime Historical Society with the logo appearing on http://www.pugetmaritime.org (info sourced mainly from http://www.tacomascene.com and http://www.skagitriverjournal.com). The only International Steamship Co. I can find was one on the eastern seaboard.
Neale Rosanoski, 12 October 2009
---

image located by Jan Mertens, 16 October 2005
On this page we see the name pennant but also a white-bordered red flag, bearing a white diamond with the word 'Inland' in black capital letters. See also this page for flag-related crockery, a plate from the Kathleen Lathom collection identified as 'Inland Steamship'. Compare with this photo, dated 21 July 2002: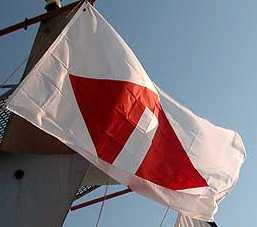 image located by Jan Mertens, 16 October 2005

Another ship, the 'Edward L. Ryerson' (onomast comparable to 'Edward Sykes' - clearly double-sided) flies what seems to be a successor the the red Inland house flag: white, bearing a red diamond which has the silhouette of the letter 'I' (resting on the diamond's lower point) left out.

This page has a lot to say (relevant manuscripts of the Historical Collections of the Great Lakes, an initiative of Bowling Green State University, Ohio). Quotes:

"The Inland Steel Company was founded in 1893 during the financial panic of that year. Economic depression had led to the failure of the Chicago Steel Works that had specialized in reusing old railway rails to produce farm machinery. Ross Buckingham, brother of the former president of Chicago Steel, salvaged the production machinery after the building and property were sold to pay debts.
(...)
Innovative research in the 1890s found new product markets for Inland Steel to enter. Sales increased seventy-five percent in one year when a light steel web for bed frames was produced to replace cast iron frames.
(...)
The Inland Steel managers steered the company through periodic recessions before World War I began.
(...)
By 1911 the need for its own lake fleet was seen as significant enough to form the Inland Steamship Company. The ability to ship iron ore from its own mine in its own freighters helped reduce costs for the company.
(...)
Inland Steel kept expanding operations through the 1930s depression years. (...) Everything from roofing material to buckets was manufactured to be sold through the subsidiary businesses. Inland Steel weathered the Great Depression in sound financial condition.

Military contracts in World War II kept the mills operating and the Inland Steel fleet sailing on the Great Lakes. Armaments replaced agricultural implements, but profits remained high. In the years after World War II sales continued to grow for Inland Steel. A giant corporation had risen from the 1894 company where officers could not draw their salaries without endangering the company. In 1962 working capital of $225,000,000 was listed in the annual report. In 1995 Inland Steel operated a fleet of four bulk freighters for ore transport."

But, as we know, the firm was to be bought (in 1998) by Ispat Inland, Inc. which continued to operate ships and had the company logo on the funnel - but I haven't discovered any flag so far. Anyway now it is the Highland, In. based Central Marine Logistics the remaining ex-Inland Steel ships work for (flag not known to me).

Jan Mertens, 16 October 2005
---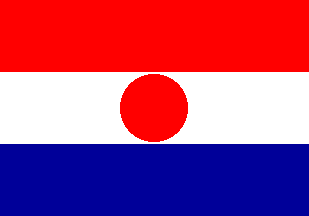 image by Joe McMillan
Interisland Steam Navigation Co.
The islands referred to were the Hawaiian Islands, which Interisland served with about a dozen ships, peaking in the 1920s. Flag was a RWB horizontal tricolor with a red disk on the center.
Sources: www.steamship.net (no longer available), Reed (1896), Talbot-Booth (1937)
Joe McMillan, 23 October 2001
---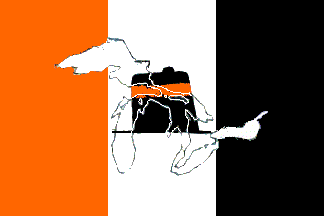 image by Joe McMillan, colours modified by Rob Raeside, 26 December 2005

A major Great Lakes carrier, formed not long ago by amalgamating various older companies. It is a vertical tricolor with an outline map of the Great Lakes overall superimposed on the funnel of the ships.
Joe McMillan, 23 October 2001

In February of 1883, Civil War veteran Colonel James Pickands and Samuel Livingston Mather founded Pickands Mather for the purpose of mining iron ore from Minnesota's Mesabi range and Michigan's upper peninsula and delivering it by ship to Cleveland, Chicago and other Great Lakes ports.

Twenty years later, when some of the fiercest storms swept across the Great Lakes in 1913, four separate Pickands Mather operated fleets merged to form the Interlake Steamship Company.

What started with a 13/20ths interest in the 1700-ton Steamer, V. H. Ketchum has grown into a fleet that includes the largest ship on the Great Lakes, the M. V. Paul R. Tregurtha at 1013.5 feet in length.
Source: www.interlake-steamship.com/
Phil Nelson, 27 August 2000

An image at http://pics.boatnerd.com/view_photo.php?set_albumName=album1576&id=DSCF6977 clearly shows the flag is an orange-white-black tricolour (plus company logo, of course).
Jan Mertens, 28 November 2005
---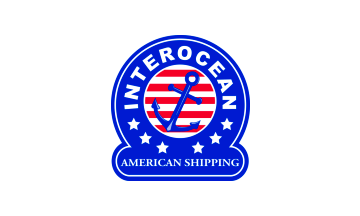 image provided by Sheila Cottle, 22 February 2006
Company web page: www.ium.com
Interocean American Shipping Corp., has over 30 years of vessel management and vessel operations of which we are very proud. Our name, logo and flag have just changed this past May 2005, when we became Interocean American Shipping, leaving behind our former name Interocean Ugland Management Corp.

We are located in Voorhees, NJ, and presently maintain a significant client base and provide customers with both sailing and shore side vessel operations for handling ocean-going vessels, third party U.S. vessels and international Owner business. IAS oversees all activities involving safety, crewing, environmental protection, navigation and ship's business. IAS personnel strive to achieve the highest standard of efficiency and cost-effectiveness in the industry. IAS maintains an ABS ISO: 9002 and ISO:14001 certification and an ISM Certification (2008 / 2006, respectively).
Interocean's current managed fleet is divided into group groups - commercial, i.e., private company-owned vessels and U.S. government-owned vessels. IAS has operated commercial tonnage continuously since its inception in 1975.
Sheila Cottle, 22 February 2006
Administrative Assistant
Interocean American Shipping
---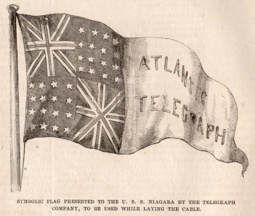 located by Valentin Poposki, 29 September 2007
Source: http://www.atlantic-cable.com/Article/1858Leslies/
"A correspondent, attached to the Niagara, has furnished us with a sketch of the flag presented by the Inter-Oceanic Telegraph Company to the officers of the ship, which will be displayed while the process of laying the cable is in operation. The company presented a similar flag to the Agamemnon. If the enterprise is successful, these flags will in all future time possess an historic interest that never before was associated with the national emblems of any nation. We have those of Saratoga, of Austerlitz and of Waterloo, but these speak of warlike triumphs, of the shedding of blood, of the desolation of peoples; but the flags of the Niagara and Agamemnon we hope will proclaim a civil triumph - the consummation of the scientific miracle of the age."
Valentin Poposki, 29 September 2007
Has anyone noticed that the quartered part at the hoist, quartering the Union Jack and the US jack, featured the usual format of the Union Jack (St George's cross overall) in the first quarter, but the fourth quarter showed St Andrew's cross overall?
Mike Oettle, 2 October 2007
---

image located by Jan Mertens, 18 October 2005
This company, operating the Block Island Ferry, shows a blue swallowtail bearing white initials I-N (N in front of I) on its website. The flagoid – I haven't found any (clear) pictures of real flags – is painted on funnels and hulls. An example can be seen here. Well, that could be the company flag used as a jack… The company seat seems to be New London, Conn.
Jan Mertens, 18 October 2005
---

image located by Jan Mertens, 25 May 2011
Intracoastal Transportation of Lewes, DE (US) is a towage company "operating from Waterford, NY (...) May 1st through November 15th" as stated on the website: http://pelicanpassage.com/pages/IntracoastalTowing. Active on the many waterways in the eastern part of the United States, for example the New York Canal System, IT concentrates on moving barges of various kinds with the workhorse tug 'Shenandoa'.

An impressive number of photos concerning work or landscapes, or both, is available mainly via the 'Services' and 'Tug' pages (upper menu). Taken from this page is a photo of the house flag: http://pelicanpassage.com/pages/IntracoastalTowing/Pages/Shenandoah/tugphotos51.htm

Relevant detail above shows a red flag bearing a square diamond not touching the flag's upper and lower edges (neither the hoist and fly edges, naturally); on the diamond are placed black initials "IT" serifed and accentuated in white.

The flag drawing on the site does not reproduce the flag in the cloth quite faithfully as the initials are staggered there – which is why drawings ought to be checked against the real thing, if at all possible.
Jan Mertens, 25 May 2011
---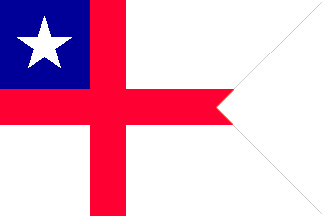 image by Joe McMillan
Isbrandtsen Company was established by Hans Isbrandtsen after the breakup of ISMOLCO, his joint venture with his cousin A. P. Mo/ller, the shipping magnate who formed the great Maersk Line. Isbrandtsen Co. traded mainly with the Far East. This first flag of the company was a white swallowtail with a red cross, the first quarter blue with a white star. I have seen a flag, which may have been that of ISMOLCO, that is of this same basic design but with the canton in light blue and the star having seven points--a seven-pointed star on light blue being the Maersk (Mo/ller) house flag. Hans's son Jacob took over the company in 1953 and bought American Export Lines in 1960 to form American Export Isbrandtsen.
Source: Stewart (1953)
Joe McMillan, 23 October 2001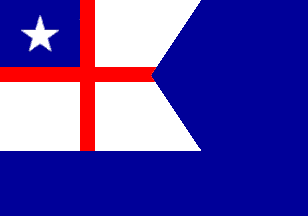 image by Joe McMillan
Isbrandtsen Steamship Co. (1939-1962), New York
Hans Isbrandtsen, a cousin of Denmark's famous Arnold P. Møller, established the Isbrandtsen SS Co in 1939 to serve ports not already served by a joint venture, ISMOLCO, that he ran with his cousin. His son Jakob took over after Hans's death in 1953. The flag was blue with a large canton containing a swallowtailed white flag with a red cross, with the first quarter of that flag blue with a white star. In 1964, Jakob Isbrandtsen merged American Export Lines with his other properties to form American Export Isbrandtsen.
Sources: US Navy's 1961 H.O., Stewart (1953), Stewart & Styring (1963)
Joe McMillan, 21 August 2001
For the first version of the Isbrandtsen Steamship Co. shown above, most sources, including Stewart (1953), have the cross fessepoint at what would be the centre of a rectangular flag i.e. it is closer to the fork. Variations abound of the flag. Talbot-Booth in Merchant Ships 1942 & 1944 shows the normal swallowtail with an eight pointed star in the canton, as do Brown 1958 and Loughran (1979), Brown 1951 had no swallowtail, and Stewart (1953), 1957 shows the 5 pointed star version. The merger into American Export Isbrandtsen Lines Inc. came to an end in 1973 and they resumed their separate identities but on their part there does not appear to have been any direct shipping involvement from thence.
Neale Rosanoski, 9 March 2004
---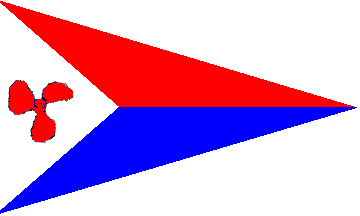 image by Ivan Sache, 7 July 2012
Island Mariner offers whale watching cruises in the Pacific Northwest.
Quoting the company's website:
"In 1962, Island Mariner was the only passenger boat serving the beautiful San Juan Islands, other than the Washington State Ferry System. A few years later in 1978, we were the first company to offer a whale watching cruise."

The company's flag is shown graphically as an horizontally divided red-blue pennant with a white triangle placed along the hoist, charged with a red propeller.
Source: http://www.islandmariner.com
Ivan Sache, 7 July 2012
---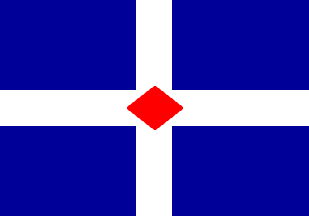 image by Joe McMillan
Isthmian Steamship Co., New York (1910-1960s)
Isthmian was created by US Steel, originally under the UK flag, to carry the company's products to non-US markets. The ships were transferred to US registry at the outbreak of WWI in an effort to keep them from being requisitioned by the British government or attacked by German commerce raiders. It was quite a sizable operation at its peak, with 85 ships in operation as of 1949, but the evolution of the shipping industry soon made it more profitable for US Steel to contract out its shipping rather than doing it in-house. The line was sold to the States Marine Corporation in 1956, which maintained Isthmian's identity and flag until late 1960s.
Sources: Wedge (1926), Stewart (1953)
Joe McMillan, 23 October 2001
This page, dedicated to Isthmian Lines, has some details to offer: http://www.isthmianlines.com/ . In 1903, in collaboration with Dunn & Co. in Liverpool, Farrell Lines chartered two ships for the newly established New York & South American Line. Soon four more ships were built by Dunn as trade to South America flourished. Sent out were iron and steel produce, back went nitrate and ore. It seems ships were UK flagged: some were requisitioned during WWI, others transferred to the US flag if I understand correctly.
Jan Mertens, 9 July 2005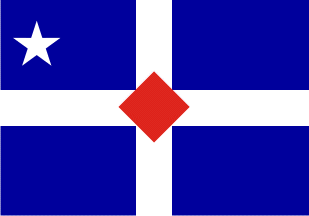 image by Rob Raeside
The Commodore Flag appears on this page http://www.isthmianlines.com/miscx.htm, being the house flag with a white five-pointed star added to the upper hoist. Caption:
"Commodore Flag
Photos of a rare Isthmian Commodore Flag, courtesy of Jamie Ryan. It belonged to his grandfather, Capt. Charles A. Ryan, Fleet Commodore. Copyright © 2006-2007 Jamie Ryan - All rights reserved. Do not reproduce." (Image above redrawn based on the photo.)
Jan Mertens, 2 May 2007
---
US shipping lines house flags - 'J' continued