This page is part of © FOTW Flags Of The World website
Federal Aviation Administration (U.S.)
FAA
Last modified: 2018-12-28 by rick wyatt
Keywords: faa | federal aviation administration | departmental | united states |
Links: FOTW homepage | search | disclaimer and copyright | write us | mirrors

---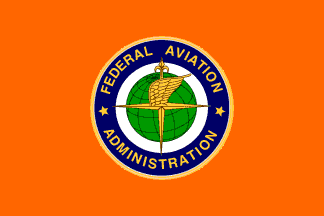 image by Joe McMillan, 28 December 2001
---
---
See also:
---
The Federal Aviation Administration, a branch of the Department of Transportation, oversees the civil avation industry in the United States, including certification of aircraft, licensing of aircrews, operation of the air traffic control system, etc. Its flag is orange with the FAA seal on the center.
Joe McMillan, 28 December 2001
A huge (and clickable) image of current FAA seal is seen at www.politicalfriendster.com/images/6819.gif. It has a blue rim (with two thin yellow circles surrounding it) bearing yellow words 'FEDERAL AVIATION / ADMINISTRATION' separated by yellow five-pointed stars encloses a green globe on a white background in front of which - partly encroaching upon the rim - is a yellow four-pointed star indicating the four main directions of the compass, winged (suggesting flight towards the left) and surmounted by a fleur-de-lis.
Jan Mertens, 22 September 2008
---
Federal Aviation Agency 1958-1967
Thanks to Clay Moss, we recently were led to a number of eBay offers put up by "edwinart" one of which was no. 200252683090 (end 12 Sep 2008) presenting a "vintage Federal Aviation Agency flag: "approx. 66 in. x 52 in" and "made of 100% Rayon by FEDERAL ARTGLO" while "Inside Flag. Both sides read correctly" means, I take it, that the emblem is sewn on each side and that its legend remains legible.

Then there is the tantalizing information that "this and other flags were given to a flag museum which in time sold out the collection in the early 80s to the Heritage Society, I was told. So each that I am selling may possibly have an inventory number written on the eyelet edge and some may also have some words written on same part, telling of the country or state they are from."
image located by Jan Mertens, 22 September 2008
A reduced image of the main photo shows the background is not orange but a vivid red, vermilion perhaps, although lighting conditions may play a role (on the other hand, this is an outdoor photo). Then, logically, the name then used for this institution appears on the seal's rim: 'FEDERAL AVIATION AGENCY / UNITED STATES OF AMERICA' but the colours are the same.

According to this page, the Agency's seal was designed by the (US Army's) Institute of Heraldry: www.qmfound.com/heraldry.htm.
Jan Mertens, 22 September 2008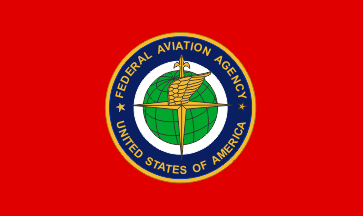 image by Rob Raeside, 2 October 2011
The current FAA's website mentions the previous FAA(gency) among its predecessors: www.faa.gov/about/history/brief_history/

"The approaching introduction of jet airliners and a series of midair collisions spurred passage of the Federal Aviation Act of 1958. This legislation transferred CAA's functions to a new independent body, the Federal Aviation Agency (FAA) that had broader authority to combat aviation hazards. The act took safety rulemaking from CAB and entrusted it to the new FAA. It also gave FAA sole responsibility for developing and maintaining a common civil-military system of air navigation and air traffic control, a responsibility CAA previously shared with others."

"In 1966, Congress authorized the creation of a cabinet department that would combine major Federal transportation responsibilities. This new Department of Transportation (DOT) began full operations on April l, 1967. On that day, FAA became one of several modal organizations within DOT and received a new name,
Federal Aviation Administration."
(CAA= Civil Aeronautics Administration; CAB= Civil Aeronautics Board.)
Jan Mertens, 22 September 2008
---
U.S. Civil Aeronautics Administration (CAA) 1940-1958, I know there was a flag for the other agency the (Civil Aeronautics Board) but as the CAA is the direct predecessor to the FAA I image during 1940-58 it must have had an agency flag.
https://en.wikipedia.org/wiki/United_States_government_role_in_civil_aviation#Civil_Aeronautics_Authority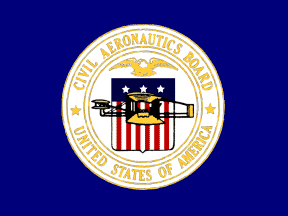 image by Randy Young, 15 July 2015
CAB seal is at http://www.wipo.int/ipdl/IPDL-IMAGES/SIXTERXML-IMAGES/images/us11.jpg

The CAB was an agency of the Federal government of the United States that regulated aviation services, including scheduled passenger airline service, and until 1967 provided air accident investigation, and was split off from the CAA.

The U.S. Civil Aeronautics Administration (CAA), was created in 1938, and until 1940 was named Civil Aeronautics Authority. And was replaced by the Federal Aviation Agency (FAA) in 1958. I have not seen any visual evidence of a CAA flag 1938/40-1958 yet. So far the only visual history I have found on the CAA is this photo from wiki of its sign on the side of a test aircraft: https://en.wikipedia.org/wiki/United_States_government_role_in_civil_aviation#/media/File:DOC-CAA.JPG.

CAA logo: http://goflightmedicine.com/wp-content/uploads/2014/11/CAA.jpg

It would be interesting to see if anyone can find any info on the Civil Aeronautics Administration (CAA) flag during the 1938-1958 era.
Ben Cahoon, 15 July 2015