This page is part of © FOTW Flags Of The World website
Space Shuttle flags (U.S.)
Last modified: 2020-12-26 by rick wyatt
Keywords: space shuttle | united states | nasa | columbia | challenger | discovery | atlantis | endeavour |
Links: FOTW homepage | search | disclaimer and copyright | write us | mirrors

---
---
See also:
---
The space shuttles have their own flags. They traditionally accompany the OV (orbital vehicle) into the VAB, then onto the launch pad. There are several hanging in the restricted areas of Cape Canaveral; the VAB, the personnel training centers and headquarters buildings among others. A flag of the particular orbiter to be launched is raised while that particular ship in on the pad prior to launch.
An excellent article by Annie Platoff is at https://escholarship.org/uc/item/1tt282fs, "Flags in Space: NASA Symbols and Flags in the U.S. Manned Space Program" issued in The Flag Bulletin, nr. 230, 2007. It includes the flags below as well as some others. She wrote a number of other articles regarding the flags in space, like https://escholarship.org/uc/item/5h31r40r the "Six Flags over Luna" in the Washington Flag Congress 2011 proceedings, and specifically on the Space Shuttle program flags "Zastave u Svemiru – Zastave programa Space Shuttle | Flags in Space – Flags of the Space Shuttle Program" in "Grb i zastava" nr. 10, 2011.
Željko Heimer, 20 August 2014
---
Naming of the Shuttles
A search of www.nasa.gov reveals:
Columbia, the oldest orbiter in the Shuttle fleet, is named after the Boston, Massachusetts based sloop captained by American Robert Gray. On May 11, 1792, Gray and his crew maneuvered the Columbia past the dangerous sandbar at the mouth of a river extending more than 1,000 miles through what is today south-eastern British Columbia, Canada, and the Washington-Oregon border. The river was later named after the ship....

Challenger, the second orbiter to become operational at Kennedy Space Center, was named after the British Naval research vessel HMS Challenger that sailed the Atlantic and Pacific oceans during the 1870's....

Discovery, the third orbiter to become operational at Kennedy Space Center, was named after one of two ships that were used by the British explorer James Cook in the 1770s during voyages in the South Pacific that led to the discovery of the Hawaiian Islands. Another of his ships was the Endeavour, the namesake of NASA's newest orbiter....

Atlantis, the fourth orbiter to become operational at Kennedy Space Center, was named after the primary research vessel for the Woods Hole Oceanographic Institute in Massachusetts from 1930 to 1966. The two-masted, 460-ton ketch was the first U.S. vessel to be used for oceanographic research....

Endeavour, the newest addition to the four-orbiter fleet, is named after the first ship commanded by James Cook, the 18th century British explorer, navigator and astronomer. On Endeavour's maiden voyage in August 1768, Cook sailed to the South Pacific (to observe and record the infrequent event of the planet Venus passing between the Earth and the sun). Determining the transit of Venus enabled early astronomers to find the distance of the sun from the Earth, which then could be used as a unit of measurement in calculating the parameters of the universe....
submitted by: Phil Nelson, 28 February 2002
---
About the Flags
Recently I had the occassion to correspond with a NASA staffer, and received some additional info about U.S. Space Shuttle flags. Officially, these are the Shuttle Orbiter Flags which were created by the NASA - Manned Flight Awareness office at the Marshall Space Flight Center in Huntsville , Alabama . The office is now called the Space Flight Awareness office, www.nasa.gov/directorates/heo/sfa/ and it is charged with distributing awareness visuals and publications to maintain focus on astronaut safety and mission success.

Space program awareness visuals renew employees' flight safety consciousness and remind them that excellence in job performance is always expected. They are manufactured by Annin & Company in both the table-top and full size outdoor versions. NASA also designs and orders flags for each Shuttle mission in addition to the Shuttle Orbiter flags. They usually bear the primary payload emblem (e.g., the International Microgravity Lab, Tethered Satellite System, Spacelab-J, etc.) They are used mostly on the launch and mission consoles during a flight, employees' desks, managers' offices, etc.

The most common configuration is the payload flag and the corresponding Orbiter flag together on a 2-flag stand. Usually, a brick or two of the various 4"x6" flags are vacuum-packed (without the staffs) and flown on the mission to attach to award certificates for individuals involved with the mission post-flight. Since they are not available to the general public, many of these awareness visuals have become quite collectible. This is especially true of the Shuttle Orbiter Flags.

Jim Ferrigan , 12 February 2009
---
It's hard to say that Enterprise was ever planned to be an orbiter- it would have taken to much to transform it. In any event, I doubt it has a flag: The flags were introduced after the Challenger was destroyed, and well after Enterprise stopped flying, so it seems no flags were created for them. The main purpose of the flags, it seems, is to be flown at rollout and launch. The Challenger no longer existed, and Enterprise was never rolled out or launched anyway.
Nathan Lamm, 18 February 2009
---
Flag of the Space Shuttle Columbia
Manned Flight Awareness

image by Eugene Ipavec, 15 March 2009

Space Flight Awareness

image by Eugene Ipavec, 15 March 2009
source: www.flickr.com

---
Flag of the Space Shuttle Discovery
Manned Flight Awareness

image by Eugene Ipavec, 15 March 2009

Space Flight Awareness

image by Eugene Ipavec, 15 March 2009
source: www.flickr.com

At least the shuttle Discovery has its own flag. About two weeks ago, I was watching a TV program on the last mission of American shuttles to the Russian space station Mir. The interesting part is that some shots were taken in Cape Kennedy of the shuttle being taken (slowly) to the place of the take off, and suddenly appears before my eyes a blue-white-red flag diagonally divided with a small slope and "DISCOVERY" in blue letters, centered. Inside the "O", a silhouette of a shuttle.
Jorge Candeias, 8 October 1998
---
Flag of the Space Shuttle Atlantis
Manned Flight Awareness

image by Eugene Ipavec, 15 March 2009

Space Flight Awareness

image by Eugene Ipavec, 15 March 2009
source: www.flickr.com

The space shuttle Atlantis went up to the International Space Station yesterday. Flying at the launch site (at a safe distance, of course) was a U.S. flag, and below it on the same pole, a smaller Atlantis flag-same as the Discovery flag, but with "Atlantis" instead, also in sans serif capitals. The second "A" is replaced by the silhouette of the shuttle.
Nathan Lamm, 9 April 2002
---
Flag of the Space Shuttle Endeavour
Manned Flight Awareness

image by Eugene Ipavec, 15 March 2009

Space Flight Awareness

image by Eugene Ipavec, 15 March 2009
source: www.flickr.com

NASA shows the Endeavour flag, with the shuttle image (open doors) replacing the "A." I'm not sure why the "Manned Flight Awareness- NASA" logo appears- maybe it was under that program that the flag was created.
Nathan Lamm, 28 February 2002
---
Name Banners
Columbia


Challenger


Discovery


Atlantis


Endeavour


images by Eugene Ipavec, 15 March 2009
based on photos located by Peter Hans van den Muijzenberg
---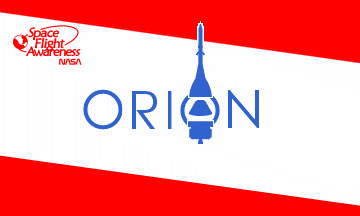 image by Randy Young, 12 March 2016
The space shuttle orbiter launch flag design, has been modified for the new Orion vehicle, the first example of which, successfully launched this morning: https://www.facebook.com/NASAKennedy.
Dave Fowler, 5 December 2014
The flag design includes the following vehicle components all, in dark blue color, as seen here: http://news.bbcimg.co.uk/media/images/79323000/gif/_79323470_orion_components_464.gif (source: http://www.bbc.com/news/science-environment-30343171)
- Launch abort system (top)
- Crew module (middle)
- Service module (bottom)
Esteban Rivera, 5 December 2014

---
Museum of Flight Shuttle Flag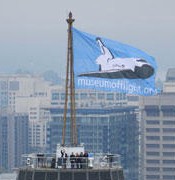 source: blog.seattlepi.com
This article features the raising of a Space Shuttle flag (seen here ) by The Museum of Flight (www.museumofflight.org ) in Seattle's Space needle, on September 29, 2010 "to promote its bid to land one of the shuttles after NASA retires the fleet later this year". Well, turns out I was at the museum four days ago and so far none of the remaining Space Shuttles have made it to the museum for display. However they do have a Space Shuttle mockup simulator where visitors can actually see where astronauts train for their Space Shuttle missions, a graphic showing the different arrays of material carried on some of its missions (from STS-1 to STS-44), wind tunnel models of the several proposals that were submitted until the final design was chosen, etc.
Esteban Rivera, 20 August 2014