This page is part of © FOTW Flags Of The World website
Fort Mifflin
Historical
Last modified: 2019-08-02 by rick wyatt
Keywords: fort mifflin | pennsylvania | fort stanwix |
Links: FOTW homepage | search | disclaimer and copyright | write us | mirrors

---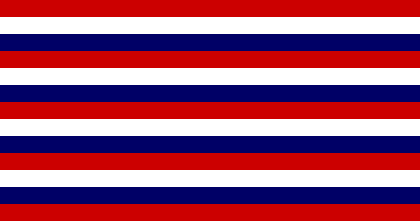 image by António Martins-Tuválkin, 21 August 2003
---
---
See also:
---
Description of the Flag
The flag was/is composed of thirteen horizontal stripes in a repeated pattern of (from the top) red-white-blue, ending with a red stripe.
António Martins-Tuválkin, 21 August 2003
The Fort Mifflin Flag - 1777
The Fort Mifflin Flag was originally the official flag of the Continental Navy Jack. As you can see it is very distinctive in its design, consisting of thirteen alternating stripes of red, white and blue, representing the thirteen colonies of the new nation at the time. The Fort Mifflin flag borrowed the design because the navy was operating in the vicinity of the Delaware River forts and it was the only flag the soldiers of the fort saw on the island. The present flag that flies over the fort is an exact replica of the flag that flew over the fort in the fall of 1777, but is only one quarter the size of the garrison flag that flew during the battle and could be seen as far away as Philadelphia, over 7 miles away.

During the siege of Fort Mifflin from October 4th to the morning of November 16th 1777, the flag remained flying, despite the largest bombardment the North American continent has ever seen. Over 10,000 cannonballs were shot at the small garrison of men at the fort and at one point 1,000 cannonballs in one hour. Through the tremendous shelling by the batteries on land and the British fleet in the river, the Continental soldiers held fast and heroically stood against the onslaught. At one point the flag was shot from the pole and two soldiers rushed to raise it, but no sooner than they had done so a British mortar shell burst and killed both men. Eventually the Fort was unable to bear under the constant barrage, but the defenders did not surrender the Fort, the flag was still flying the morning they evacuated to New Jersey.

It is said that this same flag flew over the American defenders at Fort Stanwix during the Burgoyne Campaign in New York State of the same year as well as at Fort Griswold in Connecticut.

Lee Patrick Anderson
Director of Public Programming
Fort Mifflin on the Delaware
11 October 2006
Ft. Stanwyx, under the command of Col. Peter Gansevoort (3d NY), flew this flag, according to Lt. Col. Marinus Willett. During Burgoyne's invasion, the flag was hoisted the morning after the fort was surrounded by Gen. St. Leger's 2,000 Regulars, Tories and Indians, on August 3, 1777. The Americans withstood the siege and forced St. Leger's forces to retreat.
Peter Krembs, 8 April 2002
---
Compare the flag image above with http://www.loeser.us/flags/revolution.html (about half way down). We show the stripes red-white-blue, but Pete shows them as red-blue-white. Of course, one flag can be generated from the other by turning it upside down. Is the top known on this flag?
The primary source for the Fort Mifflin flag is a detail from the 1777 Montresor map of the defenses of Philadelphia. I'm attaching TIF of the flag, and one of the whole map with a circle showing where the flag image is located. The map's dimensions are 151 cm by 89 cm. The flag is a tiny, incidental detail of the map, and I doubt that it was intended to be realistic. However, it's the only image we have of that flag as far as I know. (See Montresor map image - us_fmiffa.jpg and map detail image - us_fmiffb.jpg)
Peter Ansoff, 25 April 2019
Peter Ansoff is right that probably the painting was not intended to be a faithful picture of the flag. When I blow the picture up and apply some digital magic, I see stripes (from the top) of B-W-R-W-R-B-W-R-B-W-R-W-B. As you may recall, the Serapis Flag painting of 1779 also had stripes of all three colors in no apparent static order. I think this may have been a "thing" then.
Dave Martucci, 25 April 2019