This page is part of © FOTW Flags Of The World website
Confederate Statement Flags (U.S.)
CSA Heritage Flags
Last modified: 2023-08-25 by rick wyatt
Keywords: united states | confederate | csa | southern cross |
Links: FOTW homepage | search | disclaimer and copyright | write us | mirrors

---
On this page:
General CSA Statement and/or CSA Heritage Flags
CSA "State" Statement Flags
See also:
---
General CSA Statement Flags
CSA Heritage Flags
These "hybrids" are a combination of Confederate flags (CSA) and/or state or organizational flag. They generally are not an official anything. Ever since the movement to remove the confederate flag from the Georgia State flag, various flags have been made. Flags are a way of making a statement and some people are doing just that.
The Virginia Flaggers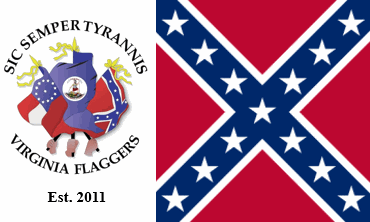 image by Pete Loeser, 17 August 2023
based on this photo located by Bill Garrison, 24 February 2023
A flag mimicking that of the May 1863 "Second National Banner" or the "Stainless Banner" of the "Confederate States of America" (1861-1865) during the USA-CSA Civil War. However, this 2019 flag variation at the top has a black-letter slogan reading: "Sic Semper Tyrannis" [which according to Wikipedia is a Latin phrase meaning "thus always to tyrants". In contemporary parlance, it means tyrannical leaders will inevitably be overthrown. The phrase also suggests that bad but justified outcomes should, or eventually will, befall tyrants. This slogan is the state motto of the U.S. State of Virginia. This slogan was also allegedly uttered by the pro-CSA actor John Wilkes Booth, after shooting Abraham Lincoln in April 1865.] The bottom slogan on this flag reads: "Virginia Flaggers Est. 2011". The "Virginia Flaggers" is a Richmond, Virginia-based group that protests the removal of Confederate War statutes, flags, and memorials throughout the U.S. since 2011.
Sources: Virginia Learning to Unlearn (Virginia Mercury, 2/8/2019) and Logo image.
Bill Garrison, 24 February 2023
The flag highlighted here does not, in fact, mimic the Confederate Second National Flag (white field with square Army of Northern Virginia battle flag in the canton), but follows the pattern of the Georgia state flag of 1956. In that Georgia pattern, a variation of the Army of Northern Virginia battle flag occupies the two-thirds of the flag toward the fly, with the one-third along the hoist having a blue field with the Georgia state seal in white.
Randy Young, 26 February 2023
---
"Heritage Not Hate" Flag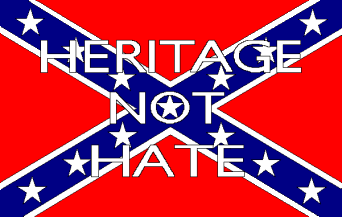 image by Rick Wyatt, 4 February 1997
Here is a flag that became available a couple of years ago. Many people in our area display it to show pride in their "heritage."
Rick Wyatt, 4 February 1998
---
"I Ain't Coming Down" Flag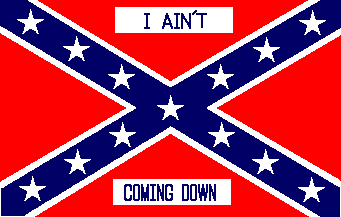 image by Rick Wyatt, 21 October 1998
Ever since the movement to remove the confederate flag from the Georgia State flag, various flags have been made. "I Ain't Coming Down", "Heritage not Hate" and "state" confederate flags. I suppose flags are a way of making a statement and some people are doing just that.
Rick Wyatt, 21 October 1998
---
CSA "State" Statement Flags
North Carolina Versions of CSA Statement flags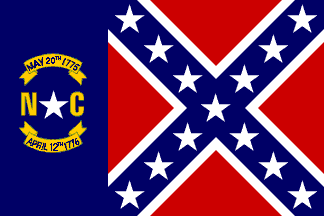 image by Rick Wyatt and António Martins-Tuválkin, 21 October 1998, 24 September 2017
This is definitely a cross between the Confederate and North Carolina flag. This is not an official anything. Ever since the movement to remove the confederate flag from the Georgia state flag, various flags have been made. I Ain't Coming Down, Heritage not Hate and "state" confederate flags. We sell the Confed/South Carolina and Confed/North Carolina. I suppose flags are a way of making a statement and some people are doing just that.
Rick Wyatt, 21 October 1998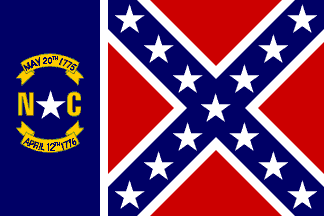 image by Rick Wyatt and António Martins-Tuválkin, 21 October 1998, 26 September 2017
There is also a variant of the flag for North Carolina, with a thin white stripe between the fields for the state and CSA.
Source: photo 8.
Tomislav Todorovic, 23 January 2016
---
South Carolina Version of CSA Statement flag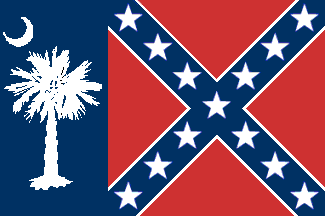 image by Rick Wyatt, 21 October 1998
This is definitely a cross between the Confederate and South Carolina flag. This is not an official anything. Ever since the movement to remove the confederate flag from the Georgia State flag, various flags have been made. I Ain't Coming Down, Heritage not Hate and "state" confederate flags. We sell the Confed/South Carolina and Confed/North Carolina. I suppose flags are a way of making a statement and some people are doing just that.
Rick Wyatt 21 October 1998
---
Texas Version of CSA Statement flag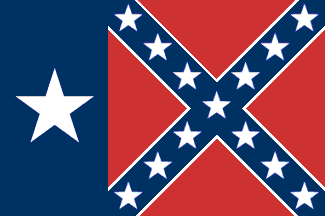 image by Tomislav Todorovic, 7 October 2015
This "Hybrid" Confederate/Texas flag is one of the novelty flags created by combining the Confederate flag with those currently used by former CSA member states, such as the Confederate/North Carolina flag and the Confederate/South Carolina flag. The flag is offered for sale by several online flag shops. Just like all other similar flags, it is completely unofficial. Tomislav Todorovic, 7 October 2015
---
Virginia Version of CSA Statement flag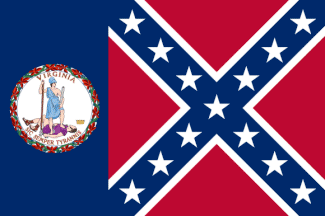 image by Randy Young, 22 January 2016
I have a flag for Virginia in my flag collection, placing the Virginia state seal in the blue bar at the hoist. These flags became popular in the South during the debates and arguments that began in 2001 over the 1956 Georgia state flag. In each case, the 1956 Georgia flag design was adapted to one of the former Confederate states by replacing the Georgia state seal with the seal or other prominent flag emblem from one of the states.The idea behind the flags following this pattern was to show support for and solidarity with the supporters of the 1956 Georgia state flag design.
Randy Young, 22 January 2016
---
Alabama Version of CSA Statement flag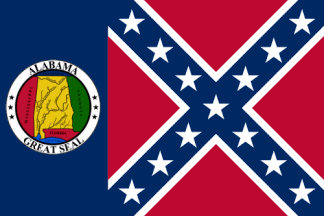 image by Randy Young, 22 January 2016
I found a flag for Alabama using the Alabama state seal in the blue bar at the hoist. These flags became popular in the South during the debates and arguments that began in 2001 over the 1956 Georgia state flag. In each case, the 1956 Georgia flag design was adapted to one of the former Confederate states by replacing the Georgia state seal with the seal or other prominent flag emblem from one of the states. The idea behind the flags following this pattern was to show support for and solidarity with the supporters of the 1956 Georgia state flag design.
Randy Young, 22 January 2016
---
Florida Version of CSA Statement flag
image by Randy Young, 22 January 2016
I found a flag for Florida using the Florida state seal in the blue bar at the hoist. These flags became popular in the South during the debates and arguments that began in 2001 over the 1956 Georgia state flag. In each case, the 1956 Georgia flag design was adapted to one of the former Confederate states by replacing the Georgia state seal with the seal or other prominent flag emblem from one of the states. The idea behind the flags following this pattern was to show support for and solidarity with the supporters of the 1956 Georgia state flag design.
Randy Young, 22 January 2016
---
Arkansas Version of CSA Statement flag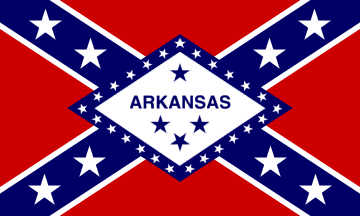 image by Randy Young, 22 January 2016
I found a flag for Arkansas using the central diamond device from the Arkansas state flag to replace the central star of the official confederate naval jack. These flags became popular in the South during the debates and arguments that began in 2001 over the 1956 Georgia state flag. In each case, the 1956 Georgia flag design was adapted to one of the former Confederate states by replacing the Georgia state seal with the seal or other prominent flag emblem from one of the states. The idea behind the flags following this pattern was to show support for and solidarity with the supporters of the 1956 Georgia state flag design.
Randy Young, 22 January 2016
---
Louisiana Version of CSA Statement flag
image by Randy Young, 22 January 2016
I found a flag for Louisiana using the pelicans and the motto from the Louisiana state flag in the blue bar at the hoist. These flags became popular in the South during the debates and arguments that began in 2001 over the 1956 Georgia state flag. In each case, the 1956 Georgia flag design was adapted to one of the former Confederate states by replacing the Georgia state seal with the seal or other prominent flag emblem from one of the states. The idea behind the flags following this pattern was to show support for and solidarity with the supporters of the 1956 Georgia state flag design.
Randy Young, 22 January 2016
---
Tennessee Versions of CSA Statement flag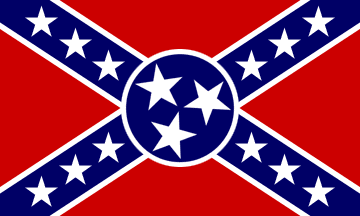 image by Randy Young, 22 January 2016
I found a flag for Tennessee using the three-star device from the center of the Tennessee state flag to replace the central star of the official confederate naval jack. These flags became popular in the South during the debates and arguments that began in 2001 over the 1956 Georgia state flag. In each case, the 1956 Georgia flag design was adapted to one of the former Confederate states by replacing the Georgia state seal with the seal or other prominent flag emblem from one of the states. The idea behind the flags following this pattern was to show support for and solidarity with the supporters of the 1956 Georgia state flag design.
Randy Young, 22 January 2016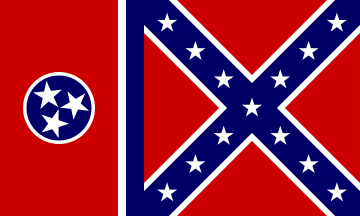 image by Tomislav Todorovic, 14 November 2021
Another version displays the state flag pattern in the hoist and the CSA flag in the fly, two patterns occupying about 2/5 and 3/5 of the flag length, respectively. The flag is offered for sale online [1, 2] and its use has been verified [3, 4, 5].

Image of flag derived from SVG image of the state flag from Wikimedia Commons: https://commons.wikimedia.org/wiki/File:Flag_of_Tennessee.svg

Sources:
[1] Rebel Nation online shop: https://rebelnationok.com/product/tennessee-battle-flag/
[2] Cooter's Place online shop: https://cootersplace.com/tennessee-battle-confederate-flag-3x5-polyester/
[3] Southern Standard newspaper website: https://www.southernstandard.com/top-stories/pride-or-prejudice-flag-waving-stirs-emotions/
[4] WKRN-TV television station website: https://www.wkrn.com/news/east-tenn-high-school-students-wear-confederate-flags-to-school/
[5] Bristol Herald Courier newspaper website: https://heraldcourier.com/news/confederate-flag-still-commonplace-in-the-region-even-as-it/article_34d1c7ee-fadb-506b-883d-7035ae82a9ea.html
(photo: https://bloximages.newyork1.vip.townnews.com/heraldcourier.com/content/tncms/assets/v3/editorial/1/b3/1b3b1aff-88d8-5057-9c6c-ceee054ebf97/593cad93c1e2e.image.jpg
Tomislav Todorovic, 14 November 2021
---