This page is part of © FOTW Flags Of The World website
Army - Cavalry Guidons (U.S.)
Last modified: 2015-04-04 by rick wyatt
Keywords: us army | cavalry | guidon | ninth | buffalo soldiers |
Links: FOTW homepage | search | disclaimer and copyright | write us | mirrors

---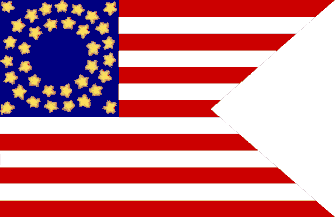 image by Rick Wyatt, 20 May 1998
---
---
See also:
---
Flags and Colors of the U.S. Army
The Cavalry Guidon was a pennant shaped flag with two rows of circles in the canton. The U.S. Cavalry used guidons in the Civil War as well as the Plains Indian Wars later on. The cavalry were the last of the three branches of service of the U.S. Army to get to carry the Stars & Stripes in battle - artillery was first in 1836, infantry then in 1842 and the cavalry at the start of the Civil War.

There were several contract flag makers for the U.S. Army in the Civil War and each had a certain canton star arrangement that once you get to know them you can tell the manufacturer. I think - but am not sure - that the cavalry flags were the same way. The infantry flags definitely were.
Greg Biggs, 11 January 1998
---
Here's the chronology.
1834 - General Regulations for the Army authorize a red-over-white guidon for companies of dragoons, of which there was a single regiment at the time. It was silk, 27 x 41 inches, with a 15 inch swallowtail, with the letters "U.S." in white on the upper half and the company letter in red on the lower.
1836 - Second Regiment of Dragoons is raised, leading to the issuance of guidons with regimental designations in various formats. Nevertheless, in . . .
1841 - the new General Regulations for the Army reaffirmed the 1834 design.
1862 - General Order 4 (January 18) directed that "Guidons and camp colors will be made like the United States flag with stars and stripes." The typical design had the stars in two concentric circles with one star in each corner of the canton. Dimensions remained as in 1834. Over the course of the Civil War it became customary to paint the stars in gold instead of silver (which tarnished).
1863 - Army Regulations, Appendix B, directed that the names of battles in which companies had "borne a meritorious part" be painted on the guidons.
1881 - Regulations for the Army of the United States directed that the company letter be inscribed in yellow on one of the white stripes of the guidon.
1885 - General Order 10 returned to the red-over-white guidon, but with the regimental number on the upper half and the letter of the troop (as companies of cavalry were now called) on the lower.
1895 - Regulations for the Army of the United States introduced a bunting guidon for everyday use, reserving the silk for campaign and parade use.
1922 - Change to Army Regulations 129 abolished silk guidons.
1931 - Army Regulation 260-10 reduced the size of guidons to 20 by 27 3/4 inches with a 10 inch swallowtail.
1944 - Army Regulation 260-10 provided for placement of the battalion or squadron number centered in the hoist.
Hope that clarifies the issue.
Joe McMillan, 12 May 2000
---
Regimental Guidons
U.S. Army cavalry regiments (actually armored recon and air cavalry) have red-over-white guidons with the regimental number over the troop letter. This is the type of guidon used by separate squadrons of the cavalry, i.e. the one-squadron regiments which provide the armored recon element within divisions. Multi-squadron cavalry regiments are brigade-sized formations which provide the recon element within a corps. The guidons for troops of these regiments have the squadron letter horizontally centered near the hoist, so that it is white on the red half of the guidon and red on the white half.
Tom Gregg, 26 May 1997
---
Ninth Cavalry - I Company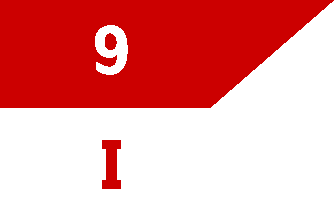 image by Rick Wyatt, 18 November 1998
This is the guidon that was carried by the U.S. 9th Cavalry Regiment, Company I. Earlier this year I had these flags made. After the Civil War, the 9th and 10th Cavalry regiments were made up of black soldiers and white officers. They were nicknamed the "Buffalo Soldiers" by the Indians because of their fierce fighting qualities and the texture of their skin and hair. Over the past few years the Buffalo Soldiers have become more widely known. Last year there was a movie made about them. They are becoming quite popular with re-enactors, just like the Civil War and Revolutionary War guys.
Rick Wyatt, 18 November 1998