This page is part of © FOTW Flags Of The World website
Sulusaray (District Municipality, Turkey)
Last modified: 2018-05-27 by ivan sache
Keywords: sulusaray |
Links: FOTW homepage | search | disclaimer and copyright | write us | mirrors

---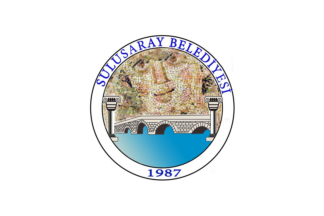 Flag of Sulusaray - Image by Tomislav Šipek, 18 January 2018
---
See also:
---
Presentation of Sulusaray
The municipality of Sulusaray (8,610 inhabitants in 2016; 4,554 in the town of Sulusaray) is located 70 km south-west of Tokat.
Ivan Sache, 21 January 2018
---
Flag of Sulusaray
The flag of Sulusaray (photo) is white with the municipality's emblem. "Belediyesi" means "Municipality".
The emblem features the Roman bridge over river Çekerek Irmak and a mosaic found in the excavations of the ancient town of Sebastopolis of Pontus.
The modern town of Sulusaray (lit. "Waters' Palace") exactly covers the ancient town of Sebastopolis, which had been built on a small mound made of debris of former buildings (450 m x 300 m).
Sebastopolis was briefly mentioned by ancient sources (Pliny the Elder, Ptolemy, Gregory of Nyssa, Hierocles; the Antonine Itinerary, Notitia dignitatum, and Justinian). Isolated from the main roads, Sebastopolis was not visited, either, by the European travelers from the 18th and 19th centuries. The first foreign visitor of the town might be the Russian soldier Wrotihensko, who listed Sulusaray on his map. However, the identification of Sebastopolis with Sulusaray is later: in July 1871, Damon, member of the Constantinople Hellenic Society of Philology visited the place, finding marble capitals, columns and plaques. He could not identify the place until he found an engraved stone, known today only by a fragment reused in an arch of the old bridge. Honoring Emperor Hadrian and his putative heir, Lucius Aelius Caesar, the stone was dedicated by the administration and people of the town of Sebastopolis- Heracleopolis. The identification was subsequently confirmed by other artifacts. Other travelers described the remains of the town, which was, however, only briefly described by scholars. While epigraphic sources were recorded, the site has been hardly excavated.
Basic excavations performed by Birsel Ôzcan, Director of the Tokat Museum, and Jacques des Courtils, revealed that the site was already settled by the Hittites - this would be the extreme point of Hittite spread northeastwards, and, in the 1st millenium BC, by the Phrygians. Most historians, elaborating a confuse text by Strabo, have considered that Sebastopolis was the ancient Greek town of Karana, a part of the principality granted by Caesar or August to the Galatian ruler Ateporix, incorporated after his death to the Roman province of Galatia. There is, however, no firm evidence of such an identification.
While all antique historians call the town Sebastopolis, all engravings and coins minted under the reign of Septimus Severus bear the dual name of Sebastopolis-Heracleopolis. Sebastopolis is a tribute to August, the prestigious founder of the town, while Heracleopolis refers to Herakles, its legendary founder. The dedication to Herakles might have been related to the sources gushing forth profusely in the area, since the hero was the source's protector. A legend reported by the Greek historian Kephalion claimed that Herakles abandoned the Argonauts' expedition and headed to Cappadocia; whilst crossing Pontus, he defeated the Amazons and founded a new town.
Sebastopolis-Heracleopolis was officially established in 3/2 BC, probably the year of integration into the province of Galatia. The town was subsequently incorporated to other provinces (Cappadocia, Pamphylia, Lycia, Galatian Pontus, Pontus, Galatia-Pontus). At the time, the town was located at the crossing of two important ways (WE; connecting Tauium [Nefesköy] to Sebastea [Sivas] and Armenia; SN, connecting central Anatolia to Amisos [Samsun]), watched by a military brigade. Gregory of Nyssa reports that the garrison was increased in the first half of the 4th century, probably under the threat of barbarian invasions.
Excavations revealed that the town was surrounded by a wall and counted several wealthy houses; indirect evidence (engravings, coins) indicates the presence of a theater, several temples and statues offered by affluent citizens. The min sources of income of the town were, most probably, grain cultivation and trade. Remains of thermae were found south-west of the town; the sulfur-bearing water of Çermik had healing properties, as evidenced by altars dedicated to Asclepios and Apollo.
There is evidence of the existence of Jewish and Christian communities during the late Roman period. Remains of a church dated to the 5th-6th centuries have been identified. A bishopric might have been established in 325, subsequently the see of a bishopric depending of the metroplite of Sebastea (Sivas), erected not later than the early Byzantine Empire.
[Brigitte Le Guen-Pollet & Rémy Bernard. 2010. La cité de Sebastopolis du Pont. Anatolia Antiqua, 18, 97-107]
Tomislav Šipek & Ivan Sache, 21 January 2018