This page is part of © FOTW Flags Of The World website
Khiva in the Soviet Union
Khorezmian PSR
Last modified: 2021-08-26 by rob raeside
Keywords: khiva | khorezmian psr | sickle | spade | plant: cotton | cotton | crescent: points up (yellow) | crescent: points down (yellow) |
Links: FOTW homepage | search | disclaimer and copyright | write us | mirrors

---
See also:
---
Introduction
Central Asian Khanates of Bukhara and Khiva retained Khans ruling under Russian suzerinity until the Soviet period. They have remained independent until about 1924-5. But if I recall correctely the Khans were deposed already in the late 10s / early 20ies. After that they became the People's Republic of Bukhara and the People's Soviet Republic of Khwarizm (Khorezmian PSR). Eventually they were merged into a Soviet Turkestan which in the 30ies was divided into Uzbekistan, Turkmenistan, Kirgizstan. By the way, there was another city Khanate in the same region (present Uzbekistan), Khoqand, which lost its independence already in 1876, during Czarist times.
Mark Sensen, 17 Apr 1996
---
Flag of 1920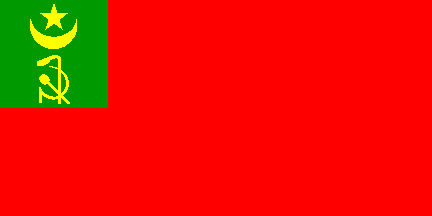 image by Mark Sensen, 14 Jul 1996

The pre-1920 flags are unknown. In 1920 the flag was hoisted. The size of the canton is unknown.
Jaume Ollé, 08 Oct 1996

Square green canton. In the upper half of the canton a yellow crescent (points upward) and star (like in present Mauretanian flag). In the lower half of the canton in yellow a crossed sickle, spade and cotton plant.
Mark Sensen, 14 Jul 1996

K. A. Ivanov [iva71] says about this flag:
In February 1920 the government of the Hivin Khan was overthrown, and in April of the same year 1st Horezmian Peoples Kurutay (congress) proclaimed the Horezmian Peoples Soviet Republic. The state flag was red with the state's sign on it. This sign contained a star and crescent, and also a cotton plant, a spade and a sickle in a green canton.
Željko Heimer, 13 Dec 1999
Variation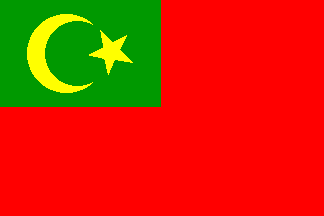 image by Ivan Sache, 15 Mar 2001

Znamierowski [zna00], p. 106, shows for Khorezm, 1920-1922, a different flag. It is a 2:3 red field with a green canton. A yellow crescent and star are placed in the canton. The star is tilted towards the upper hoist.
Ivan Sache, 15 Mar 2001
---
Flag of 1921
In 1921 the constitution establizhed that the flag is «a red field, while one quarter of this field to the top of the staff is of green color, and the crescent and a star are depicted in this green portion». Possible minor change.
Jaume Ollé, 08 Oct 1996
---
Flag of 1922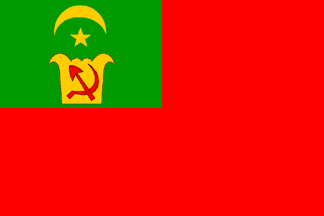 image by Jaume Ollé, 12 Dec 1999

But the Constitution of 1922 says: «…red colour with a portion of the flag in the left corner…» Possible minor change.
Jaume Ollé, 08 Oct 1996

This seems to be a variation of a flag of the Khorezmian People's Sovyet Republic of 1920. Was it indeed a 1922 "improvement"? Would the yellow thing under the star still be a cotton plant? Interesting to se an "upside down" crescent and star, most unusual. It could have been an error, of course, but maybe not — maybe the importance of the "proper" position droped in the Sovyet revolution, and now when it had purely decorative function it could have been reversed to match the overall composition better. Sounds reasonable, right?
Željko Heimer, 13 Dec 1999
---
Flag of 1923
In 1923 Khiva or Khwarezm is converted in the Socialist Soviet Republic of Khwarezm and adopted a new flag with the letters HSSR in the canton (but I don't know if the letters are in latin or arabic characters) and above this the fivepointed red star with yellow border, and «under it» (I dont know if is «under the star or under the letters» the words in gold: «Workers of the world, Unite!» (in cirilic, in latin characters, in arabic characteres?, I dont know.)
Jaume Ollé, 08 Oct 1996
---