This page is part of © FOTW Flags Of The World website
Historical flags of Saint Helena and Dependencies
British Overseas Territory of St. Helena and Dependencies
Last modified: 2019-01-05 by bruce berry
Keywords: saint helena | atlantic ocean | ascension | tristan da cunha |
Links: FOTW homepage | search | disclaimer and copyright | write us | mirrors

---
See also:
---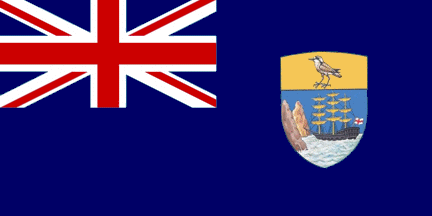 Image by Blas Delgado Ortiz, 11 Sept 2000
Flag adopted 04 October 1984, coat of arms adopted 04 October 1984.
---
Image by Željko Heimer, 08 Jan 2003 (from a scan in the British Admiralty book provided by David Prothero).
The flag used by Saint Helena between 1939 and 1984 was a defaced British Blue Ensign with the badge of the dependency in the fly. The size of the badge was increased in 1999 in terms of the guidelines issued by the British Ministry of Defence.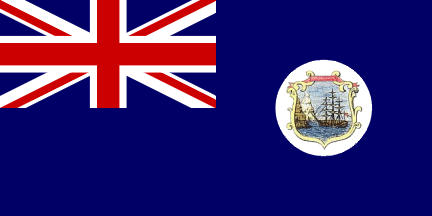 Image by Ivan Sache, 09 Jan 2003
Some drawings show the badge in a white circle on the Blue Ensign as illustrated above, but this is incorrect. In flag books colonial badges were usually drawn as separate items, not as part of the flag on which they would be placed. For convenience they were framed within a circle, which, surrounded by a green garland, was how they appeared on the Union Jack of the Governor. It did not necessarily mean that the badge appeared in a white circle on the Blue Ensign. A note added to the 1916 edition of the Admiralty Flag Book explained that, "The white circles are not to appear on the Red and Blue Ensigns except where they are necessary to display the design; e.g. where the badge itself has a border of the same colour as the ensign." In a letter dated 03 April 1919 the Governor of St Helena wrote that, "the badge has a light coloured background and there is no white circle".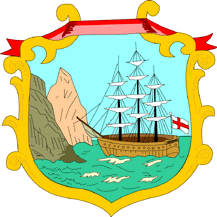 Image by Jaume Olle, 09 Jan 2003
The badge of St. Helena was derived from the Public Seal of the colony; the Royal Arms above an ornamental frame surrounding a picture of a three-masted ship near the base of steep cliffs. Its sails are furled and a flag flies at the stern. As originally drawn, when the badge was introduced in 1874, the flag was a White Ensign, but in later copies the canton was often left blank so that it appeared to be the English flag. It is often assumed that the ship is an East Indiaman, but this was obviously not intended.
When constructing a badge from the colonial seal, the usual procedure was to extract the scene from the frame and refashion it into circular form, as in the contemporary badges of Barbados and St Vincent. In the case of St. Helena the scene was taken from the seal without any modification and included the decorative frame and also a pink ribbon draped across the top. In the seal, the ribbon was actually the lower part of the British Royal Arms, being the scroll which bore the motto "Dieu et Mon Droit".
This badge was replaced by the new Arms which were adopted on 30 January 1984.
David Prothero, 13 Jan 2002
---
Governor's Flag (1984 - 1999)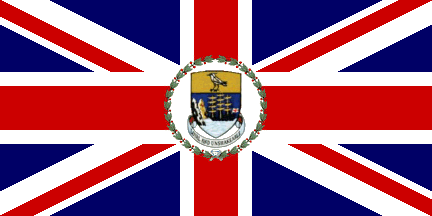 Image by Željko Heimer, Antonio Martins and Mike Oettle, 07 Feb 2002
---
Governor's Flag (1939 - 1984)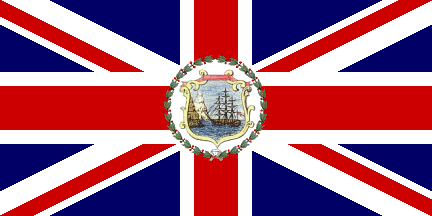 Image by Željko Heimer, 08 Jan 2003 (from a scan in the British Admiralty book provided by David Prothero)
Prior to the adoption of the new badge for St. Helena, the flag used by the Governor was a defaced Union Jack with the former badge of the dependency surrounded by a garland of laurel.
Željko Heimer, 08 Jan 2003
---