This page is part of © FOTW Flags Of The World website
House flags of Russian shipping companies
Last modified: 2021-08-26 by valentin poposki
Keywords: house flag | shipping company | novoship | eastern russia shipping co. ltd | erma | knot | northern | nsc | severnoe morskoe poroqodstvo |
Links: FOTW homepage | search | disclaimer and copyright | write us | mirrors

---
See also:
---
Belaya River Shipping Company
Бельское речное пароходство / Bel'skoye rechnoye parokhodstvo

Eugene Ipavec, 9 Jun 2006

I should be plowing (or navigating 8-) ) through websites such as this one - Russian River Ships - but one at a time, as they say. Nevertheless, have a look here: Caption: "the pennant of Belaya River Shipping Company (2005)" as found on this page:

According to Britannica, the Belaya - a Bashkortostan river - is a tributary of the Kama River (which flows into the Volga):

As to the company, I'm only too happy to quote this site: "The Belaya River shipping line has a large number of passenger, cargo, tug, roads-tug and other vessels, barges, and 'river-sea' ships, which can sail in the Azov and Black seas right up to the mouth of the Danube. Vessels of the shipping line carry passengers and freights along the Volga, Kama, Don, Belaya and other rivers of Russia. (...) The BELAYA RIVER SHIPPING LINE organizes tourist trips and carries 120,000 passengers during navigation time."

Webmaster of the RRS site is Aleksey S. Yablonskiy who puts up his own photos, such as the above, accepts contributions, and provides interesting links.

There is a house flag page on his site, too, with the important remark "Only the soviet-time inland shipping companies are listed, whose history has become the part of the russian river fleet's history. Since 90's some of them divided into smaller enterprises; many new shipping companies were founded."
Jan Mertens, 3 Jun 2006
---
Eastern Russia Shipping Co. Ltd.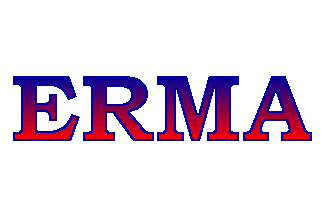 image by Jorge Candeias, 20 Feb 1999

Well, I don't really know from the graphic at the webpage what is really the company flag. Could be white with the letters in blue, the one I drew, white with "ERMA" coloured in degradé from blue above to red below, or white with both letters.
Jorge Candeias, 20 Feb 1999

Other pages: Eastern Russia Shipping Co. LTD
located by Dov Gutterman, 13 Feb 1999
---
Northern Shipping Company
Severnoe Morskoe Poroqodstvo | Северное Морское Пороходство
Considering their webpage on company history, I suspect this company is the same as soviet Northern Steamship Co.. If so, they changed the flag, as usual, but it is still to be known the house flag of this company in pre-soviet times.
António Martins, 06 May 2006
white flag with logo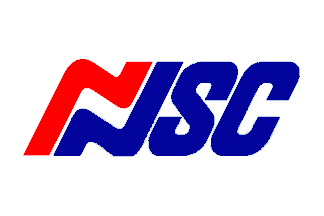 image by António Martins, 09 Aug 2004

According to their website, the flag is white with company initials in stylized red and blue.
Dov Gutterman, 13 Oct 2003
white flag with logo and stripes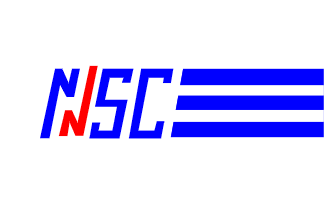 image by Jarig Bakker, 09 Aug 2004

After Brown's Flags and Funnels, 1995 [lgr95], Northern Shipping Co., Arkhangelsk - white flag, in center of fly three blue stripes; in center blue/red contoured "N", blue "SC".
Jarig Bakker, 09 Aug 2004
---
Novoship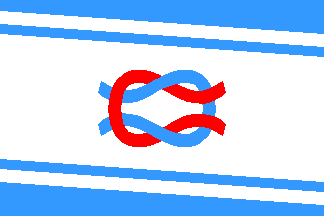 image by Jorge Candeias, 26 Feb 1999

White with nearly horizontal blue-white-blue stripes at the top and at the bottom. At the center, a FIAV-like knot in blue and red. The blue is a light blue. Nice flag!.
Jorge Candeias, 26 Feb 1999
---
Volga United Steamship Co.
Волжское объединённое пароходство | Volẑskoe obwedinënnoe paroqodstvo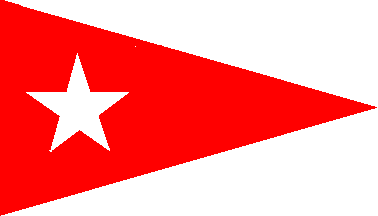 image by Victor Lomantsov, 12 Aug 2000

Soviet era Volga United Steamship Co. Red pennant with white star. I saw this in magazines of the 1970ies. I think it really used until the 1990ies.
Victor Lomantsov, 12 Aug 2000

I have seen this one in use on the top mast of some passenger ferries in Cheboksary (by the Volga), several times during the last couple of years.
António Martins, 17 and 20 Aug 2000
---
Yenisey River Steamship Company
Eniseĭskoe reĉnoe paroqodstvo | Енисейское речное пароходство
A flag construction sheet on line that belongs to a water-ways company inside the Russian Federation.
Zachary Harden, 06 Nov 2005
This is new flag of the Joint-stock Society Enisey River Steamship Company (Енисейское речное пароходство) on the Enisey River in Central Siberia and in the Arctica.
Mikhail Revnivtsev, 06 Nov 2005
Which company cruised the Enisey in the soviet times? If it was North-West State River Steamship Co., then the logo-on-white design might have been influenced by the soviet era predecessor company…
António Martins, 09 Nov 2005
white flag with blue logo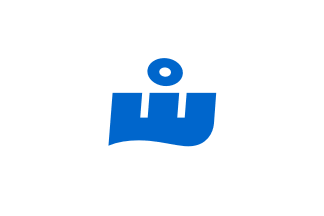 image by Victor Lomantsov, 11 Nov 2005

Are two official variantes of the flag of the ERSC: blue logo (PANTONE 3005C) on white flag or white logo on blue (PANTONE 286C) flag.
Mikhail Revnivtsev, 06 Nov 2005
blue flag with white logo

image by Victor Lomantsov, 11 Nov 2005

Are two official variantes of the flag of the ERSC: blue (PANTONE 3005C) logo on white flag or white logo on blue (PANTONE 286C) flag.
Mikhail Revnivtsev, 06 Nov 2005
---