This page is part of © FOTW Flags Of The World website
Abazinsky District, Karachay-Cherkessian Republic, Russia
Абазиния
Last modified: 2021-12-31 by valentin poposki
Keywords: abazinia | hand |
Links: FOTW homepage | search | disclaimer and copyright | write us | mirrors

---
Абазиния район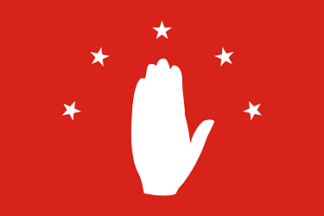 image by Tomislav Šipek, 29 December 2021
---
See also:
---
The Abaza people
After many failed attempts in the past, a part of the Abaza nation living in Karachay-Cherkess Republic of the Russian Federation, will finally achieve a self-government (albeit sharply limited) on January 1, 2009, when the Abazin Autonomous District will be inaugurated.
Having lived under Abkhazian, Kabardin, Crimean, Russian and Soviet yoke for centuries, the Abaza people were hoping to break free in the new Russia and unsuccessfully demanded the creation of their own republics since 1991, but only in 2006, when 99% of the population voted for it, the 13 villages in 5 different districts of the Karachay-Cherkess Republic were granted the right to form the new autonomous district with the capital in Psyzh village. There are about 37,000 Abazins in Russia and an estimated 150,000 in Turkey (out of that number only around 10,000 of them still speak the Abaza language). Most of Russian Abazins live in the Karachay-Cherkess Republic, but some also live in Stavropol Krai, Adygea, Abkhazia and elsewhere. The diaspora, besides Turkey, can be found in Jordan, Syria, Egypt and other Arab countries. Most of Abazins are Sunni Moslems. The Abaza language (Abaza Byzšwa) belongs to the Abkhaz-Adyghe branch of Caucasian family, although there are questions about that. It was considered the most difficult of all the languages of the former Soviet Empire. The T'ap'anta dialect serves as the literary standard written in modified cyrillic alphabet. It is rich in consonants (63 phonemes) and has only 2 vowels.
Chrystian Kretowicz, 2 Jun 2008
---
The Flag
Wikipedia shows a rather squarish flag - red with the white palm of the hand surmounted by an arc of seven white, five-pointed stars. Some other Abazin websites display the same flag but much longer - obviously variants.
Chrystian Kretowicz, 2 June 2008
Viktor's site shows the elongate, not squarish, flag of Abaza (supplied to him by Valentin Poposki). That flag, according to numerous photos of current events, is a preferable one among Abazinians, although, as it is not prescribed by the law, variations are bound to appear here and there.
Chrystian Kretowicz, 15 February 2009
The flag is red, 2: 3, with an open white hand in the center. Around the hand are five white stars. The open hand on a red background has been in used since the 8th to 10th centuries and symbolizes statehood.
The flag was developed as a result of a competition announced in December 2009. An entry by Mikhail Tkhatsukhov was recognized the winner. The traditional flag of the Abazins was taken as the basis for the coat of arms and the flag of the region, but the number of stars was changed from seven (symbolizing seven tribes from which the Abaza originated) to five (according to the number of auls that entered the Abaza region of Karachay-Cherkessia).
Approved by the Decision of the Council of the Abaza Municipal District dated May 28, 2010
Photos:
https://www.riakchr.ru/v-administraczii-abazinskogo-rajona-proshlo-vyiezdnoe-rabochee-soveshhanie-ministra-sporta-kchr-r.-yu.-uzdenova-s-glavoj-administraczii-m.-ch.-nirovyim/
https://www.kavkaz-uzel.eu/articles/170618/
https://geraldika.ru/s/39809
Tomislav Šipek, 29 December 2021