This page is part of © FOTW Flags Of The World website
Karelia (Russia)
Kareliâ / Karjala
Last modified: 2021-12-31 by valentin poposki
Keywords: karelia | star: 8 points (golden) | sun: 8 rays | bear | Юрий Нивин |
Links: FOTW homepage | search | disclaimer and copyright | write us | mirrors

---
Карелия / Karjala

image by António Martins, 06 Oct 1999
---
See also:
Other sites:
---
Presentation of Karelia
(Note: You need an Unicode-aware software and font to correctly view the Cyrillic text on this page. See here transliteration details).
Name (English): Karelia • (Russian, short form): Карелия | Kareliâ • (local, short form): Karjala • (Russian, long form): Республика Карелия | Respublika Kareliâ
Capital: Петрозаводск | Petrozavodsk / Petroskoi
Area: 172 400 km2 (~66 500 sq.mi.) • Population: 761 800 inhabitants in 2000
Status: Republic (Республика | Respublika) within the Russian Federation
Federal District: Northwestern Region • Economic region: North (northern European Russia) (in the soviet era: Northwest)
License plate code: 10 • Ham radio code: KL • ISO 3166-2 code: KR
Flag adopted on 1993.02.16 • Coat of arms adopted on 1993.09.28
The Karelians, ethnic Finns, were never part of an independent Finland, however, and constitute only 10% in the Republic named for them. The Karelian Autonomous Republic was created in 1923.
Stuart Notholt, 17 Sep 1995
According to the present constitution, Russian is the only official language in the Republic of Karelia despite the efforts of the ethnic Karelians (ca. 10% of population) to have their language made co-official.
Marco Pribilla, 14 Dec 2002
---
Description of the flag
On 16 February 1993 a flag was adopted with equal horizontal stripes red-blue-green.
Jan-Oskar Engene, 18 Mar 1996
Medium red, light blue and green in horizontal stripes — suggesting that this flag was inspired in the 1953-1956 Karelian-Finnish S.S.R. one.
António Martins, 06 Oct 1999
This flag, with an incorrect dark blue central stripe, is listed under number 84 at the chart Flags of Aspirant Peoples [eba94] as: «Karjala (Karelians) - North-West Russia».
Ivan Sache, 15 Sep 1999
The Flags of Aspirant Peoples [eba94] chart is in error when it lists the striped flag of the Republic of Karelia within the Russian Federation as the [ethnic] flag of the Karelians, as these use rather the cross flag of 1920.
Jan Oskar Engene, 17 Jul 2000
---
Coat of arms
image by Pascal Gross and António Martins, 18 Sep 2005
---
State Banner of Karelia
Possible presidential standard
image by António Martins and Pascal Gross, 20 Oct 2005

Viktor Lomantsov kindly sent me a photo where a bit of this flag shows enough to prove that the green-blue division is not the same in the shield and in the background, the later intersecting the round part of the emblem about midway to the tip. This implies that the size of the emblem in the flag as a whole is much smaller than in other reported cases.
António Martins, 20 Oct 2005

In some Russian Federation subjects there are symbols combining symbolic of the arms and flag, but documents regulating their use are not known. Such is a flag in the study of the president of Karelia.
Sergey Filatov, 10 Oct 2005

Most of these flags are squarish (about 11:12), rigid and fringed variants of the region (Governors) or Republic (Presidents) flags with the regional emblem over all.
António Martins, 02 Oct 2005
Unidentified variant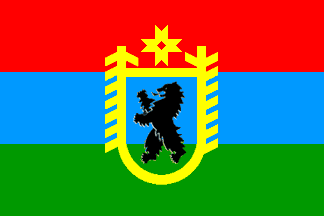 image by António Martins and Pascal Gross, 18 Sep 2005

On Thursday, June 30, 2005, 22:56:17, Илья Емелин reported to RussoVex:
Юрий Нивин created the flag, the coat of arms, the wall standard (manufactured in gold sewing at the Sofrino workshop — it decorates small government hall). I sent a photograph of this standard. I thought this simply adornment of the wall, as does not meet the actual heraldic flag. Perhaps it is just a souvenir.
António Martins, 18 Sep 2005
Projects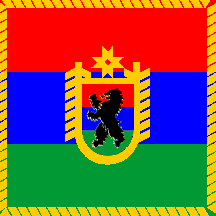 image by Victor Lomantsov, 30 Jan 2006

Ilya Yemelin from Karelia sent to Russian language mailing-list a message about projects of a State Banner of Karelia. He saw them at exhibition in Petrozavodsk city. The first one, with three stripes, was really made from silk.
Victor Lomantsov, 30 Jan 2006
Alternate (?)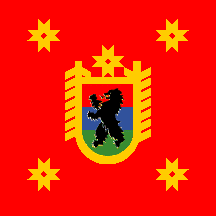 image by Victor Lomantsov, 30 Jan 2006

The second one was only a picture.
Victor Lomantsov, 30 Jan 2006
---
Fictional flag from 1992
Reported in Flagmaster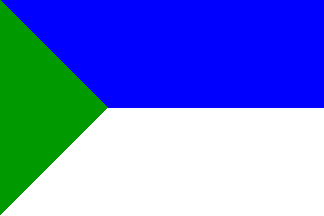 image by António Martins, 08 Jun 1999

Flagmaster 072 [flm] reported the Karelian Republic to have adopted a flag of blue-over-white with a green triangle at the hoist (a la Czech republic) in October 1992, but Flagmaster 074 [flm] reports the red-blue-green horizontal tricolour being adopted in February 1993.
Roy Stilling, 18 Sep 1995

Isn't it too similar to Khabarovsk's (which is white over blue instead)? On the other hand, this was abolished in 1993.02 (if it ever existed) while Khabarovsk's flag was approved in 1994.07.14…
António Martins, 08 Jun 1999
Cross flag proposed
It may also be interesting to note here that when a new flag and emblem for the post-soviet Republic of Karelia were debated in 1992, Vitali Dobrynin proposed emblems based on Gallén-Kallela's designs, differing only in the number of white triangles that had been reduced to 19 (10+9) in order match the number of rayons and cities in the Republic.
Marco Pribilla, 10 Jan 2003
These flags are fictional.
Ben Cahoon, 19 November 2020