This page is part of © FOTW Flags Of The World website
Political flags of Russia
Last modified: 2021-08-26 by valentin poposki
Keywords: politics | red cross-road | self-governing workers | hammer and sickle: no star (golden) | cross: assymetric | krasnyĭ perekrestok |
Links: FOTW homepage | search | disclaimer and copyright | write us | mirrors

---
On this page:
On other pages:
Mainstream Russian Political Parties:
Russian Trade Unions:
Russian Regional Political Parties:
Russian Non-parliamentary Political Parties and Movements:
Miscellaneous Russian Political Organizations:
See also :
---
Homeland Party 2003-2006
Rodina - Narodno-Patrioticheskiy Soyuz | Родина
The party is called Rodina (Motherland, Homeland). They back the Kremlin on certain issues. A flag, I have not seen yet, since this is a new party.
Zach Harden, 08 Dec 2003
Possiable Variant (not documented)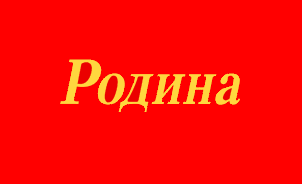 Image by Pete Loeser, 14 August 2012
Rodina was a coalition of 30 nationalist and left-wing groups. In the 2003 Duma elections, they won 37 of the 450 seats in the Duma. Rodina then merged with the "Russian Party of Life" and the "Russian Pensioners´ Party" to form a new party named "A Just Russia" in 2006. This variant flag is based on memory of a news report I once saw, but can't locate anymore, and as such is not documented. The main difference between this remembered RGU variant and other reported ones was there was no stepped gold outline around the word " POДИНА" on this flag.
Pete Loeser, 16 August 2012
---
Indivisible Nation of Russia
Единая нация России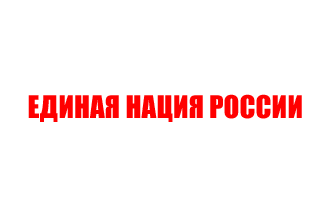 Image by Victor Lomantsov, 18 Apr 2003
According to the party statutes of the "Indivisible Nation of Russia," its emblem is simply its name written in red capital letters (font is Impact/Cyrillic) across a white background. Its flag is identical with the red text centered on a white field.
Victor Lomantsov, 18 Apr 2003
---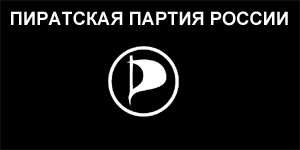 image by H B, 21 May 2012
---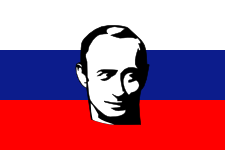 image by H B, 21 May 2012
---
Red Cross-Road
Красный перекресток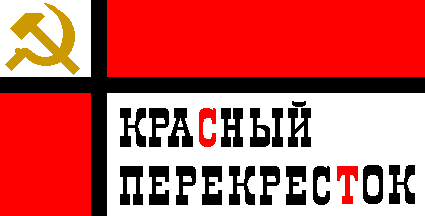 Image by António Martins, 08 Jul 1999
This flag is from www.aha.ru/~intcentr/,
Dov Gutterman, 22 Mar 1999
Probably belongs to one marginal pro-communist organisation "Red Cross-road" (the meaning of the inscription). I've never heard of that organisation and have never seen the flag as well. The host of the site is the International Center for Forming of the Communist Doctrine.
Alexei Arkhipov, 22 Mar 1999
The mixing of tsarist symbols (Peter's alternate naval flag), hammer and sickle and red-white-black might suppose a neo-Nazi (or "fascist", as they're called here) party or group, a fringe group of soviet nostalgic nationalists (and hence the saloon style lettering certainly isn't an US connection) but I'm not sure. None of the russians whom I asked knew this one. (I also have no idea why "s" and "t" are red while the other letters are black.)
António Martins, 08 Jul 1999
---

image by H B, 21 May 2012

image by H B, 21 May 2012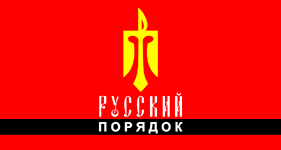 image by H B, 21 May 2012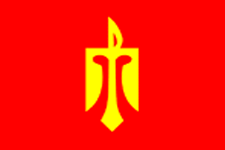 image by H B, 21 May 2012
---
Russian Popular Front (RPF)
Российский народный фронт | Rossiĭskiĭ Narodnyĭ Front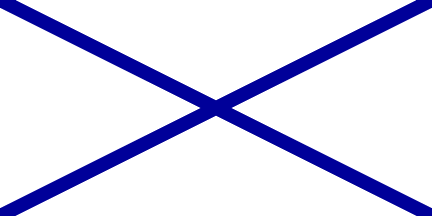 Image by Jorge Candeias, 03 Apr 2003
The number 177 of Vida Soviética [official Soviet information abroad magazine in Portuguese], of April, 1990, one of the last issues published before the split of the USSR, had an article about Strengths and weaknesses of Russia, examining the position of Russia within the Union and its potential. It's illustrated by a number of photos, but only one of them has vex content, showing what seems to be a demonstration of a small group of people within a political organization called Russian Popular Front (Российский Народный Фронт), that fly a flag, probably the flag of that organization: The flag is very light, probably white, with a very narrow dark saltire.
Unfortunately, the article doesn't give any hint as to the colour of that saltire, but I made an educated guess: since there was, at the time, a historical russian flag that was white with a blue saltire (later readopted by the independent Russian Federation), and since this group's name seems to indicate a nationalist tint, I'd bet that the saltire is blue. (It should be always kept clear, however, that this is by no means certain — just a hunch on my part.)
Jorge Candeias, 03 Apr 2003
It was white with a blue saltire, yes. RPF was founded on March 1989 in Moscow as the "Anticommunist People's Democratic Movement" (the leader was named Skurlatov), later named the "Movement Fatherland - All Russia".
Mikhail Revnivtsev, 04 Apr 2006
---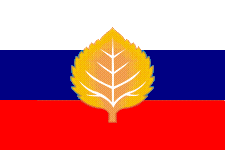 image by H B, 21 May 2012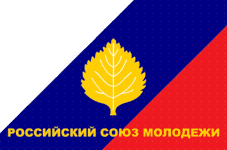 image by H B, 21 May 2012
---
Stalinist Bloc - For the USSR (1999)
Stalinskii blok - za SSSR | Сталинский блок - за СССР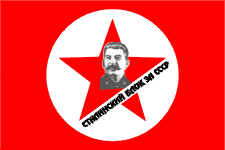 Image by Victor Lomantsov
Four small radical political parties, the largest being "Workers' Russia", and Soviet dictator Josef Stalin's grandson joined forces Sunday as "The Stalinist Bloc". It was formally launched at a congress in a Moscow hotel Sunday, beneath banners bearing Stalin's portrait imposed on a Soviet red star.
Jaume Ollé, 28 Aug 1999, quoting AP
The Stalin Block was a coalition of small communist political parties running in the 1999 Duma elections. It included "The Union" led by G.I. Tikhonov, "Labour Russia" led by Viktor Anpilov, the "Union of Officers" led by Stanislav Terekhov, the "Peoples Patriotic Union of Youth" led by I.O. Maliarov, the "Union of Workers of Moscow", the "Bolshevik Platform" (CPSU), the "Russian Association of Miners Invalids", the "All-Union Communist Party Bolsheviks", the Congress of Soviet Women", the "All Union Society", and the "Vanguard of Red Youth", to name a few. Probably the best known supporter of the short-lived coalition was Yevgeny Dzhugashvili, Stalin's grandson, and a retired air force colonel. The coalition received less than one percent of the vote and immediately fell apart.
Pete Loeser, 14 August 2012
---