This page is part of © FOTW Flags Of The World website
Flags of Volapük (language)
Volapükik stäns
Last modified: 2017-12-27 by antónio martins
Keywords: volapük | mbpb | monogram: mbpb | map: world | caduceus | menad bal, pük bal. | hansen (malling) | everson (michael) |
Links: FOTW homepage | search | disclaimer and copyright | write us | mirrors

---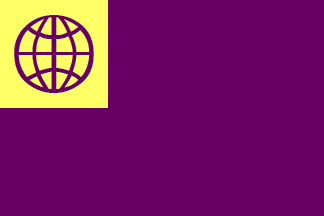 image by Michael Everson, 29 Aug 2010
---
See also:
External links:
---
Background
A lot of enthusiasm pumped this 1880 project to a very wide popularity during it's first 10 years, but linguistic and social inconsistencies within set it's fall and disappearence by the turn if the century. Subsisting Volapükists cultivate the language for fun as enthusiasts, apparently not using any logo or badge.
António Martins, 05 Jun 1999
In the last decade Volpük found new adepts and enthusiasts — they may not be as bombastic or as numerous than the first batch around, but not any less interested in the language itself (I suspect that nowadays Volapukists are on average way more profecient than their forerunners). This renewed movement, sparked i.a. by the work surrounding the Volapük Wikipedia, found the need for a flag and an emblem.
António Martins, 23 Mar 2017
---
About the current proposal
Noted polyglot and script specialist, Ireland based Michael Everson hosts in his website a detailed account of his general idea for a Volapük flag — the basic Esperanto flag pattern (2:3 with emblem on 1:1 canton) and Volapük's own purple and gold (also used in some additional proposals listed on this page) — and of how a favourite was selected: A stylized globe (ring with lines for the equator, two parallels and three meridians) in purple on the golden yellow canton of a purple flag.
António Martins, 23 Mar 2017
An FotW-sized image uses the final choice in color shades: Purple is RGB:660066 = RGB:102-0-102 (also a FotW standard:

) and golden yellow is RGB:FFF55F = RGB:255-245-95. The globe is surprisingly not exactly circular, at 80×78 px, but this might be an unwanted artifact of using as clipart a dingbat, "🌐", from a typographical font (which also accounts for the relatively small, even if perfectly sufficient, 16-color palette used in this image); ditto for the slight offcentered placement of the globe on the square. The relative size of the globe to the square seems to be between 3/4 and 5/7.
António Martins, 23 Mar 2017
This flag was created on 2010.08.31, as stated on the Michael Everson's webpage, after the summarized testing of several variants and possibilities. It has gained some currency, and it is extensively used in the Volapük web portal at Volapük.COM. I'd like to know more about its wider use.
António Martins, 23 Mar 2017
---
Historical emblematics
Research has been done on the possible history of flags (or rather any emblems) of/for Volapük, based on the notion that this artificial language had its peak in the later 1880s and have dwindeled ever since. While that may be true in a demographic way, it's also true that in the last decade Volpük found new adepts and enthusiasts.
António Martins, 23 Mar 2017
Purple and yellow
It turns out that Volapük has colours: Gold and Purple. Or Yellow and Lilac. The source for this is a web page on Danish Volapükist Malling Hansen; here is the text (my translation):
One of the Charlottenburg Art Exhibitions during the 1880s included a painting by Engelsted depicting the so-called Quartet: Malling-Hansen, head teacher Kaper (father of the mayor), Director Ritzau (the founder of Ritzau's News Agency), and the keeper of the archives of the War Office, captain Feilborg, as they are sitting around a table playing a game of ombre. These 4 men and their wives — all of them on familiar terms with each other — used to meet during the winter season once a week for a game of cards. Quite often this was combined with some other amusing activity, for instance M.-H arranged a Volapük-dinner, having copied the menu in Danish as well as Volapük — except for the wine which in both languages was designated "pumpenhejmer". The lamps and the table were decorated and covered with the Volapük colours — yellow and mauve »(Gul og Lila)«. It was very festive and amusing.
Michael Everson, 29 Aug 2010
M.B.P.B. monogram
(conjectural flag)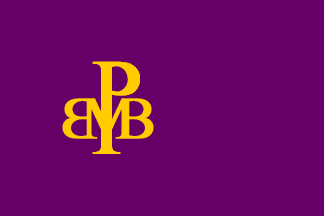 image by António Martins, 21 Jan 2005
A different emblem for Volapük was a "MBPB" monogram made from the initials of the motto «Menad[e] bal, pük[i] bal»; I register its use in several occasions, more than once in ex-libris and personal coats of arms, here Pectra-Sancta hatched for Purpure monogram Or.
António Martins, 21 Jan 2005
Caduceus emblem
(conjectural flag)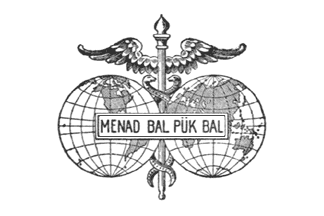 image by António Martins, 23 Mar 2017
External links:
Rodríguez [rod97] shows a symbol consisting of a world map (two hemispheres) over a Mercury rod (with wings and snakes) and a plaque with the motto overall. This read «Menad bal, pük bal», meaning «One humanity, one language». (Sometimes a variation with dative and accusative is used instead: "Menade bal, püki bal".)
António Martins, 05 Jun 1999
There is a sort of logo with two hemispheres and a cadeuceus which as everyone knows has been associated with Volapük for a long time. I'm not really sure what the Caduceus represents. That "logo" is very "busy" it seems to me — too busy for a flag, for instance.
Michael Everson, 29 Aug 2010
The image above is based on a reasonable assumption that such a flag could have been made by putting an emblem on a white background.
António Martins, 21 Jan 2005
In Panorama in interlingua 2/1991: p.16 "Ab le archivo" [ial91a] black and white symbols of constructed languages from «our archive» (probably the image sources as for [rod97]?), which I quote: (dates are probably language publishing, not symbol creation, judging from the Esperanto example): «Volapük, 1880»: emblem with winged staff, as in [rod97].
António Martins, 13 Aug 2007
---
Anything below this line was not added by the editor of this page.