This page is part of © FOTW Flags Of The World website
Flags of Lojban (language)
lo lojbo lanci
Last modified: 2017-12-24 by antónio martins
Keywords: lojban | arrow cross | rings: 2 | venn diagram | cartesian coordinate plane |
Links: FOTW homepage | search | disclaimer and copyright | write us | mirrors

---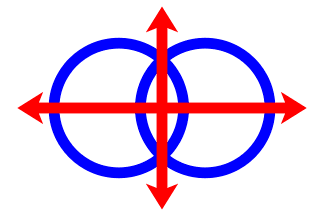 image by Gleki, 02 Oct 2017 (exported from lojban.org)
---
See also:
External links:
Official Lojban website
Images online

loj.gif (light blue background), at the official site in a folder with several language flags (reported 04 Jun 1999)
Lojban_logo.svg (transparent background), at the Wikimedia Commons since 15 Dec 2006 (reported 2010)
venn_emboss.gif (monochrome), at the official site (reported 10 Sep 2004)
---
Presentation
Lojban (first known as Loglan) was created in 1955 in University circles not to became "real" language, but to test the Whorf-Shapir hypothesis. It's another experiment that turn out just too good as today exists an unexpected large number of speakers (about 100 plus over a thousand "enthusiasts").
António Martins, 04 Jun 1999 and 10 Sep 2004
---
About the flag
The Lojban flag depicts two dark blue interlocked rings on white background with a red arrow cross superimposed on them. It is a Venn diagram (set intersection) and a cartesian referential.
António Martins, 10 Sep 2004 and 02 Oct 2017
History of the flag
A history of the symbol, in English, informs that it was created for a 1990 competition, winning by a «large majority of positive votes among the 35-40 ballots received», as announced on March 1991 in Ju'i Lobypli 14; it was designed by Guy Garnett.
António Martins, 02 Oct 2017
In an online lojbanist discussion forum, we learn that this logo/flag is not consensual nor widely used.
António Martins, 10 Sep 2004 and 07 Nov 2005
While still not in widespread and exclusive use among Lojbanists (as much as it can be gleaned from online Lojbanist emblematics image galleries such as this or these two), it can be said that the Venn/Descartes symbol is the logo of Lojban (cf. this article) and indeed that the flag bearing it is the flag of the language.
António Martins, 02 Oct 2017
---
Blue background version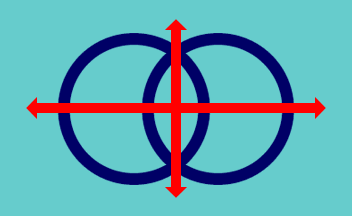 image by António Martins, 04 Oct 2017
A Lojban flag online at the official website shows a light blue background.
António Martins, 10 Sep 2004
That image is still online 12 years later, although not included in the pages any more. There is a reason for this unusually colored logo: An early 2000s discussion re "Alternate Lojban flag proposals by Jeff Tupper" includes as option B (it goes up to M…), the one least divergent from the original, this very design: the usual logo but on ligh blue background.
António Martins, 03 Oct 2017
Besides the acquamarine/cyan background replacing white, this variant shows shorter thinner arrows with less pronounced, unubarbed arrowheads, and larger, darker rings.
António Martins, 04 Oct 2017
---
Anything below this line was not added by the editor of this page.