This page is part of © FOTW Flags Of The World website
Political Parties (Palestine)
Last modified: 2022-12-31 by ian macdonald
Keywords: palestine | politics | fatah | hamas | palestine liberation movement | harakat tahrir filistin |
Links: FOTW homepage | search | disclaimer and copyright | write us | mirrors

---
See also:
---
Introduction
All the Palestinian organizations use several variants of their presumably official flags.
Jaume Ollé, 27 Mar 2003
Logos of the PLO, Fatah (the largest PLO group, almost synonimous with it), the PFLP, PFLP-GC, and DFLP appear at the Information Regarding Israel's Security (IRIS) website. I know the PFLP's symbol appears as white on a red flag.
Nathan Lamm, 26 Aug 2001
The problem with Palestinian organizations is that there are quite a lot of them, sometimes with more than one name, and sometimes there is no real distinction or ad-hoc unifications. The lack of a real central government and the distinction between the area of the Palestinian Authority, brought to a situation that sometimes local branches handles an independent policy, making the movements a kind of a loose federation.
The use of the flag of one movement (eg. Hamas) in the funeral for a member of other movement (eg. Islamic Jihad) therefore not surprising.
Today, a local Israeli newspaper tried to find some logic in the mess and had a list of the active organizations in Palestine. These were:
"Establishment Organizations"

Palestinian Police
Force 17 (president Arafat's personal bodyguard)
Fatah (or Shuada el-Aqsa Brigades)
Tanzim (youth organization)
Thwarting Intelligence System

"Non-Establishment Organizations"
I am not sure this list is either correct or complete.
Anonymous, 26 Dec 2001

Most of the "Establishment" groups, especially b, c, and d, are part of Fatah, Arafat's faction (the dominant one) of the PLO. Of course, he controls the other two as well. The PLO consisted of numerous other groups, and there were other Palestinian groups that were not members, but outside of the Democratic and Popular Fronts (which also has a "General Command," a separate group), I am not sure any of them (or even some of these last) are still active.
One occasionally hears of Hezbollah, active in Lebanon (along with Amal), as having a presence in Israel. Doubtful, however.
Also to be noted are Israeli Arab movements, including five political parties that sit in the Israeli Knesset, plus the Israeli Islamic Movement.
Nathan Lamm, 26 Dec 2001

You can see the emblems of the major groups at here:

The Al-Aqsa Martyrs' Brigades (Kuta'ab Shuhada al-Aqsa) (a.k.a al-Tanzim – "The Organization") is part of FATAH and yesterday published an announcement that they will change their name to "Yaasar Arafat Brigades." [Ed.: they didn't.]
Dov Gutterman, 14 Nov 2004

At the AGS Consulting website, there is an image where the emblems of the seven major armed groups against Israel are displayed. The names start from left to right, top to bottom (three names per line):
First row (from left to right and from top to bottom):
al-Fatah
PLO
PFLP
Second row (from left to right and from top to bottom):
DFLP
PFLP-GC
Third row (from left to right and from top to bottom):
SAIKA
PLF
Esteban Rivera, 14 Sep 2005
---
Palestinian Flag With Pentagonal Hoist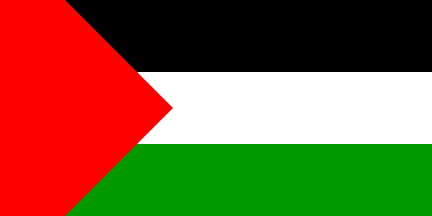 image by Jorge Candeias, 11 Jun 2005

The Público newspaper of July 1, 2003 had a nearly full-page article about the Israeli retreat from Gaza, illustrated by a map of the territory with the Palestinian areas and the occupied ones, and by a large photo.
In it you can see what seems to be a variant of the Palestinian flag with a pentagon instead of a triangle at the hoist.
Jorge Candeias, 11 Jun 2005

My guess is that this is a home-made erroneous flag.
Albert Kirsch, 12 Jun 2005
---
Palestinian Flag With Rotated Triangle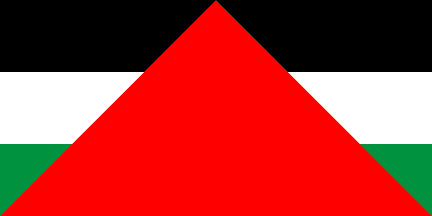 image by Rob Raeside, 08 Jan 2006

I was hoping you could answer a quick flag question. I saw a flag that looks exactly like the Palestinian flag – same colors and shapes, except the base of the triangle is situated along the length of the flag (instead of the width) and the point of the triangle reaches to the other side of the flag (unlike the Palestinian flag where it just goes about 1/4 of the way). Someone had it in NYC!
Any ideas what flag it could be?
John Ether, 07 Jan 2006
---
Unidentified Political Flags
Palestinian Flags With Inscriptions
From the Socialist Alliance website: a photo of an antiwar demonstration in London last Saturday. It seems to be a Palestinian flag with some English words [in the white stripe]. Does anyone know about it? There's also a black UFE at the demo.
Francisco Santos, 24 Mar 2003
From Yahoo News: a photo of a Palestinian flag defaced with some Arabic words. Is there somebody to kindly translate that to all of us?
Francisco Santos, 22 Jun 2003
German weekly news magazine Der Spiegel, issue 4 of 2001, page 40, showed this picture of Palestinians with a Hamas (?) flag and two green flags with Shahada.
Marcus Schmöger, 28 Feb 2001
Yellow UFE
I videotaped part of the [Arafat] funeral, hoping to get more unusual flag sightings. I do recall seeing an unusual flag – a large yellow flag with some form of circular emblem in the centre.
James Dignan, 13 Nov 2004
It sounds like the Al-Aqsa Martyrs' Brigade.
Albert Kirsch, 14 Nov 2004
Not the flag I saw – it was more "normal" flag shaped and the emblem was considerably darker. I'll have to hunt through the videotape.
James Dignan, 14 Nov 2004
Palestinian Flag With Two Domes of The Rock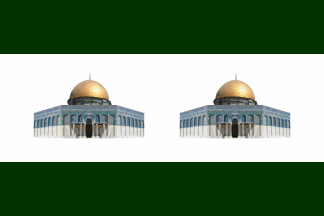 image by Eugene Ipavec, 14 Jun 2007

Palestinian UFE seen in photo of demonstration: horizontal dark green-white-dark green in Lebanese proportions, with two Domes of The Rock (or possibly one Dome of The Rock and one Al-Aqsa Mosque?) in the white stripe.
Eugene Ipavec and Nathan Lamm, 14 Jun 2007