This page is part of © FOTW Flags Of The World website
Tahiti (Windward Islands, French Polynesia)
Last modified: 2018-10-27 by ivan sache
Keywords: tahiti |
Links: FOTW homepage | search | disclaimer and copyright | write us | mirrors

---

Flag of Tahiti - Image by Ivan Sache, 22 August 2005
---
Municipalities
Yacht clubs
See also:
---
Presentation of Tahiti
Quoting the website of the Presidency of French Polynesia (page no longer online):
The island of Tahiti's area of 1,043 square kilometers makes it the biggest island in French Polynesia. Its shape stems from the juxtaposition of two extinct volcanoes of different sizes that are linked by the Taravao isthmus. The result is Tahiti-Nui, or Big Tahiti, the main island, and Tahiti-Iti, or Little Tahiti, the peninsula. The highest mountains on the island of Tahiti are Mount Orohena, with an altitude of 2,241 meters; Pito Hiti (altitude 2,110 meters) and Mount Aoraï (altitude 2,066 meters).
Tahiti is a mountainous island, most of which, like all of the territory's other high islands, is difficult to exploit. As a result, only 150 square kilometers of the island's area is inhabited and exploited. That is why most of the population is found along the island's coastal strip. Tahiti has been, and remains, the required stop for all migrations. For example, it was a priority stop for the first European navigators visiting this part of the world.
Tahiti today has the territory's only international airport and is the center of the territory's economic activity. Its name has become synonymous with a myth.

What began as O Taiti became Tahiti, made famous throughout the world by the paradise tales of the first English explorers. Tahiti's long-lasting myth was reinforced by the 1789 HMS Bounty adventure and the territory's attraction for French painter Paul Gauguin, who arrived in 1891 and died in the Marquesas Islands in 1903. And the history of the European discovery of Tahiti was an adventure that only furthered the dreams.
English Captain Samuel Wallis aboard the HMS Dolphin dropped anchor at Taiarapu on 17 June 1767. Long before him, the Spanish had "discovered" these remote islands, but Wallis was the first European to make real contact with the native Polynesians. He quickly left Taiarapu to find a better anchorage for his ship, choosing Matavai Bay on 23 June. The first exchanges with the Polynesians were stormy and Wallis fired a canon to intimidate the host forces, from whom he intended to resupply his ship with food and water. In order to show his superiority, Wallis officially took possession of the island, which he named "the island of King George III". And thanks to Purea, a charismatic female island chief, Wallis filled his ship's holds and left.

French explorer Louis-Antoine de Bougainville arrived at Tahiti on 2 April 1768, anchoring his ships La Boudeuse and L'Étoile at Hitiaa, where they stayed for 10 days. Accompanying him were an astronomer and a field biologist, neither of whom had enough time to do any work of any consequence due to the short visit. But Bougainville was more sensitive to Polynesian characteristics than Wallis.
Upon returning to France, Bougainville decreed Tahiti a French possession, painting an ideal image of the island, which he named Nouvelle Cythère (New Cytherea, or the New Island of Love). His Voyage, published in 1771, created a big stir. And thus began the famous myth of Tahiti as a paradise.

British Lt. James Cook anchored his ship, HMS Endeavour, a former coal ship, in Matavai Bay next to Venus Point on 13 April 1769. The expedition for this young British Navy officer of 39 years was scientific, the Royal Society of London wanting an astronomer to observe the transit of the planet Venus across the sun. The southern Pacific Ocean offered the best vantage point for this phenomenon. Astronomer Charles Green was given the task of observing Venus' path, while two other scientists were sent with Cook to make a thorough study of Tahiti's flora and fauna. The pragmatic British Navy supported this expedition, but with the condition that during the voyage some additional lands be annexed before the French arrived. Cook's observation of Venus' transit ended up a failure when it was subsequently discovered that Green's readings were not accurate. But Cook brought back to England an enormous collection of new species of plants, birds and insects, all of which made up for the disappointment over the observation.
Cook was an intelligent and sensitive man who kept a daily journal aboard the Endeavour. In it, he wrote down precious descriptions of Polynesian customs, which greatly helped in understanding the maohi, or Tahitian culture.
Cook returned to Tahiti in 1773, taking back to London the first Tahitian to "discover" England. His name was Omai, and he was from the island of Raiatea. He had served as Cook's interpreter during the exploration of other islands. Cook was forced to take Omai with him back to England due to storms that made navigation among Tahiti & Her Islands very difficult. However, once in England, Omai became a big attraction, which was highlighted by him being presented to King George III.

The wave of South Sea expeditions, particularly those to Tahiti, attracted more attention in Europe in 1789, a year after the arrival of the HMS Bounty and the subsequent famous mutiny. Once again the islands of the South Pacific had become attractive.
The first English Protestant missionaries from the London Missionary Society arrived in 1797. The beginning of the end of British dominance occurred at the start of the 19th Century, followed in 1842 when France made Tahiti a Protectorate. But it took five more years before that protectorate took effect in 1847.
French Admirals Bruat and Dupetit-Thouars installed themselves in a small town, which, besides its ideal harbor, was well known by European and American whaleboat captains and their crews for shore leave. That town, Papeete, took on an even greater strategic importance in the ensuing conflict between Tahitians and French.
Tahiti's King Pomare V ceded his lands to France on 29 December 1880. The French Protectorate became Établissements Français de l'Océanie (French Territories of Oceania) in 1903. Tahiti & Her Islands became French Polynesia, a French overseas territory, in 1957.

Tahiti was affected more than any other island of French Polynesia by the economic and social upheavals that occurred in the early 1960s. There was the construction of an international airport at Faa'a, the development of the Port of Papeete, the transformation of the urban landscape due to the rapid growth in business and the civil service sector. One result was that the island's north coast became the place where the migrating populations from the outer islands ended up. Tahiti experienced during this period a demographic growth greater than the average for all of French Polynesia. Tahiti's population increased from 37,166 in 1956 to 115,820 in 1983.
The urbanization movement overflowed Papeete into the districts of Pirae, Arue and Mahina to the east and Faa'a, Punaauia and Paea to the west. The entire island lived from then on with the rhythm of a built-up town, which became not only a city but the capital of French Polynesia. The city's urban culture spreads to the districts, which, little by little, lose their rural character.
Ivan Sache, 22 August 2005
---
Flag of Tahiti
The historical flag of Tahiti, horizontally divided into three equal red-white-red stripes, was prohibited from 1970 until 1975 by the French authorities. The use of the flag, although not officially, was allowed in 1975. The width of the stripes was made unequal (1:2:1) in 1975/1976 to avoid confusion with Austria.
[The Flag Bulletin [tfb] III-2; Vexillinfo [vxf] VII/1982]
Ralf Stelter, 27 January 2001
---
Flags of Tahiti, 19th century
Kingdom of Tahiti, -1842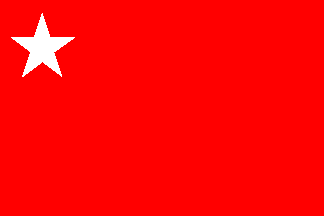 Flag of the Kingdom of Tahiti - Images by Ivan Sache, 27 August 2005
First row, flag used in 1822-1829;
Second row, flag used in 1829-1842 and its variant

King of Tahiti Pomare III (reigned 1821-1837) introduced on 26 August 1822 a red flag with a white star in the upper hoist, which was also used on Bora-Bora, Huahine and Raiatea.
Commodore J. Laws designed on 17 March 1829 for Tahiti a flag with equal horizontal stripes, red-white-red, which was made official on 16 September 1829.

Queen Pomare IV (reigned 1827-1877) used a red with a white star in the centre, above it a yellow crown within a green garland.
Another royal flag, used around 1843, has red-white-red stripes (1:2:1) and a large wreath made of two palm leaves crossed at the bottom with both ends to the hoist. This wreath overlaps onto the red stripes. Within the wreath nearly touching the upper red stripe is a golden crown. This is the Royal flag, possibly used at sea, since it is labelled Pavillon royal tahitien.
A later flag shows a similar emblem but with the words "VICTORIA EX POMARE" (Victory from or out of Pomare) surrounding a slightly different wreath at the bottom (exactly running from 10 o'clock to 2 o'clock), "EX" completely within the bottom red stripe. As the flag was in use from 8 January until 24 December 1846 it can be considered as a war flag; from February 1844 until December 1846 there was a civil war in Tahiti.
The Royal family used a flag with an emblem in the center, so the white stripe was wider. People used that flag too, without the Royal emblem.
[The Flag Bulletin [tfb] III-2; Vexillinfo [vxf] VII/1982; Flags of Paradise chart [brt96]]

Ralf Stelter & Ivan Sache, 27 August 2005

A news report from Tahiti on 3 September 1995 dealt with rioting by a pro-independence group calling itself Hau Tahiti. Prominently displayed was a flag, horizontally divided red-white-red, with a central emblem on the white band which appeared to be a garland of green leaves around a yellow sun in splendour. Unlike most leaf garlands, it was a complete circle, like a circular lei.

James Dignan, 4 September 1995
---
Otahiete
Norie and Hobbs [noh48] (1848), as well as Steenbergen [stb62] (1862), shows an "Otahiete" flag made of three horizontal equal stripes, red, yellow and white with a yellow compass in upper hoist on the red stripe. Otahiete is indeed an old variant name of Tahiti and the flag belonged to a rival government of the local one.
Nozomi Kariyasu, Ned Smith & Ralf Stelter, 21 January 2001
---
Protectorate of Tahiti, 1842-1880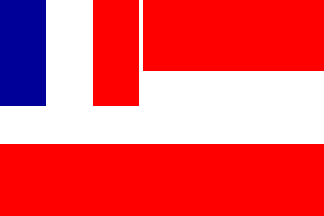 Flag of the Protectorate of Tahiti, first version - Image by Ivan Sache, 27 August 2005

The French national flag was added to the canton of the flag when the former Kingdom of Tahiti was made a French Protectorate; Queen Pomare was forced to abandon the flag of the former Kingdom.
[Flags of Paradise chart [brt96]]

Ivan Sache, 27 August 2005

Flag of the Protectorate of Tahiti, second version - Images by Ivan Sache, 31 December 2011
Left, from a photo of the time;
Right, as shown on the Flags of Paradise chart.

The flag was slightly modified in 1843 by dropping the white fimbriation (thin stripe) which separated the red fields of the French national flag and the former flag of the Kingdom of Tahiti in the first flag of the Protectorate.
A photo shows the flag as horizontally divided red-white-red with the French tricolore in canton, of height one third of the flag's fly, or, equally, the height of the upper red stripe. The photo, however, seems to have been doctored, since the Tahiti flag's reverse shows the French tricolore's obverse!
The Flags of Paradise chart [brt96], shows the flag with the French flag of height the half of the flag's height.

In 1880, Tahiti became a French colony and this flag was suppressed. However, Meyers Konversations Lexicon [mkl97] missed the change and still shows the flag of the Protectorate in its 1897 release.

Paraskevis Renesis, Ivan Sache & Gunter Zibell, 31 December 2011