This page is part of © FOTW Flags Of The World website
Dhofar Region (Oman)
ظفار, Dhufar, Zufar
Last modified: 2021-08-25 by ian macdonald
Keywords: oman | dhofar |
Links: FOTW homepage | search | disclaimer and copyright | write us | mirrors

---
See also:
---
History of Dhofar
There are many possible ways to write down a name that is spelled in the original Arabic as "ظفار" (that's zah, feh, alif, and reh; also "Ðfar" or "Ẓufār").
António Martins-Tuválkin, 23 February 2012
Dr. Smith helps to clarify the Dhofar situation in his article in [smi95k] (Flag Bulletin XXXIV:6/167, Nov-Dec 1995):
Despite the autonomy from central rule which various regions in Oman exercised in the past, none of the provinces had officially recognized flags of their own. Unofficially, however, Dhofar, whose capital, Salalah, lies more than 1000 km by sea from Muscat, has had a number of flags expressing local self-rule. In the early 19th century, for example, it was successively under the control of Muhammad Aqil and an American known as Abdullah Lorleyd, who relied heavily on the Mahra tribe for support. Neverthless representatives from Dhofar traveled to Muscat in 1856, 1866, and 1871 to proclaim publicly their loyalty to the new sultans who acceded to power in those years. Those delegations each received a flag, presumably the plain red national flag of Muscat and Oman.
In early 1876 Seyyid Fadhl ibn-Alawi al-Husaini was able to win allegiance of the Mahras and establish control over the province. Rather than proclaiming Dhofar independent, however, he announced that it was a dependency of "the Supreme Empire" – that is, the Ottoman Empire which was then the largest and most powerful Muslim state in the world. This was an era when the Turks and the British were fighting for control over Arab sheikhdoms from Kuwait and other states along the Persian Gulf to the Hadramaut (modern Yemen) and Asir, an Arab kingdom north of Yemen. Fadhl's allegiance to Turkey and his animosity towards Britain may have been based in part on experiences his family had in British-ruled India. Ironically, Fadhl turned to the British political agent at Aden in 1877, to protest the use by unregistered vessels of the red flag of the Ottoman Empire. Fadhl continued to rule Dhofar until January 1879 when he was deposed by local people unhappy with his rule. Although Sultan Said spent much of his reign (1932-1970) in Salalah, his rule did not extend to the hinterland and indeed his presence may have spurred local discontent.
In 1964 the Front for the Liberation of Dhofar (FLD) was established to resist the sultan and the British forces which supported him. Many of the Jabali tribe, who had served in the Trucial Scouts in what is today the United Arab Emirates, wanted a more progressive government in their homeland. At this time also international events were changing alliances on the Arabian peninsula as Britain retreated from world-wide commitments it could no longer afford, especially after the Suez Canal debacle in 1956. Attempting to exploit the polarization created by the Cold War, "anti-imperialist" forces in Dhofar allied themselves with political organizations which sought to liberate neighboring Aden and the British-protected feudal inland states and which drew on financial and logistic support from Communist countries.
Summarized from [Flag Bulletin by Chrystian Kretowicz, 07 February 2003
c.1096
1265 – 1271
1325 – 1429?
1421
1462/63 – 1804
1539
1829 – 1876
1879
1885 – 1886
9 Jun 1965
Sep 1968
1971


Late 1971
1974
1975
Zafar founded with capital at Mirbat.
Persian occupation.
Ruled by Kathiri Sultanate (Hadramaut).
Sultanate of Zafar
Ruled by Kathiri Sultanate (Hadramaut).
Ottoman occupation.
Katiri and Qara` tribes under suzerainty of Oman
Annexed by Oman.
Independent during revolt.
Dhofari revolt directed by the Dhofar Liberation Front (DLF).
Name changed to Popular Front for the Liberation of the Occupied Arabian Gulf (PFLOAG).
PFLOAG merged with the National Democratic Front Liberation of Oman and Arabian Gulf (armed activity in central and northern Oman from June 1970) forming the Popular Front for the Liberation of Oman and the Arab Gulf.
A revolutionary government was set up de facto in Dhofar.
PFLOAG renaned Popular Front of Liberation of Oman (PFLO).
Remaining guerrillas surrender, are killed or go into exile.


 

 
Source: World Statesmen
Christian Berghänel, 16 February 2003
Dhufar is the southern- and westernmost part of Oman, located on the south coast of Oman. It's the furthest from north-east coast, with the capital Muscat, that one can get while staying within the country; in fact, it's even further away from Muscat than Musandam and Madha are, which are parts of Oman one can only get to by leaving the country.
Where the northeastern part of Oman is on a virtual island in the Persian Gulf, only connected to the mainland by the same lower area that makes up most of the UAE as well, Dhufar, on the other side of this divide, is part of a ridge stretching into Yemen, basically the mountains of Hadramaut. Its population, divided from the north-east by those near uninhabited lowlands, is mainly settled in the stretch of land between the mountain ridge and the sea. This habitation pattern crosses the Yemen border, continuing in Mahra. Water courses cross the border with Yemen, not the divide. Even Dhufar locusts swarm into Yemen, not to the rest of Oman. So the people from Dhufar may have reasons not to feel closely connected to the north-east of Oman.
Peter Hans van den Muijzenberg, 24 Feb 2012
---
Liberation Front
According to André Flicher, all three flags are ~1:2 red-white-black horizontal tribands (a common motif of the area); in 1968 the order or the stripes changed from red on top to black on top (the white in the middle didn't change), and in 1972 red lettering was added to the middle stripe, reading (if I didn't mess up the Arabic) "الجبهة الشعب لتحرير غمان" ("Aljbhẗ Alŝʕb Ltħrir ʕᵘman"), which means "Omani People's Liberation Front" (I think there's a missing alef at the beggining of the 3rd word).
Considering this text, it seems unlikely that this is a markedly regional(ist) Dhofar flag, but rather an Omani flag — surely before 1972 Muscat and Oman was markedly macrocephalic towards the latter, and the emergent Omani lobby would have more supporters in this southeastern, mainland area…
António Martins-Tuválkin, 23 February 2012
Dhofar Liberation Front (DLF) 09 Jun 1965 - Sep 1968


image by André Flicher, 06 February 2012
Not surprisingly, the Dhofar rebels borrowed for their own use the flag of the National Liberation Front, which in November 1967 was able to seize control of the area it called South Yemen – a horizontal tricolor of red, white, black.
Summarized from the Flag Bulletin, [smi95k]
Chrystian Kretowicz, 07 February 2003
Popular Front for the Liberation of the Occupied Arabian Gulf (PFLOAG) Sep 1968 - 1971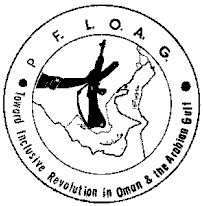 image by André Flicher, 06 February 2012                                                          image by Chrystian Kretowicz, 07 February 2003
In early 1968 the Dhofar rebels changed the name of their organization to the Peoples Front for the Liberation of Oman and the Arabian Gulf (PFLOAG). Their emblem, showing an arm holding an AK-47 rifle in red, had a background with a map delineating the territory they hoped to liberate, including what are now the independent states of Bahrain, Qatar, the United Arab Emirates, and Oman. With a secure supply base in the new People's Democratic Republic of South Yemen, the PFLOAG rebels presented considerable threat not only to Dhofar but the rest of the sultanate.
Summarized from the Flag Bulletin, [smi95k]
Chrystian Kretowicz, 07 February 2003
Popular Front for the Liberation of Oman and the Arab Gulf 1971 - 1972 (PFLOAG)


image by André Flicher, 06 February 2012
The withdrawal of the British from the Persian Gulf region in 1971 encouraged Sultan Qaboos to move quickly to suppress the Dhofar revolt. He brought in troops from Iran but he also sought to win the allegiance of the disaffected tribes in Dhofar. In contrast to the rebel leadership, he stressed his allegiance to Muslim values and, in contrast to his father, promised to work for the independence and development of the country.
Summarized from the Flag Bulletin, [smi95k]
Chrystian Kretowicz, 07 February 2003
Popular Front of Liberation of Oman 1972 - 1975 (PFLO, al-Jabha al-Sha'abiya li-Tahrir 'Uman, الجبهة الشعبية لتحرير عُمان)

image by Chrystian Kretowicz and Eugene Ipavec, 07 Feb 2003 and 19 Feb 2012
According to a German text (from Flaggenmitteilungen ?) submitted by Jaume Ollé, "the flag of the People's Front for the Liberation of Oman is striped black-white-red; in the white field the inscription: ALJABHA ALSHA'BIYAH LITAHRIR OMAN in red."
Jarig Bakker, 11 September 1999
By the time the rebels disavowed interest in the Arabian gulf states in 1975, renaming their party the Popular Front for the Liberation of Oman (PFLO), Sultan Qaboos had effectively defeated them militarily. The PFLO flag added the name of the party in red Arabic script to the center stripe of the red-white-black tricolor they had used previously as the FLD and PFLOAG. Evidence is lacking to suggest that this flag was ever displayed in Oman outside Dhofar.
Summarized from the Flag Bulletin, [smi95k]
Chrystian Kretowicz, 07 February 2003
Incorrect Depiction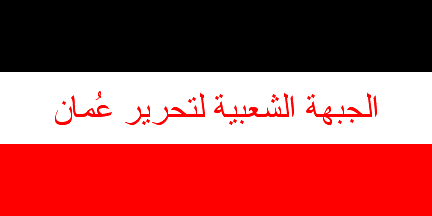 image by Santiago Dotor, 23 February 2006
---