This page is part of © FOTW Flags Of The World website
Association of National Olympic Committees
ANOC / ACNO ; Associations des Comités Nationaux Olympiques
Last modified: 2021-02-02 by

zachary harden
Keywords: anoc | acno | association of national olympic committees | associations des comités nationaux olympiques | olympic games | national olympic committee |
Links: FOTW homepage | search | disclaimer and copyright | write us | mirrors

---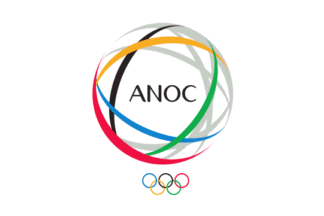 image by Tomislav Šipek, 25 January 2018
---
See also:
Other sites:
---
The Association of National Olympic Committees was created during a constitutive general assembly held on 26 and June 27, 1979 in San Juan, first convened under the name IXth General Assembly of National Olympic Committees (NOCs). Its ancestor, the first "General Assembly of the NOCs", was held in Rome on September 30, 1st and October 2, 1965. Established initially in Paris, the headquarters of ANOC has since May 2010 based in Lausanne. (Source)
Esteban Rivera, 22 January 2021
Each NOC adopts an emblem, and presumably adopts a flag as well. The website of the IOC lists all NOCs, including their emblems. Below descriptions of a few known NOC flags are given. In general, NOCs will probably form their flag by placing their emblem on an Olympic white background.
NOCs are all members of the Association of National Olympic Committees (ANOC), which was established in June 1979 and is also split among five continental associations:
- Association of National Olympic Committees of Africa (black ring)
- Pan American Sports Organization (red ring)
- Olympic Council of Asia (yellow ring)
- European Olympic Committees (green ring)
- Oceania National Olympic Committees (red ring)
Source: http://en.wikipedia.org/wiki/Association_of_National_Olympic_Committees and http://www.en.acnolympic.org/art.php?id=20030

The logo features each regional Olympic Committee association/federation's logo inside a ring, as seen here.
(Source: http://www.acnolympic.org/ )

For the full list of recognized and unrecognized Olympic Committees (plus additional remarks on other Olympic Committees) are found here:
http://www.olympic.org/ioc-governance-national-olympic-committees
http://www.en.acnolympic.org/art.php?id=20039
http://en.wikipedia.org/wiki/National_Olympic_Committee
Esteban Rivera, 15 April 2012
---
The Association of National Olympic Committees (ANOC, ACNO in French) changed their logo on May 20th, 2014. According to the press release at http://www.acnolympic.org/media-centre/anoc-press-releases/2014/05/anoc-unveils-dynamic-new-logo/, the new logo consists of five ribbons, using the colors from the Olympic Rings, and "reflects the dynamism of the organisation and the universality of its global membership of 204 NOCs" with the way the ribbons form a globe. As such, the flag also changed to use the new logo (example at http://www.acnolympic.org/ImageGen.ashx?image=/media/25293/P1010035.jpg&height=500).
Zachary Harden, 4 August 2016
---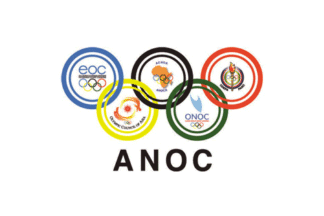 image by Tomislav Šipek, 25 January 2018
There is a former version of ANOC/ACNO flag:
http://cdn1.wn.com/pd/07/01/0a4f41c432397730e44ede268167_grande.jpg
Please note that there are previous emblems of EOC, ANCOA and ONOC (in blue, black and green rings).
Zoltan Horvath, 24 April 2012
Association of National Olympic Committees of Africa logo is shown at Wikipedia and at official website; direct link: http://www.africaolympic.org/Anoca-logo.gif. Sadly, I could not find a flag.
According to National Olympic Committee Wikipedia page, Africa is rather blue, black being Asia. (And yellow the Americas, red for Oceania, and green for Europe.)
Anyway, it would be interesting, vexillologically, if these five colors were used on the flags of the continental or national associations.
European Olympic Committees Logo at http://en.wikipedia.org/wiki/File:EOClogo.jpg, and at official website.
Oceania National Olympic Committees Logo at http://www.sportingpulse.com/pics/headers/346/onoc_header.jpg.
António Martins-Tuválkin, 16 April 2012
Alas, if falls unto my lot to point out the blog, where the image occurs, showing they do use it on a flag.
(Oh, and then ANOC president, Mario Vázquez Raña, is in the picture too.
Peter Hans van den Muijzenberg, 19 April 2012
The organization's flag is shown on their website white with logo and acronyms in black below. No large image of the logo is available.
Eugene Ipavec, 22 April 2012
The lower edges seem to confirm "ACNO" being used at the bottom of the flag.
Peter Hans van den Muijzenberg, 22 April 2012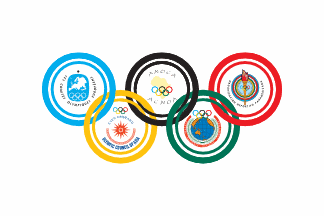 image by Zachary Harden, 16 September 2016
This picture from http://www.gettyimages.com/detail/news-photo/the-olympic-and-chinese-national-flags-flutter-outside-a-news-photo/80558922#the-olympic-and-chinese-national-flags-flutter-outside-a-hotel-where-picture-id80558922 shows that for the older ANOC flag, there was no text underneath. As such, I was able to find a vector image from https://www.olympic.org/olympic-solidarity
and turned it into an image.
Zachary Harden, 16 September 2016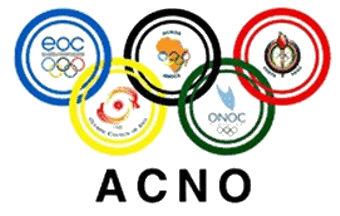 image located by Esteban Rivera, 22 January 2021

The logo of the European Olympic Committees changed in 2007, Olympic Council of Asia in 2006, Oceania National Olympic Committees in 2008; this is the ACNO third logo version in use until the ANOC 2014 logo change.
Esteban Rivera and Zachary Harden, 22 January 2021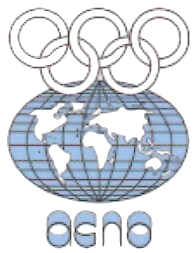 image located by Esteban Rivera, 22 January 2021
ACNO earliest logo: "Old flag and logo: They are, the black letters ACNO with light blue shadow, a black world map with light blue oceans and white continents and the Olympic rings in white above. The flag was white with the colour logo in the middle, introduced in 1979, when ACNO was founded." (Source: "Flags and Logos of International Sports Federations, Associations and Organizations" by Dr By Andreas Herzfeld, 2000, ISBN 3-935131-00-3. page 74).
Esteban Rivera, 22 January 2021

image located by Esteban Rivera, 22 January 2021
ACNO second logo: "The Olympic rings, triple each of them, the logo of each continental organization in the centre of one ring, the letters ACNO with light blue shadow below. ACNO's flag has the colour logo in the middle. In the centre of the blue rings is the EOC logo, black rings – ANOCA logo, red rings – PASO logo, yellow rings – OCA logo and green rings – ONOC logo. The background is white. The flag was introduced in 1997." (Source: "Flags and Logos of International Sports Federations, Associations and Organizations" by Dr By Andreas Herzfeld, 2000, ISBN 3-935131-00-3. page 74).
Esteban Rivera, 22 January 2021
---
I am sending you also a picture of Putin standing by what seems to be an Olympic flag. I did some search but coud not find it at the International Olypmic Commmitte webpages or among the Russian sports flags.
H B, 12 May 2012
This is flag of Association of National Olympic Committees (ANOC) behind the President. It is not a Russian related Olympic flag.
Zoltan Horvath, 14 May 2012
---