This page is part of © FOTW Flags Of The World website
Tholen (The Netherlands)
Zeeland province
Last modified: 2018-12-15 by rob raeside
Keywords: tholen |
Links: FOTW homepage | search | disclaimer and copyright | write us | mirrors

---

by Gerard van der Vaart : http://www.flagchart.net
adopted 4 Sep 1962
See also:
---
Tholen municipality
Population (1 Jan 2003): 24.035; area: 172,31 km². Settlements: Sint Maartensdijk (seat), Anna Jacobapolder, De Sluis, Oud-Vossemeer, Poortvliet, Scherpenisse, Sint Annaland, Sint Philipsland, Stavenisse, Tholen.
Tholen is the result of merger of the former municipalities of Poortvliet, Scherpenisse, Sint Maartensdijk and Stavenisse (1970), Sint Philipsland joined this merger 1 Jan 1995.
Flagdescription: seven stripes, of which the heights relate as 1:1:1:3:1:1:1, red, white, blue, yellow, red, white, blue.
This flag was adopted by municipal resolution on 4 Sep 1962. It is already reported by Mattheus Smallegange in his "Chronyk" of 1676. The colors are the "Holland" colors, with addition of the color of the shield of the municipal arms.
The flag was confirmed as municipal flag on 18 Aug 1975, and reconfirmed on 29 May 1995.
Source: Tholen municipal website.

---
Tholen Coat of Arms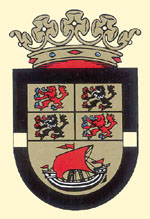 from the Tholen municipal website.
Granted 27 Mar 1973.
---
Oud Vossemeer [former municipality]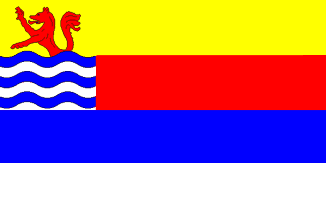 by Gerard van der Vaart, 15 Jan 2002

The flag of the former municipality Oud-Vossemeer is still lacking in our Tholen-collection. In the booklet of Tholen municipality is a drawing and a description: Four equally wide stripes of yellow, red, blue and white, with in the canton a square with height = two stripes, in which the municipal Coat of Arms.
This flag was brought into use 5 Sep 1938, unfortinately with a lion instead of a fox. The same year the mistake was corrected. Blue and white colors based on the provincial Coat of Arms. <on the drawing the "square" is rectangular> The flag is canting: "vos" = fox; and "meer" = lake.
Gerard van der Vaart, 15 Jan 2002

This must be one of the Jubilee standards for the 40 year jubilee of Wilhelmina as queen of the Netherlands in 1938.
(For more details see this FOTW-page.
That they had a lion instead of a fox means they had the provincial arms (of Zeeland) in their standard!
Mark Sensen, 16 Jan 2002

It may be interesting to know that in that village is "Huis Roosevelt", where ancestors of Theodore and Franklin Roosevelt lived, see this webpage with English pages (they want to restore that house - with US-$$ of course!).
Jarig Bakker, 15 Jan 2002

---
Poortvliet [former municipality]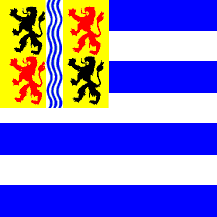 by Gerard van der Vaart: http://www.flagchart.net

---
Scherpenisse [former municipality]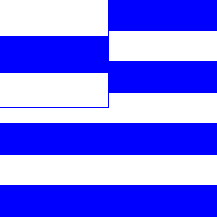 by Gerard van der Vaart: http://www.flagchart.net

---
Sint Annaland [former municipality]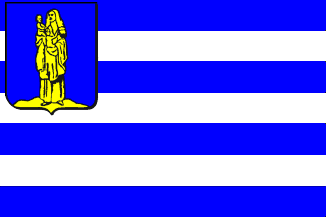 by Gerard van der Vaart, 15 Jan 2002

At this webpage is the flag of this village on the island of Tholen, Zeeland province. Sint Annaland used to be a separate municipality.
Jarig Bakker, 8 Jan 2002

Although not mentioned at our page about the municipality of Tholen, where also Oud Vossemeer isn't mentioned in the merger, Sint Annaland indeed was a separate municipality until 1971. See Ralf Hartemink's site.
The arms show Saint Anne, who has a child on each arm.
Sierksma's "Nederlands Vlaggenboek" [sie62] shows an almost identical flag, but with the image of the arms at a square which is three stripes high.
Mark Sensen, 8 Jan 2002

This village flag Sint-Annaland 2000 - 525 years, appears to have been made by Shipmate two years ago, so I could have made a gif with the help of the production-image. On photos at that site one can see that the real flag is a bit different from the drawing on the homepage: the Coat of Arms is a bit off the hoist.
The flag of the former municipality St-A was a bit different too. In a booklet by the municipality of Tholen is a drawing with the following description:
Seven equally high stripes of blue and white with in the canton a square with a height of 3 1/2 stripes, in which the Coat of Arms. The flag was adopted by municipal resolution 24 Jun 1954. The blue and white stripes were inspired by the provincial Coat of Arms (of Zeeland). On the drawing the "square" is rectangular.
Gerard van der Vaart, 15 Jan 2002

---
Sint Annaland old flag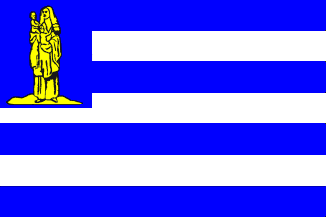 by Gerard van der Vaart, 15 Jan 2002

---
Saint Maartensdijk [former municipality]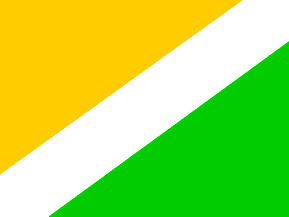 by Gerard van der Vaart: http://www.flagchart.net

---
Sint Philipsland [former municipality]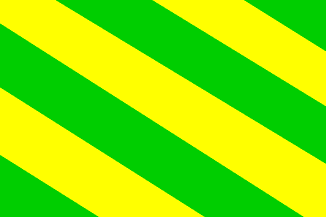 by Gerard van der Vaart: http://www.flagchart.net

---
Stavenisse [former municipality]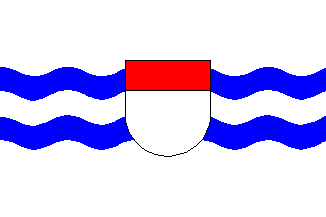 by Gerard van der Vaart: http://www.flagchart.net

---