This page is part of © FOTW Flags Of The World website
Mexico: 1853-1854 Comte Gaston Raousset-Boulbon invasion of Sonora
Last modified: 2013-08-03 by juan manuel gabino villascán
Keywords: mexico | sonora | filibustering | independent state of sonora | raousset-boulbon (gaston) | république de sonore | yáă±ez (josé maría) | santa anna (antonio lópez de) | france |
Links: FOTW homepage | search | disclaimer and copyright | write us | mirrors

---
See:
---
After the 1846-1848 US invasion against Mexico, this latter lost, in virtue of the Treaty of Guadalupe-Hidalgo (February 8, 1848), most of the half of its territory: Upper California (present-day California, Nevada, Arizona and Utah), New Mexico (current parts US states of Colorado, Texas and New Mexico). In addition to that, Mexico was obligated to recognize the admission of Texas to USA.
Some months after the war finish and the Treaty of Guadalupe-Hidalgo signed, gold was found in California giving birth an amazing people moving from first: east of the US, then Europe, even from China. That age is know as "Gold Rush".
Count Gaston Raousset-Boulbon arrived to California (San Francisco) on August 22, 1850, just in a moment when US laws segregate the foreign people to explode the California richness.
Gaston Raousset-Boulbon was born in Avignon, France on December 2, 1817, belonging to one of the most notable families in the Provenze. After his father's death, Raousset-Boulbon moved to Paris, then to Algeria. He made in Algeria a prosperous life, When the 1848 revolution broke off, falling in banckruptcy. He back to France taking the Republic side. He founded the daily La Liberté. Raousset-Boulbon did not found favor neither among the royalist nor the republicans, then impoverished and ruined in all aspects, Raousset-Boulbon embarked in 1850 the steamship L'Avon towards California via Panama. He arrived Jamaica where embarked the steamship Dee taking him to Chagré, Panama where landed on July 6, 1850. Finally the steamship Ecuador drove him to San Francisco, California, arriving on August 22, 1850. His flee coincided to the move of thousands of French-people who looked for both: go out from the war in their country and find well-being in California.
As many non-US people Raousset-Boulbon disappointed for both, the margination by US authorities and laws, and the lack of gold. Then he thought the California gold should extend towards the Mexican State of Sonora.
At the time, the Mexican government put into effect a series of rules that allowed non-US-foreign people (because of the fear to lost most territory at hands of the USA) to populate the uninhabited areas of the far north of Mexico and protect the few "civilized" people from the attacks by Indians came from US. Raousset-Boulbon made his first trip to Mexico in February 1852. Once in Mexico City, he met Consul André Levasseur who introduced him to investors of a company called La Restauradora whose mayoritary partner was Jecker, Torre and Co. On April 7, 1852, Raousset-Boulbon singed a contract with La Restauradora on which hi is appointed jointly with an "agent" (who met in San Francisco) to explore all places in northern Sonora, discover mines and good, and take possession of them.
The Count returned to San Francisco, once got the permission, and recruited a company of about 270 men, in addition to weapons and food. On May 19, 1852, he left San Francisco, on the Archival Gracie to arrive Guaymas, Sonora, the first day of July, under a great and spectacular welcome provided by the Guaymas people and Sonora authorities.
General Blanco was appointed to supervise the French expedition, but was frequently burled by Raousset-Boulbon, who justified him-self saying he tried to fulfill the contract terms, while General Blanco just kept passive. The expedition moved to Hermosillo (formerly Pític), then to Ures, and so other places until get Arispe (Arizpe). Mexican authorities realized (August 1852) the rebel attitude of the French expedition, and surrender orders to meet Raousset in Ures. Raousset-Boulbon never attended, then he was consider as a rebel. Raousset-Boulbon and the company stood in Páric (desert place in central Sonora) where survive attacking towns. Here is when Raousset-Boulbon granted the company with a flag with the French colors and the text "Indepéndance de Sonora".
On October 1852, General Navarro and Blanco faced Roausset near Hermosillo (Seris Town). On 4 November, 1852, was signed a treaty were the French company was dissolved, but Blanco guaranteed the security of the French. Raousset-Boulbon, hidden in Guaymas, did not sign the treaty. The Raousset project failed, returning to San Francisco (January 1853).
Once in San Francisco, Raousset consolidated his mission in Sonora:
Becoming rich with the supposed Sonora richness.

Putting a stop to the US expansionism.

Reestablish the pure Latin-blood on the Americas.

Taking revenge of Mariano Arista.
At the moment, in Mexico, Arista was deposed and replaced by Juan Bautista Ceballos ai the presidency, then by Manuel MarĂ­a Lombardini, who in turn was succeeded by Santa Anna (April 20), and Gandsen, US minister in Mexico, negotiated the Mesilla Valley purchase.
Raousset-Boulbon departed from San Francisco on June 16, 1853, getting Mexico City on July 7. He met Santa Anna (Su Alteza SerenĂ­sima), talking about Boulbon's colonization project in Sonora by bringing 6,000 emigrants from Upper California an Europe in six years; expenditures were under Government responsibility. Santa Anna refused the proposals and Raousset-Boulbon get San Francisco on Dec. 6, 1853, to return Mexico (Guaymas) in 1854.
Gaston Raousset-Boulbon will be finally defeated by General José María Yáñez on July 13, 1854, and his is shot on August 12, 1854.
Juan Manuel Gabino Villascán, Jan. 29, 2002.
---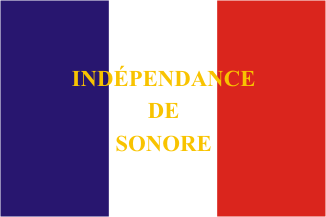 by Juan Manuel Gabino Villascán, May 30, 2001.

This is the image used by Gaston Raousset-Boulbon (French-man) during its campaign to proclaim Sonora (Mexico) as an independent State.

On September 21, 1853 Rousset granted the battalion he formed a flag with the French colors saying: 'Though this flag has the national colors, it is not the standard of France. I give you this colors because I love them as you do Many of you have served under this flag and remembrances are too deep that they should be consider most than French'. When the flag was displayed there was text read: "Indépendance de Sonora".
Cited by Coppey, "Monsieur Rausset-Boulbon au Sonora".

Juan Manuel Gabino Villascán, Jan. 29, 2002.
---
Anything below this line was not added by the editor of this page.