This page is part of © FOTW Flags Of The World website
Debar (Municipality, North Macedonia)
Дебар, Dibër
Last modified: 2019-06-10 by ivan sache
Keywords: debar | diber |
Links: FOTW homepage | search | disclaimer and copyright | write us | mirrors

---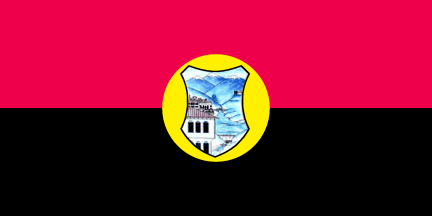 Flag of Debar - Image by Mello Luchtenberg, 29 March 2007
---
See also:
---
Presentation of Debar
The municipality of Debar (in Albanian, Dibër / Dibra; 19,542 inhabitants, 58% of them being ethnic Albanians; 145.67 sq. km) is made of the town of Debar and the 17 settlements of Banište (Banishta), Bomovo (Bohmova), Gari (Gajrja), Gorno Kosovrasti (Kosovrasti i Epërm), Dolno Kosovrasti (Kosovrasti i Poshtërm), Konjari (Kojnjarja), Krivci (Krivca), Mogorče (Mogorçe), Osoj, Otisari (Otishani), Rajcica (Rajçica), Selokukji (Sellokuqa), Spas (Spasi), Tatar Elzvci (Tatari i Eleva), Trnanikje (Tarnaniku), Hame (ama) and Čepište (Xhepishta).
The town of Debar is located in central-western North Macedonia, near the border with Albania. Quoting Carl Savich:
Debar was referred to for the first time in the mid-2nd century in a map by Ptolemy as Deborus. In the time of the Byzantine Empire in the 11th century, in a charter of Emperor Basil II, Debar is recorded as a settlement in the Archbishopric of Bitola. In 1107, Bohemond of Antioch captured Debar during the First Crusade. In the 13th-14th centuries, Debar was at various times a part of Serbia, Bulgaria, and the Byzantine Empire. In 1449, Debar fell under the Ottoman Turkish Empire and was referred to as Dibri or Debra by the Turks. In 1502, Felix Petancić recorded the town as Dibri in his itinerary notes. In the 15th century, Gjergj Kastrioti, known as Skanderbeg, fought Ottoman Turkish forces in several major battles near Debar, which was an important frontline. Wealthy Turkish Agas and Beys lived in the town.
Economically speaking, Debar was an important urban center in the medieval era and was a key trading outpost which developed a crafts industry. Many merchants and travelers stopped in the town for lodging. There was a carsija or market bazaar in the town center, as was common in all Turkish towns. There were shops and stalls selling vegetables, fruit, and wares. It had narrow and curved streets and many inns, features which were also typical of Turkish towns. The houses built in Debar had dolapi (wardrobe cabinets), minderlaci (closets), and chardaci (enclosed porches on the second story of Turkish houses). The town was divided into a Lower and Upper Debar. It was noted for its craftsmen, builders, and especially its woodcarvers. In fact, the Debar School of Macedonian woodcarving became noted for its artistic excellence, and an amazing example of Macedonian woodcarving can be seen today in the nearby Monastery of St. Jovan Bigorski.
In the 19th century, there were rebellions against the Turks in Macedonia. In March 1822, Atanas Karatase and Angel Gačo led the Neguš Uprising in which the town of Neguš was seized. The Ottoman Turks retook the town and took away the women and children, who were resettled in other parts of Macedonia. In the first half of the 19th century, Ami Boue (1794-1881), a noted German-born geologist who lived in France and was a naturalized Austrian citizen, traveled to the Balkans and sketched out detailed maps in his book La Turquie d'Europe, which was published in 1840 in Paris. Boue traveled to Debar and other parts of Macedonia and noted that Debar had a population of 4,200 in the early 19th century with 64 shops. By 1900, the population of Debar had increased to 15,500, which declined after World War I. In 1878, Albanian leaders from Debar participated in the Second League of Prizren in Kosovo, which enunciated a plan for the creation of an Ethnic or Greater Albania.
From June 29, 1941 to October, 1944, Debar and Struga were annexed to and made part of a Greater Albania created by Italy and Germany. From September 8, 1943 to November, 1944, German forces occupied the Italian areas once Italy surrendered. Debar thus came under German occupation at this time. The Italians integrated Debar into an Ethnic or Greater Albania in 1941 and placed the town under Italian and Albanian occupation and civil and military administration. The Macedonian Slavic population fled the Albanian and Italian occupation, especially due to the terror and intimidation by local Albanian and Italian occupation forces. Macedonian refugees from Debar fled to Skopje which was under Bulgarian occupation. A refugee area for Macedonians fleeing from Debar was established in Skopje called Debarsko Maalo, or the Debar Neighborhood. Relatively unaffected by the earthquake of 1963, this neighborhood contains some of the best examples of classic Macedonian architecture and is a relaxing, tree-lined area complete with restaurants and cafes.
The Debar gypsum mine is known for its giant crystals measuring up to 7 m in length. The mine is an Eocene gypsum deposit, heavily recrystallized with an average crystal size of about 3 m (but the exact origin of the giant crystals is unknown). The mine is now dormant and partly flooded after having been purchased by a German company. Gypsum (aka as plaster of Paris) is made of calcium sulfate dihydrate - CaSO4.2H2O.
Ivan Sache, 2 April 2007
---
Flag of Debar
The flag of Debar (Macedonian Ministry of Local Self-Government website, page no longer online), is horizontally divided pink-black with a yellow disk in the center, charged with a representation of the local landscape.
The source shows the upper stripe of the flag as "dark pink" but I am quite sure it is indeed red, as it is the case in several other flags of municipalities located close to Albania.
Ivan Sache, 29 March 2007