This page is part of © FOTW Flags Of The World website
Tazimi Thikana, Jaipur, India
Indian Princely State
Last modified: 2021-05-29 by ian macdonald
Keywords: indian princely state | tazimi thikana | jaipur |
Links: FOTW homepage | search | disclaimer and copyright | write us | mirrors

---
See also:
---
Achrol
Baghera
Baniyana
Barwara
Daanta
Dangarthal
Dhula
Doongri
Dooni
Dudu
Garh taknet
Gijgarh
Gudha (chander ji)
Guhala
Jobner
Kaalwaar
Kalwara
Kanota
Karansar
Khaatu
Kheda
Madhogarh
Mahaar
Mandaa
Marwaa
Mehndwaas
Mundota
Nailaa
Natwaara
Padampura
Padli
Saakoon
Saali
Saantha
Saawarda
Shahpura
Sheopur
Siras
---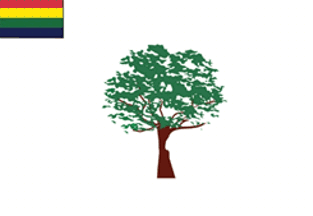 image contributed by Capt. Th Mrityunja Singh, 22 May 2021

The History Of The Ajairajpura Flag
Manohar Dasji campaigned with Maharaja Man Singhji The Great of Jaipur for the Mughal King Akbar for three years (1585 – 1588) in North Western India & Afghanistan, culminating with the capture of Kabul & the defeat of the four major Afghan tribes including the Yusufzai and Mandar. Manohar Dasji's battle trophies of enemy standards and colours were presented to Man Singhji with the request that they be incorporated in the Jaipur Colours. This Man Singhji did with pleasure and thus was created the Amber (Jaipur) 'Panchranga'. The Red, Yellow, Green and Dark Blue have been taken from the captured Standards and the White from the old Jaipur Colours of the Kachnar Tree (Bauhinia variegata) in full bloom in the middle on a white backdrop. He also granted Manohar Dasji and his descendants the privilege of carrying the Old Jaipur Colours with a small 'Panchranga' in the top flag pole corner. The original Amber flag, the Kachnar Dhvaj, was Lord Ram's pennant, as described by Pt. Bhavabhuti the celebrated 8th century Sanskrit poet and playwright in his epic "Uttararamacharita". It's worthwhile noting, that modern TV soap operas ahistorically show Lord Ram's flag as a sun against a white backdrop, an incorrect prop to depict him as a king of the Rajput Solar Dynasty.
Capt. Th Mrityunja Singh,, 22 May 2021
---
Chomu Tazimi Thikana, the senior Estate in Jaipur State, Rajputana.
Flying above the Chomu Palace Hotel is a flag which looks like 3x5 horiz. rectangular of red over white.
John Duncan McMeekin, 31 May 2014
---
Diggi Tazimi Thikana (Ranking 5th)
Their flag is the same shape as Janak, is a horiz. tricolour of red over white over saffron.
---
Uniara was a large Thikana - not a Jagir- , it was with Sikar awarded a 7 Gun Salute. The area was at least 375.55 km2
---
Samode Tazimi Thikana (locally spelt Samod), the 2nd most senior Thikana, the title of Rawat was granted in 1757.
The Samode flag has a red "Jhabba" (small piece of cloth on top of the flag), a rectangular tricolour flying over his Palace Hotel, of light-blue, saffron, green.
Another flag has been seen for Samode, a tricolour of red over white over blue, perhaps one of them could be the Thikana flag, the other could be the Personal Standard?
John Duncan McMeekin, 31 May 2014