This page is part of © FOTW Flags Of The World website
Desiya Murpokku Dravida Kazhagam (India)
National Progressive Dravida Party
Last modified: 2018-05-10 by ian macdonald
Keywords: desiya murpokku dravida kazhagam |
Links: FOTW homepage | search | disclaimer and copyright | write us | mirrors

---
image by Tomislav Todorovic, 11 April 2018
---
See also:
---
From an article in Asian Age:
Massive turnout in Madurai - By Our Special Correspondent, Madurai, Sept. 14
It was the biggest launch show ever witnessed in Tamil Nadu politics. Colourful, enthusiastic and chaotic. It was perhaps the ideal setting for Vijayakanth to launch his Desiya Murpokku Dravida Kazhagam [National Progressive Dravida Party] here on Wednesday. As lakhs of his fans spilled out of the massive pandal on the outskirts of this temple town, "Captain" Vijayakanth announced his political arrival amid thundering cheers and promised to cleanse Tamil politics so that the people's needs were taken care of, particularly that of the underprivileged. Explaining the choice of his party's name, which he said took him much time and deliberation with wife Premalatha and some close friends and finally dawned upon him through the blessings of Goddess Meenakshi of Madurai, the star-politician said Desiya (national) was to show that Tamil Nadu was part of the nation and his Dravida Kazhagam (Dravida party) would have Murpokku (progressive) programmes and policies.

See flag at http://www.indiavarta.com/gallery/images/2005/sep/14a/vi6.jpg: red over black with yellow circle with a hand and torch in black outline.
Source: http://www.asianage.com/main.asp?layout=2&cat1=5&cat2=181&newsid=180629&RF=DefaultMain
Knut A. Berg, 15 September 2005
---
image by Tomislav Todorovic, 11 April 2018
The flag of DMDK is a red-black horizontal bicolor, charged with large yellow disc bearing a hand, outlined in blue, grasping a torch, also depicted in blue [1, 2, 3, 4, 5]. The shade of red is often R, but may sometimes be as dark as R+. The shade of blue is usually B, but may be much darker. The shade of yellow varies less and is usually either Y or close - even the darkest seen shades are still closer to Y than Y+. Hand and torch also appear in center of the party seal [6].
Tomislav Todorovic, 11 April 2018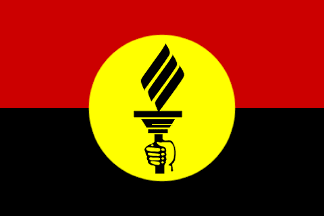 image by Tomislav Todorovic, 11 April 2018

In many cases, blue seems either to have darkened so much to be indistinguishable from black, or the black is actually used in its place; this is usually, although not always, combined with a dark shade of red [7, 8, 9, 10]. This variant is frequently used for the Web graphics [6], even at the party website [11], although the flag image currently found there is actually an approximation from the Wikipedia: https://en.wikipedia.org/wiki/File:DMDK_flag.PNG which displays a different depiction of the flame, as well as the white hand with a black outline; both of these features are erroneous, since they do not appear on the flags.
Tomislav Todorovic, 11 April 2018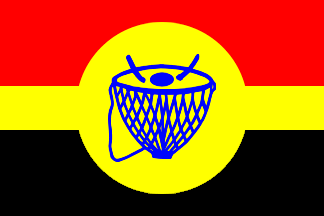 image by Tomislav Todorovic, 11 April 2018
On an unofficial party flag, the hand and torch are replaced with a nagara drum, the election symbol which was allotted to the party some time between 2011-03-08 [12] and 2011-12-28 [13]. This flag is a triband, with central yellow stripe, occupying about 1/5 of the flag width and conjoined with the disc into a single shape; the nagara is blue [2].
Tomislav Todorovic, 11 April 2018

image by Tomislav Todorovic, 11 April 2018
Other unofficial flags are red-yellow-black tricolors. That design also makes part of the party activists' dress code: tricolor shawls, accompanying all white suits (shirt combined with trousers or dhoti) for men and yellow saris with tricolor bordure, combined with red cholis, for women [14]. In currently available online sources [15, 16], shade of red looks closer to R+ than R, while the ratio may be 3:5 [15], but also less oblong [16].
Tomislav Todorovic, 11 April 2018

image by Tomislav Todorovic, 11 April 2018
On tricolor flags, yellow stripe may be narrower that the other two (about 1/5 of the flag width) [17].
Tomislav Todorovic, 11 April 2018

image by Tomislav Todorovic, 11 April 2018
Tricolor flags may also have greater width than length. The most frequent ratio seems to be 3:1. The shade of red on these flags may be R [18, 19], or sometimes R+ [20].
Tomislav Todorovic, 11 April 2018

image by Tomislav Todorovic, 11 April 2018
A less oblong flag, with ratio of about 2:1, is also sometimes used [21].
Tomislav Todorovic, 11 April 2018

image by Tomislav Todorovic, 11 April 2018
Extremely oblong flags, with ratio of about 5:2, were photographed in Chennai in February 2016 [22]. They were hoisted in a row, alternating with similarly shaped flags of Dravida Munnetra Kazhagam.
Tomislav Todorovic, 11 April 2018

image by Tomislav Todorovic, 11 April 2018
Flags with width greater than length may also have narrower yellow stripe. One such flag was photographed in Abhiramapuram, Chennai in 2009 [23]; the ratio was about 2:1 and width of yellow stripe was about 1/6 of of the flag width. Note also the flag-bearer's bandana, which repeats the pattern of party flag; for the DMDK, this is currently the only recorded example of this way of flag use in the dress code, but was seen earlier for other parties, most notably Aathi Thamizhar Peravai.
Tomislav Todorovic, 11 April 2018

image by Tomislav Todorovic, 11 April 2018
Lastly, rare examples of triband with central stripes wider than the other two were also seen. Such flags were photographed in May 2016 [24]. The ratio was about 2:1 and width of yellow stripe was about 5/9 of the flag width. Unlike most of other similar flags, these employed darker shade of red. (Flag ratio and shade of rad can be determined by comparing with other flags seen in the photo - those of Marumalarchi Dravida Munnetra Kazhagam and Viduthalai Chiruthaigal Katchi.)
Tomislav Todorovic, 11 April 2018
Sources:
[1] Vijayakanth's blog - Entry on 2008-11-17: http://vijayakanth-dmdk.blogspot.rs/2008/11/dmdk-women-condemn-price-rise-power.html
[2] OneIndia Gallery website: https://gallery.oneindia.com/
[3] The Hindu newspaper website - News entry on 2011-01-10: http://www.thehindu.com
[4] Vijayakanth at Twitter - Post on 2017-10-29: https://twitter.com/
[5] Photo of DMDK flag at Twitter: https://twitter.com/
[6] Vijayakanth at Twitter - Post on 2017-09-01: https://twitter.com/
[7] The Hindu newspaper website - News entry on 2005-09-15: http://www.thehindu.com
[8] Academic Dictionaries and Encyclopedias website: http://enacademic.com/ (image: http://enacademic.com/pictures/)
[9] WebDunia website: http://tamil.webdunia.com/
[10] The Hindu newspaper website - News entry on 2009-04-23: http://www.thehindu.com/
[11] DMDK website: http://dmdk.party/2015/05/11/
[12] Election Commission of India website - Political Parties And Election Symbols as on 08-03-2011 (in PDF format): http://eci.nic.in/.../Notification_symbol_08032011.pdf
[13] Election Commission of India website - Political Parties And Election Symbols as on 28-12-2011 (in PDF format): http://eci.nic.in/.../Notification_symbol_29122011.pdf
[14] Vijayakanth at Twitter - Post on 2017-09-29: https://twitter.com/
[15] Dinamalar newspaper channel at YouTube - video report on 2014-12-07 (flag visible @ 0:23-0:28): https://www.youtube.com
[16] Dinkaran website: http://www.dinakaran.com
[17] Photo of DMDK tricolor flag: http://1.bp.blogspot.com
[18] Vijayakanth at Twitter - Post on 2017-02-27: https://twitter.com/
[19] News 7 Tamil channel at YouTube - video report on 2016-02-19 (flags visible @ 0:59-1:36): https://www.youtube.com
[20] DMDK at Facebook - Post on 2017-08-10: https://www.facebook.com
[21] The Hindu newspaper website - News entry on 2016-04-19: http://www.thehindu.com
[22] OneIndia website: https://tamil.oneindia.com/
[23] South Chennai Votes website: https://southchennaivotes.wordpress.com/ (image: https://southchennaivotes.files.wordpress.com/2009/05/1.jpg)
[24] Frontline magazine website: http://www.frontline.in (image: http://www.frontline.in/multimedia)