This page is part of © FOTW Flags Of The World website
Unidentified Irish eagle flag
Last modified: 2016-06-03 by rob raeside
Keywords: ireland | eagle |
Links: FOTW homepage | search | disclaimer and copyright | write us | mirrors

---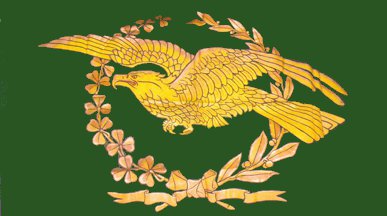 by Richard Case, 18 November 2010
---
See also:
---
I know this flag existed during the Irish Rising in 1916 and at that stage Ireland was under British rule so you may have seen reference to this flag in the past. Below is correspondence I've had with two flag organisations in Ireland and the story I sent them.
Richard Case, 23 January 2007
I heard this story third hand but apparently my great aunts mother lived on Mount Street in Dublin during the Easter Rising, an Irish volunteer knocked at her front door and handed her this flag and a number of bullets. It was his intention to call back for the flag after a few hours but he never did. Since then the flag had been folded away in my great aunts wardrobe, When I brought the flag and bullets to Collins Barracks a gentleman there informed me that he would have to hold onto the bullets for security reasons. I'm afraid I can't give anymore information and my great aunt has since past away.
Richard Case, 23 January 2007
I had a look through our book of Irish flags and I have found a series of flags that have the same type of wreath design. The wreath on your flag has bay / laurel leaves and berries on the left and shamrocks on the right bound together with a bow. This is a common feature with the Irish Volunteers flags c 1770/90's. The book however, though very good at describing flags, is not very good on actually giving a meaning for the individual designs, so I can't tell you why they were used etc.

I think the eagle represents an American aspect. Certainly anyone I showed it to here thought the same and I can't see any eagle representations in Irish flags. The only alternative is that it may be a Phoenix. There is a mention in the Irish Volunteers chapter of a medal with a Phoenix on it.
Jenny, Flags Ireland, 12 December 2006
That is a most interesting flag and indeed, quite a beautiful one too. From a first look it appears to be American in origin and style, possibly an Irish Republican Brotherhood or Fenian flag from the US. But this is just a guess at the moment and I'll do some more investigation on the flag.
Michael Merrigan, Hon. Secretary
Genealogical Society of Ireland, 12 December 2006
That certainly is a very interesting flag - a striking and (as far as I am aware) a unique design, displaying what seems to be a very good standard of workmanship. Most of the surviving Irish Volunteer unit colours from that period look quite amateurish in comparison.

It's not easy to account for it: it is entirely unlike the Irish Volunteer colours - no harp, no sunburst, no inscription to indicate the identity of the unit. The other principal body that participated in the 1916 rising was the Irish Citizen Army, and the current design has no resemblance to its Starry Plough flag either.

This is no more than a theory, and it is probably completely wrong, but it's the only one I can think of at present. There was a third body that took part in the Rising, a group called the Irish National Foresters (INF). They were actually an armed section of the Ancient Order of Hibernians (AOH) in the United States. In Ireland, the AOH was closely aligned with the movement for 'Home Rule', and was strongly opposed to revolutionary republicanism. But the US branch of the AOH was much more radical and it succeeded in organising among Irish emigrants in Britain. A small force of their members (the INF), travelled to Dublin from (I think) Liverpool to take part in the rising. As far as I remember, there were only about twenty of them involved. Note, however, that the only grounds for this suggestion is the somewhat American appearance of the bird ...
I will do some research next week to see if I can find out where the INF contingent was stationed during the Rising. If it was anywhere near Mount Street, it would strengthen the theory. Unfortunately, I have a vague idea that they were stationed on the north side of Dublin (Mount Street is on the south side) and that they never saw action - some of the rebel garrisons had still not been engaged by the time the order to surrender was given.
Vincent Morley, 24 January 2007
The Foresters are a completely different Organisation founded in 1887 and are still in existence. They have always been a Nationalist Friendly society. They broke away from a similar British group called the Ancient Order of Foresters. At one time they were a very large organisation throughout Ireland and its Diaspora. But since the founding of the welfare state they have declined greatly. They are now a small group mainly in the North of Ireland.
Mr. Morley is correct in stating there was an Armed Division of Hibernians but they were called the Hibernian Rifles. He is correct in stating that the Rifles were a radical group and were funded by the Irish in the States. There has and still is a division in the AOH between the American group and the Board of Erin Group. They are two independent groups who share the same name.
Fr. Gabriel Burke, 22 January 2008
This might be the 99th New York State Militia Circa 1860, an Irish Fenian regiment referred to as the Phoenix Regiment.
Sean Downey, 15 November 2007
I was forwarded your email concerning the flag and I discussed the matter with members of the 69th Regiment Historical Roundtable. I am including some of the members comments.

One member remembered speaking with Lar Joye at the National Museum of Ireland about this a few years ago. Lar is very knowledgeable about all things Irish. His other thought was the flag might be a 1916 period piece that is one individual's or organization's personal interpretation of the "Irish Republic" flag -- the laurel wreath and the eagle are all associated with Republics.

In 1916, you have the Irish Tricolor (first introduced in 1848 by Thomas Francis Meagher) flown as the flag of the Irish Republic -- I believe by Pearse and the Irish Volunteers; then, you have the "Irish Republic" flag hastily painted by the Countess Markiewicz and flown as the flag of the Irish Republic at the GPO as well. There were a lot of poets associated with the Easter Rising. The flag may very well have been another individual or organization's vision or interpretation of the flag of the "Irish Republic" and their flag never made it to the GPO. I have seen an Irish American motif of an eagle holding a wreath of laurel and shamrocks.

It seems rather hastily designed. The eagle is supplanted over the laurel which is kind of odd. A friend at NASA seems to think the eagle should be flying through the laurels, Someone might have hastily made this flag in anticipation of the rising. What is interesting is the ties on the fly (see this photograph). It was designed to be attached to a flag staff which may indicate a unit type flag. If it was printed, then there would be others. If it is embroidered or painted, then it's probably a one of a kind. At one time, the flag reminded me of a variation of the Irish American Athletic Club's wing fist motif but that is no longer the case.

I hope this information helps but it appears although the flag may have some American ties it doesn't appear to have any ties to the history of the 69th Regiment New York or its members some of whom were involved in the Easter Rebellion.
James P. Tierney, 30 November 2010
This is a banner of the Hibernian Rifles/Irish American Alliance. There was a banner of the H.R. in the 1916 Exhibit a few years back in the National Museum, but that one, if I remember correctly, had crossed American and Irish flags with the A.O.H. crest.

If you count the shamrocks and leaves on the banner in question (including the leaf where only its stem is showing), it adds up to 48 - the number of states as of 1912.

About ten years ago, I represented the A.O.H. at the 100th Anniversary of the Dundalk Hibernians. This is the only branch that was affiliated with the American A.O.H. that still survives. The Dundalk branch was founded by Edward McCrystal, a Tyrone man with connections in Louth. McCrystal was a leader of the A.O.H. in Manhattan and a Major in the Irish Volunteers (military unit) in New York. McCrystal, also an Irish language speaker and Gaelic Leaguer, went to Dundalk to personally organize the Dundalk branch. There were only a few A.O.H. branches affiliated with the more militant American A.O.H. as opposed to the many hundreds that were virtually a part of John Redmond's political machine and part of the Board of Erin A.O.H.

I have done a little research on a group of Irish-Americans who went back to participate in the Rising. I believe they were members of the Irish American Alliance, a name that was given to the armed wing of the A.O.H. in Ireland. Perhaps the banner was something they would have brought back. At the O'Donovan Rossa funeral in 1915 in Dublin, the divisions of the American affiliated A.O.H. in Ireland took part and carried various banners.
Richard Case, 24 February 2016