This page is part of © FOTW Flags Of The World website
Indonesian provincial flags
Last modified: 2023-09-23 by

zachary harden
Keywords: indonesia |
Links: FOTW homepage | search | disclaimer and copyright | write us | mirrors

---

Some reports have been received of provincial flags from Indonesia. Some flags may have been proposed, but it seems no official provincial flag are commonly in use. In particular, it seem clear there are no Indonesian flags (not even provincial) designed with the national red and white charged with provincial coat of arms. Indonesian flag law strictly prohibits that.
Sammy Kanadi, 29 April 2000

I can confirm from a visit to the Interior Department the existence of Indonesian provincial flags. The flags (26 provinces, Maluku Utara and 2 would-be provinces that still have no arms and flags) all have the same basic design, a unicolor field defaced with the provincial coats of arms. The background colors are somewhat strange, ranging from very very light blue (must be B----- in the FOTW color Guide, maybe) to purple. They are official, because the officer in the Interior Department told me that the flags were made based on spec sheets sent directly from every Governor's offices.

One thing to be noted, the flags are used only ceremonially. They are displayed only in each of the governor's offices. I still have no information of the meaning of the background colors or the law that legislates the flags. Also, I have no information why the flags have never been intended for public use.
Sammy Kanadi, 10 July 2000

As the region autonomy law was implemented on Jan 1, 2001, there's a good chance for Indonesian provincial flags to be de facto civil flags. The Central Government has yet to pass a law about regional symbols so that the usage of regional symbols will be allowed for non-state officials/ordinary citizens. Sammy Kanadi, 18 January 2001

Second level units in Indonesia are regencies (kabupaten) and third level units are districts (kecamatan). There are additional municipalities (kodamadya) as second level units and administrative towns (kota administratif) as second and a half level units (less then municipality more than district). However, I have visited probably all websites of Regencies and Municipalities, or most of them, and I have never seen a flag of a regency or of a municipality. The only exception is Bandung municipality, which flag I sent last year. That makes me think that there is a process of adopting local flags, and probably we'll find them in the future.
Valentin Poposki, 7 April 2006

According to a 2007 law "GOVERNMENT REGULATION OF THE REPUBLIC OF INDONESIA NUMBER 77 OF 2007 ABOUT REGIONAL SYMBOLS", the regional flags must be their emblem on a monocolored background. Said flags cannot contain emblems that could be confused with other provinces or other government agencies. The ratio is also set for 2:3.
Marcel Darmanto, 9 December 2020

The Province of Papua had twenty regencies split off and was formed into three new provinces on 30 June 2022. These three provinces are called South Papua (Papua Selatan), Central Papua (Papua Tengah) and Highland Papua (Papua Pegunungan). West Papua had parts of its province split off to form Papua Barat Daya (Southwest Papua) in December 2022.
Zachary Harden, 08 August 2022 and Sergei Besh, 17 June 2023

[Ed. Note: The order of this list corresponds to standard ISO 3166-2:ID]

Former or Proposed provinces: See also:
---
Kalimantan

by Jarig Bakker, 12 February 2001

I just saw an old ZDF (German TV) documentary dating from 1971, where the then new head of state of Indonesia, Suharto, visited Borneo (= Kalimantan). Clearly in sight a light blue-black-white horizontally striped flag.
---
Proposed province: East Sulawesi (Sulawesi Timur)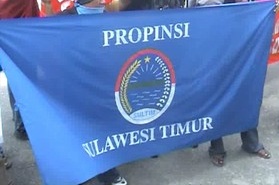 image located by Valentin Poposki, 31 March 2008

As far as I know, East Sulawesi province (Sulawesi Timur) is just a proposal, but it might be that it was created recently. It is reported at http://www.indonesialogue.com/destinations/east-sulawesi-to-become-a-new-province.html. However, the flag already exists. It can be seen on a photo here.
Valentin Poposki, 31 March 2008