This page is part of © FOTW Flags Of The World website
Goulandris (Shipping company, Greece)
Last modified: 2011-11-12 by ivan sache
Keywords: goulandris | general steam navigation company of greece | greek line | letter: gamma (white) | letter: gamma (blue) | united shipping and trading company of greece | star (white) | ormos | crown (yellow) | rope (yellow |
Links: FOTW homepage | search | disclaimer and copyright | write us | mirrors

---
See also:
---
Presentation of the Goulandris family
Ioannis Goulandris, from the Aegean island of Andros, founded a shipping company with his five sons to connect the islands of the Aegean Sea together. The family helped the Allies during the Second World War and received credits from the Americans.
The tycoon Basil P. Goulandris succeeded his father in the 1950s; he moved to Switzerland with his wife Elise in 1965. They first bought a 20,000 sq. m property in Jouxtens-Mézery, near Lausanne, and then moved into the posh mountain station of Gstaad. Goulandris' mother company was the Orion & Global Group, involved in worldwide passenger and cargo transport, with a maximum number of 70 ships. During the Gulf War in 1992, Goulandris rented three supertankers to Iran and made a significant profit.
The fortune of Goulandris was estimated at 1,5 billion USD, which allowed him to build a famous painting collection including five works by Vincent Van Gogh. Goulandris and his wife set up the Goulandris Foundation, dedicated to art and the economic development of the island of Andros.
Source: Celebrities in Switzerland website
Ivan Sache, 17 March 2006
---
General Steam Navigation Company of Greece

House flag of General Steam Navigation Company of Greece - Image by San Pavlos, 27 December 2002
The General Steam Navigation Company of Greece (marketed as the Greek Line) was formed in 1939 to run transatlantic sailings from Greece. As air travel hit passenger figures in the 1960s, the vessels devoted more time to cruising. The Company began to fall on hard times in the early 1970s, following the death of Basil Goulandris, owner and chairman of the Greek Line. It collapsed finally in 1975, although their two final ships, Olympia and Queen Anna Maria, sail on (in 2002) as the Regal Empress and Topaz.
Source: Simplon Postcards website
According to Flags, Funnels and Hull Colours [ste59], the house flag of the Greek Line is blue with a white Greek letter "Γ" in the middle.
San Pavlos, 27 December 2002
---
Goulandris Brothers
House flag of Goulandris Brothers
Left, pre Second World War version - Image by Klaus-Michael Schneider & Ivan Sache, 25 March 2009;
Right, post Second World War version - Image by Jarig Bakker, 6 January 2005
The Greek Line was operated by the brothers Nicholas, Leonidas and Basil Goulandris, who also operated as Goulandris Brothers. Talbot-Booth shows a white flag with the blue Γ in his pre Second World War books [tbb37], but post World War sources show the blue flag version. They used two flags, the one shown above being for vessels registered in Greece whilst for others registered in the United Kingdom or Liberia the flag displayed a white "G".
The three brothers (another branch of the family shifted to New York during and post Second World War and built up another large part of the family shipping empire) operated from Piraeus and London from the 1920s and still operate, based on Goulandris Brothers Ltd. of London but working through Goulandris Brothers (Hellas) Ltd. of Piraeus. They are shown in Lloyds as only being agents but are probably the ultimate owners. After the Second World War their fleet was increasingly changed to flags of convenience registry under a myriad of subsidiaries which appears to have included Ormos Shipping Co. Ltd. of London whom Lloyds show as being agents for some of the Goulandris companies, hence their association with some of the ships which were operated through the Greek Line which was of course also a subsidiary based in Piraeus and initially flew the "group" Goulandris flag.
Neale Rosanoski, 30 December 2005
The Caltex book of Flags and Funnels (1959) [scx59] shows a similar house flag for Goulandris Brothers. Brown 1951 shows for the Goulandris brothers in their agency in London a blue flag with a Latin "G".
Jarig Bakker, 6 January 2005
---
United Shipping & Trading Co. of Greece S.A. (G.P. Goulandris)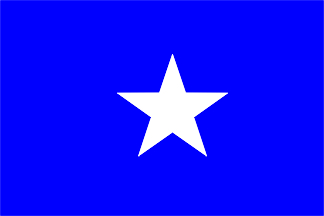 House flag of United Shipping & Trading Co. of Greece - Image by Jarig Bakker, 31 January 2006
According to Brown's Flags and Funnels of Shipping Companies of the World (1995) [lgr95], the house flag of United Shipping & Trading Co. of Greece is blue with a white star.
Jarig Bakker, 31 January 2006
---
Ormos Shipping Co. Ltd.
House flag of Ormos; two versions
Left, image by Jarig Bakker, 4 July 2004
Right, image by António Martins, 14 September 2006
The Dutch flagchart Vlaggen in de haven van Amsterdam (Flags in the harbour of Amsterdam, no date), shows for the Greek Line (ship: Arkadia, ex-New Australia, ex-Monarch of Bermuda) a blue flag with a yellow inner border, and, in the center, an arrow-like item pointing upwards between two mirrored letters "Γ", all over a short piece of rope, all yellow and forming a crown.
Jarig Bakker, 4 July 2004
According to Bonsor the Greek Line adopted in 1954 a blue flag bearing a yellow trident and having a ropework base of yellow and light blue. However Harnack, in his 1957 notes for the next edition of All About Ships & Shipping, apparently had access to an actual flag as he quotes measurements of 12 feet by 8 feet and his drawing shows the yellow design within the yellow frame. The emblem within is noted as being a Greek "G" and inverted "G", that is the outer portions are a "Γ" and reverse "Γ". Unfortunately he does not describe the central part, which Bonsor calls a trident but it is more of a spear or harpoon.
Neale Rosanoski, 30 December 2005
In a series of postcards of unknown origin, on postcard #6, 2nd row, the 1st flag is shown for the Greek Line as a dark blue flag with a stylized yellow crown with an arrow for its central stem and standing on a yellow and white heraldic wreath (or a piece of rope?). The flag is without the orle, as reported by Bonsor.
António Martins, 14 September 2006