This page is part of © FOTW Flags Of The World website
White Eagle of Wales flag
Last modified: 2010-05-21 by rob raeside
Keywords: wales | eagle (white) |
Links: FOTW homepage | search | disclaimer and copyright | write us | mirrors

---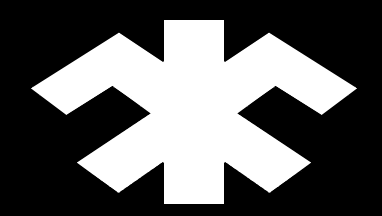 image by Eugene Ipavec

---
---
This rune-like white-on-black flag apparently is described as the "white eagle of Wales". It is also referred to as Eryr Gwyn. I have never seen this symbol in use, not even alongside the Nationalist slogans that grace walls in Wales. Maybe it had something to do with the Free Wales Army? It appears on the image at this site as well as on the uniform of the 'soldier'.
Dafydd Young, 29 July 2002
The white runic symbol on the black background, is indeed a representation of the Snowdonian Eagle, and was I believe worn on the uniforms of volunteers in the Free Wales Army.
Philip R. Williams, 19 September 2002
The White Eagle of Snowdonia flag was used by units of the Free Wales Army in the 1960's in Wales, as well as other republican groups into the 1990's.
Throughout the '60's and '70's it was widespread across Wales in the form of slogans painted on walls etc, and can still be seen in places.
Leighton Smart, 6 February 2003
The white eagle flag was indeed used by the Free Wales Army (in Welsh Byddin Rhyddid Cymru) however its background was red not black (when the background was used). The symbol is a heraldic symbol for an eagle and represents the eagles of Snowdonia which legend says will defend Wales.
Muiris Mag Ualghairg, 18 April 2003
The white eagle flag is still paraded around by groups like MRC and others hanging on the coattails of the defunct Free Wales Army who also scrawl the badge on walls occasionally, sometimes in its older and more elaborate form which has "feet" and a "tail" and looks like the x commonly used in maths struck through by an archaic s - the one like a long f . One site that I browsed earlier has pictures of one of these neo-fascist rallies displaying all the flags that they can think of, the colour party are dressed in red shirts with black berries with the white eagle symbol on a circular red badge. to search for such material, try entering "Cilmeri" into a search
engine, they have annual rallies there.
David Barry Lawrence, 7 March 2004
The 'White Eagle Cross' originated in the 1960's. It is thought to have been based on heraldic shorthand; many think this was the work of Republican & Romantic Poet Patriot the late Harri Web. The White Eagle Cross was given much publicity by the F.W.A. but in fact it was a "Welsh Symbol of Resistance" used by many Patriots then and since.
G. Gruffydd, 2 March 2005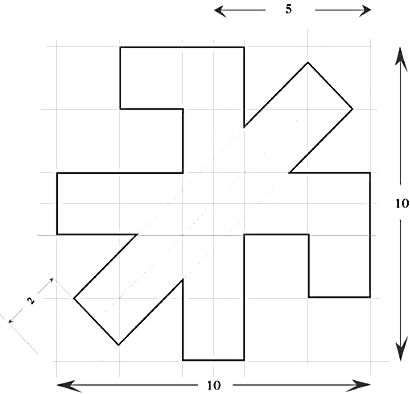 The late Anthony Lewis, renowned Celtic jeweller and the most celebrated heraldic artist and vexillologist of his generation, drew this definitive design for the White Eagle of Snowdon ('Eryr Wen Eryri' or 'Eagle Cross') in 1999 having made a great number of cap badges, armbands, flags and banners showing the device over the years since his role as a militant republican in the late 1960s. In 1969 Mr Lewis was arrested and imprisoned for his involvement with the FWA (Free Wales Army) and the NPF (National Patriotic Front) in the run up to the Investiture of Prince Charles in 1969. I met Mr Lewis here in the 1990s where he had a studio and shop through our mutual interest in flying model aircraft, and he kindly sent me the immaculately crafted design for the White Eagle, which I attach for your interest. The Eagle Cross has become synonymous with uncompromising Welsh republicanism and is still seen all over Wales – a symbol of resistance and freedom. Mr Lewis was the artist who first drew the now universally accepted – and much copied, often incorrectly! – banner of the great Welsh Prince Owain Glyndŵr's (quarterly gules or four lions rampant counterchanged). He died last year, but his legacy will be long lasting.
Niall Caveen, 19 June 2006
I found in a book of heraldry reference to the symbol's origins on the free Wales army flag. The white tailed / sea eagle was predominant in Snowdonia / Eruri and believed to endow those who ate its flesh with the gift of prophecy. There is a famous poem about the 'son of prophecy' who will throw the English out of Wales, and presumably he would be bearing the eagle on his shield. Various would-be national saviours like Glyndwr were hailed as the long awaited 'son of prophecy'. Glyndwr was reputed to be interested in using magic and may have deliberately eaten the eagle's flesh to fulfill the myth. The symbol was apparently devised in direct reference to these mythical ideas in the 1960's.
The poem was addressed to Llewelyn ab Iorweth ( died 1240 ) by the bard Prydydd y Moch. Part of it is :

Darogan Mertin dyuod breyenhin
O Gymry werin o gamhwri.
Dywawd derwyton dadeni haelon
O hil eryron o Eryri.

Myrddin's prophecy is that a king shall come
With heroism from among the welsh people.
Prophets have said that generous men shall be reborn
Of the lineage of the eagles of Snowdonia.
David B. Lawrence, 19 July 2005, 25 July 2005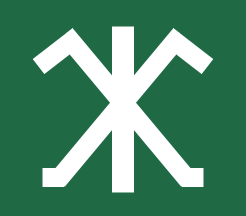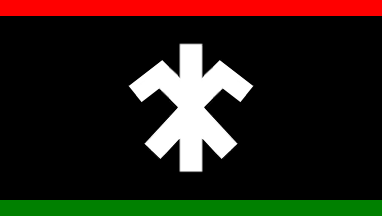 images by Eugene Ipavec, 26 July 2005
There are several variations on the theme for the design of the white eagle flag. I finally found some pictures on the internet to refer to: http://cymru-gyfan1400.coms.ph/
David B. Lawrence, 25 July 2005
This picture is from the book 'To Dream of Freedom' by Roy Clews. It shows the "eagle" flag in its early version, with "feet" and a "head". The picture must date from 1960-65. It is a black and white photo, but I suspect that lurking in the background greys is a green, red, white tricolour as presently used by Cymru Rhydd
(Free Wales ) with a black star added. This is a North Wales outfit that I have never met.
David B. Lawrence, 27 July 2005
I read recently that the eagle glyph was devised by Harri Webb, poet and editor of "The Welsh Republican" bi-monthy published circa 1950-1955, and as such presumably predates the Free Wales Army flag.
David B. Lawrence, 15 November 2006
---
I'm returning to look at what has been written about the White Eagle flag again because I've just added another piece of information to an idea about the kind of material that Harri Webb might have been drawing on if he is the author of it. At least three sorts of putatively historical origins now exist for this flag - that it is a reference to Wales' 'Roman' origins in the province of Britannia Prima and thus invokes the imperial eagle declared to be the symbol of SPQR (= the Senate and People of Rome); that it is a reference to medieval or Celtic mysticism such as to the Mab Darogan as in the poem quoted above, who might have eaten the flesh of the sea-eagle to acquire prophetic power maybe over the four elements (by consuming an animal that could venture upon water, earth and air now transformed by fire); that it is a romantic invention by Harri Webb referring to revolutionary republicanism, imagining the Welsh as standard bearers perhaps in a universalising republic carrying of one of Napoleon's eagles. But the Roman and the Napoleonic eagle standards were both gilded and whilst the mystical eagle may have been white for some reason, why equally not choose some other colour or its own natural colours? An early version of the flag, of which I do not have a picture to post, is naturalistic so why should Harri Webb choose to put a white eagle on a black flag?

I've just been reading about the origins of Barclay's Bank's eagle and by chance it ties up with this, speculatively... in the past I read about William Erbury a radical preacher from Cardiff and he like many other of those 17c radicals converged on the printing and publishing operation conducted by Giles and Elizabeth Calvert from May 1644 onwards in London 'at a tenement at the sign of the Black-Spread-Eagle at the west end of St Paul's Cathedral in the parish of St Gregory by Paul's ... it was situated on the busy street leading from Ludgate Hill to the cathedral ... the modern day 54 Lombard Street.'(Oxford Dictionary of National Biography) The eagle has a long mythical association of the idea of bringing down messages from heaven to earth and is a fitting symbol for the activities conducted there. Calvert published Levellers', Diggers', Ranters', Quakers' and many other radical religious and political leaflets - in short he was prepared to publish anything and suffered for it once governmental authority re-established itself. All of these publications would have stated their origins at the Black Spread Eagle so the association would have been made at that time with radicalism. His wife continued the work with a secret portable printing press after his death, but presumably it eventually failed and the premises passed through several hands until it became the headquarters of what was to become Barclays Bank. The sign was still hanging outside in 1728 when the bank moved in and is the origins of the present day Barclays Bank logo - which has recently appeared as a blue eagle and is now a white eagle on blue backgrounds. The occasion of finding out this connection has been my
investigating the false fuss made in the press in recent years over Barclay's eagle being supposedly 'Nazi' and offending the new Dutch proprietors. Barclays Bank has in fact a long history of liberal left-leaning attitudes, being the result of a radical merger engineered by Quaker banks after a spectacular run of one of their number that wasn't surpassed until Northern Rock recently. So why not consider that the black eagle's history may imply that left-leaning literary man Harri Webb knew all about it having radical associations?

So since Barclay's eagle can turn from black to white why not Harri Webb's if he culled it from this historical radical source ?

Here is a picture of an old fashioned Barclays Bank sign - http://www.theepochtimes.com/n2/images/stories/large/2008/10/21/bark83159706.jpg.

David B Lawrence, 30 April 2010