This page is part of © FOTW Flags Of The World website
South Uist, Scotland
Uibhist a Deas
Last modified: 2019-04-10 by rob raeside
Keywords: south uist |
Links: FOTW homepage | search | disclaimer and copyright | write us | mirrors

---

image by Peter Hans van den Muijzenberg, 24 October 2017
---
See also:
---
Description of the flag
The flag of South Uist flag was announced as being formally recognised on 19 July 2017:
https://www.flaginstitute.org/wp/2017/06/south-uist-hebridean-first/
https://www.pressandjournal.co.uk/fp/news/islands/1278182/south-uist-flag-wins-official-recognition-after-community-campaign/
https://www.facebook.com/ampaipear/posts/10155447494887505:0
Jason Saber & Donnie Steele, 29 June 2017
The flag is a blue Nordic cross fimbriated (edged with) white on a green background Ė similar to the Norwegian flag Ė and is used widely on South Uist including greeting arrivals at Lochboisdale Harbour. The origins of the design are unknown but it likely dates back at least 15 years, probably more.
The efforts to have the flag recorded were championed locally by Donnie Steele who secured the support of the islandís Community Councils. Funding was then provided by the community landlord StÚras Uibhist, for whom South Uist makes up a part of their estate. Recognising the well-established and highly popular usage of the design on South Uist, Comhairle nan Eilean Siar were also happy to support the islandís petition to the Lord Lyon.
The recognition of the flag is planned to be celebrated at the South Uist Games on Wednesday 19th July, with a raising ceremony. In the long term it is intended that the flag can be used innovatively to enhance the local community and bring global recognition such as has been seen with Shetland, Orkney and Caithness.
Jason Saber, 29 June 2017
I have been working on recognition for a year now, and I am delighted to announce that the flag of South Uist has been officially recognised by the Court of The Lord Lyon. Official recognition will be an enormous boost and can only enhance South Uist. Discussions with key stakeholders such as community councils, StÚras Uibhist and Comhairle nan Eilean Siar were very positive, and the green light was given to drive this forward. We need to look at innovative ideas and ways to enhance the local community, recognition brings global identity to South Uist and economic benefits and opportunities will ensue. Official recognition will be an enormous boost and can only enhance South Uist. We must take full advantage of this!
Donnie Steele, 29 June 2017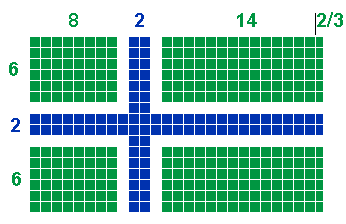 image by Peter Hans van den Muijzenberg, 24 October 2017
The image on this page is based on the Flag Institute's version. Unfortunately, no description is given of the dimensions, as is done for more-established Scandinavian crosses. Fortunately, the descriptions indicate this is the pattern of Norway, recoloured. The ratios don't match, but this does tell us that the cross is 1:2:1; most likely the hoist is 6:1:2:1:6. Elongating the flag to 3:5 doesn't work exactly, but elongating the first 8 (6:1:1) of the fly to ratio gets us a near perfect 10 (8:1:1). Indeed, this places the cross close to the division between hoist and fly.
Peter Hans van den Muijzenberg, 24 October 2017
---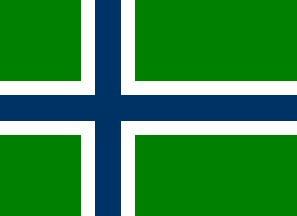 image by Seamus Cameron, 29 November 2003
See also the image below in 1:2 dimensions. These variants represent the flags that existed prior to the formal recognition.
Tomislav Todorovic, 12 July 2017
---
Below are preserved messages about this flag from 2003 to 2017, leading up to its official recognition, retained here for historical purposes.
After much searching I finally found the local flag for the island of South Uist in the Outer Hebrides, Scotland. I don't think the flag is used and I've certainly never seen it used here on the island or any other flags for that matter. I was told about it by a local chap I'm afraid that's all I know at the moment. If I can get more info will let you know. In the mean time will be ordering one to promote it.
Seamus Cameron, 29 November 2003
Not sure exactly what qualifies as a firmer sighting... but this flag is available for purchase and I can confirm that we have definitely dispatched at least one of these flags to South Uist.
Charles Ashburner, 2 December 2003
As a Gaelic teacher I look at a lot of internet resources connected with the language and found the following short film on the Sabhal Mor Ostaig Website - it clearly shows the South Uist Flag flying outside Daliburgh school in South Uist last year alongside the Cape Breton Flag - on the page at http://www.smo.uhi.ac.uk/gd/colaiste/gaelic-vids.php, go to the film entitled "Aithriseachd air Ceolas" under the heading "Ceolas" it appears about 30 seconds in.
Eoghan Stewart, 11 July 2007
Just found your flags of the world site when looking up the flag of South Uist in the Outer Hebrides. I saw the South Uist flag flying at the Aisgernis Golf club on South Uist.
Jon Houseago, 11 May 2012
image by Seamus Cameron and Tomislav Todorovic, 15 February 2017
During a recent visit to South Uist in the Outer Hebrides, Scotland I saw the South Uist flag flying at the Kildonan Visitor Centre, confirming its use: https://www.flickr.com/photos/steves-travels/21510795149/in/album-72157658661112418/. The flag appears to be used in a 1:2 ratio.
Steve Guess, 14 October 2015
Most photos show the flags with ratio of 1:2, or even a bit more oblong, such as at https://britishcountyflags.wordpress.com/2016/12/19/a-flag-for-south-uist/, http://www.cycletourer.co.uk/cycletouring/tours/hebrides11/11.08.07/pages/image03.htm,
http://ruanaich.com/south-uist-flag/, https://www.flickr.com/photos/10221077@N03/3135626428 and http://www.alamy.com/stock-photo-an-outer-hebrides-flag-flying-in-tarbert-on-the-isle-of-harris-outer-85007291.html, but shorter flags are also used, as shown at https://twitter.com/scoops_sweet/status/829350129652084736/photo/1.

This will happen as long as the flag is not officially registered, for which seems to have been no demand so far. In the meantime, the flag is being merchandised with the current FOTW image as the design template, but offered in a variety of sizes, with varying ratio. such as here: http://www.flyingcolours.org/product/islands-of-the-united-kingdom/south-uist-flag.html.
Tomislav Todorovic, 15 February 2017
The Barra and South Uist flags originated on the Virtual Hebrides website which existed between 1994-2001. As the then largest rural community website, we had a rather active forum of many people then with a modem. The various flags were discussed there and, from information on the forum, I drew them up with Paint Shop Pro one afternoon since nobody else had a graphics program

I add this since there is a lot of ďthis flag is of mysterious originĒ floating around about Barra and South Uist. I could probably
date them to mid 1997. I can certainly show them in use during 2004 but archive.org seems to have deleted most of the images of Hebrides.com when they were in use there during 1999-2001.

After the Virtual Hebrides went bust some of the pages had a brief life at GlobalGuide.org before 2005 or so.
https://web.archive.org/web/20041228020423/http://www.globalguide.org:80/index.phtml?id=44474
https://web.archive.org/web/20041228020324/http://www.globalguide.org/index.phtml?id=44475
Scott Hatton, 4 March 2019