This page is part of © FOTW Flags Of The World website
Leicester, Leicestershire (England)
English City
Last modified: 2020-11-14 by rob raeside
Keywords: leicester | leicestershire |
Links: FOTW homepage | search | disclaimer and copyright | write us | mirrors

---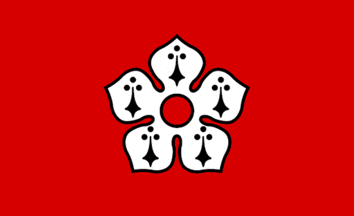 image located by Pete Loeser, 16 October 2020
This flag is a commercial flag, not official in any way.
---
On this page:
See also:
---
City of Leicester Flag
Although I was unable to locate any official documentation to indicate this flag has ever been embraced by the city, it seems to be the de facto choice of some residents of the city and ocasionally has been reported displayed in the metropolitan area.
Pete Loeser, 16 October 2020
---
City of Leicester Council Logos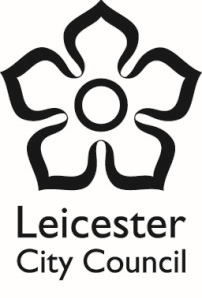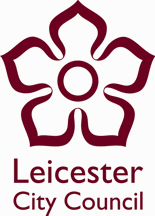 images located by Pete Loeser, 16 October 2020
These Leicester City Council logos are found on city documents and correspondence, on their website and advertisements and posters. They have not be used on a flag yet.
Pete Loeser, 16 October 2020
---
Leicester Coat of Arms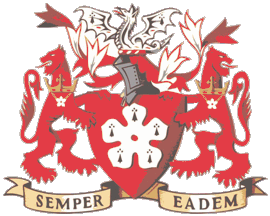 image located and modified by Pete Loeser, 16 October 2020
The website of the University of Leicester shows the arms of Leicester with the following description: "The Arms of the City of Leicester of the cinquefoil and wyvern were confirmed on the city at the Heraldic Visitation of 1619. The crest is based on earlier motifs of the first Earl of Leicester, Robert De Bellomonte, (the cinquefoil).
When the Duke of Lancaster inherited the Earldom of Leicester he held land within the town and hence the Lancastrian connection. City status was granted in 1919 and following application by the City Council in 1926 the College of Arms allowed two supporters to be added to the design; the Lancastrian Lions on either side of the cinquefoil and Elizabeth I's motto beneath.
Heraldic Description:
Motto: Semper Eadem
Arms: Gules, a cinquefoil ermine pierced
Crest: On a wreath of the colours, a legless wyvern with outspread wings ermine strewed with wounds gules.
Supporters: On either side a lion rampant regardant gules, gorged with a ducal coronet, suspended therefrom by a chain or, a cinquefoil ermine pierced gules.
Translation of the Heraldic Description:
Motto: "Always the Same"
Arms: A red shield and on it a five-petalled white flower with one ermine's tail on each petal to represent fur; a hole at the flower's centre
Crest: A white or silver legless wyvern with red and white wounds showing, on a wreath of red and white.
Supporters: A rampant red lion on each side: the animals are looking backwards and wearing, in the form of a collar, the coronet of the Duchy of Lancaster, from which the cinquefoil hangs by a gold chain."
Other information:
Quoting this article on the Colin Crosby Heritage Tours website: "There are some amazing sights on the upper floors of Leicester's buildings, involving angels, monsters, goddesses and mythical beasts. A creature much in evidence in Leicester is the wyvern. Similar to a dragon, the bird-like wyvern is usually depicted as having two legs, unlike the reptile-like dragon, which has four. However, Leicester wyverns are usually shown with no legs at all."
Also found on the old Welford Road Cemetery website was this: "The main gates of the cemetery display the city cinquefoil arms. The gateposts used to be topped with a carved wyvern, but these were stolen in 1990."
There was also for a shorter description the website of the Leicester City Council [Since removed, see messages below].
Ivan Sache 14 July 2006

I'm trying to find some information that was once on your website. Basically I hoped to find out about your Coat of Arms and if your city has a flag? Could you possibly send me the location on your website for these?
[e-mail message sent to Lord Mayor's office same day]
Pete Loeser, 16 October 2020

Thank you for your email in respect of the City Coat of Arms and Flag and apologies for the delay in responding. Our web pages were streamlined some time ago and regrettably a lot of the information has now been archived, but I have managed to find the old page about the Coat of Arms, which hopefully will be what you are looking for. I also confirm that the city does not have a flag.
Lord Mayor's Office, 13 November 2020
---
Arms of the City of Leicester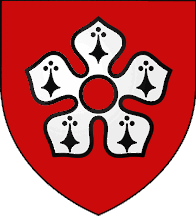 image located by Pete Loeser, 16 October 2020
The City of Leicester arms or shield (not to be confused with the Leicester City Shields Football Club) most in used is this red shield. Officially it is described as Arms of the City of Leicester: Gules, a cinquefoil ermine pierced of the field.
Pete Loeser, 16 October 2020
---
Proposed Flag for Leicester 2007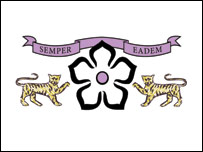 image located by Valentin Poposki, 20 August 2007
Source: http://www.bbc.co.uk/leicester
This flag is the winner of a competition as announced by http://www.bbc.co.uk/leicester. It was designed by Jamie Bott, who says he wanted his flag to be traditional, and to incorporate some of Leicester's key historical elements:
"Firstly, in the centre, I've placed a large 'cinquefoil' rose, a popular emblem used to represent the city as it's the Leicester City Council logo.

Secondly, there are illustrations of the 'Royal Bengal Tiger' taken from the badge of the Royal Leicestershire Tigers Regiment. They were a key part of both local and world history in the early 20th century for serving in India and Afghanistan, and as I have family members connected to the regiment I thought this to be a must in my design (and I used two Tigers to keep it symmetrical).

And finally, my design uses the colour purple to symbolise Leicester's Roman roots, and the "Semper Eadem" banner from Leicester's coat of arms, which was given to the city by Elizabeth I."
Valentin Poposki, 20 August 2007
---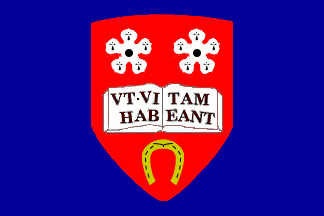 image by Jonathan Dixon, 8 March 2006
The University of Leicester is located in the English East Midlands city of Leicester. It was founded in 1921 and obtained university status in 1957. Its site was given as a memorial to the dead of World War I by Thomas Fielding Johnson, a fact reflected in the motto "Ut Vitam Habeat" - "that they may have life".

I have seen photos of university buildings flying the university flag on several promotional posters. This flag is also reported on page 3 of the May 2000 edition of the Bulletin, the University of Leicester Newsletter, under the heading "Raising the standard of education":
"NEW University flags have been purchased to fly over the Fielding Johnson Building. The flags feature the new University crest on an Oxford Blue background and have a reinforcing strip to extend their life. The old flags had no such feature and had become very frayed. In order to accommodate the new crest the flag size has had to be larger than hitherto and is now 3.6 m wide by 2.4 m high. The layout was provided by the University Graphics Department. The flags have been supplied by Concorde, Nottingham & Leicester, Flag Company from Woodhouse Eaves, Leicestershire, who also provide flags for the Admiralty. Two flags have been provided to allow for a "Sunday Best"."

The new "crest" is a red shield with two (ermine?) flowers above an open book displaying the motto, above a golden horseshoe. According to the press release at http://www.le.ac.uk/press/press/newv-c.html it came into use on 1 October 1999 at the same time as Robert Burgess became Vice Chancellor. The press release and many other online documents say: "The simplified logo and a new corporate style is designed to strengthen the University's identity in an increasingly competitive sector. The amended logo, which is on this Press Release, is a simplification of the original crest focusing on the Coat of Arms as the symbol of heritage. It also reinforces the University's link with the region as it is based upon the coat of arms of the City of Leicester and carries the Rutland horseshoe. The University motto, Ut Vitam Habeant - that they may have life - is a permanent memorial to the past whilst looking forward to future generations."

This text appears at http://www.le.ac.uk/unilogo.html, which also provides a link to a blazon of the arms which is not accessible from outside the university. The page at http://www.heraldica.org/topics/acad-uk.htm has an image of arms for the university, but I can't see how they relate to the emblem on the flag.
Jonathan Dixon, 8 March 2006
The flag displays the shield of the arms of the University: "Gules, an open book proper strapped and buckled and inscribed with the words "Ut Vitam Habeant" in letters Or, between in chief two cinquefoils pierced ermine and in base a horse shoe also or." Technically the writing should be gold (or yellow) but that would hardly show up... These were granted 3rd April 1922 to what was then the Leicester, Leicestershire and Rutland College. The ermine cinquefoils, coming the arms of the City of Leicester's arms and represent Leicester City and the County of Leicestershire, the horseshoe is for Rutland (qv). These are the same as those shown at http://www.heraldica.org/topics/acad-uk.htm, but the illustration there shows the crest (a demi-gryphon holding a book), helm and mantling. the shield is also slanted, and the size of the graphic is too small to distinguish the devices on the shield.
Laurence Jones, 10 March 2006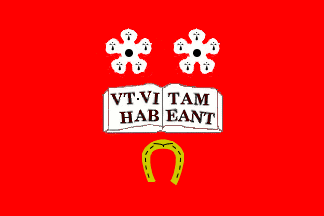 original image by Jonathan Dixon, 8 March 2006 - modified by Colin Dobson, 12 September 2012
Current usage, based on the University's Twitter account now has a red background.
Colin Dobson, 12 September 2012
---
Leicester City Unitary Authority Flag
Unofficial - Sold Commercially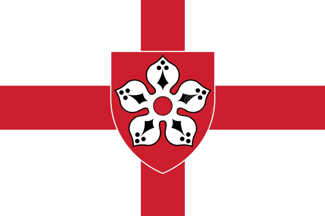 image from Pete Loeser, 16 October 2020

The Leicester City Unitary Authority is the official name for the Leicester City Council, and as such is responsible for local government in the city of Leicester. It consists of elected 54 council members, representing 22 wards in the city, overseen by a directly elected mayor. I discovered this flag is being sold commercially as their flag. I'm not sure it is official.
Pete Loeser, 16 October 2020