This page is part of © FOTW Flags Of The World website
King's German Legion
Last modified: 2009-05-18 by rob raeside
Keywords: king's german legion | hannover |
Links: FOTW homepage | search | disclaimer and copyright | write us | mirrors

---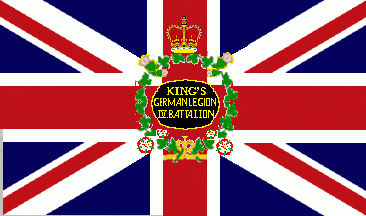 by Klaus-Michael Schneider, 8 January 2009
See also:
---
Wars of Liberation (1813-1815) part 1

Historical introduction:
At the beginning of the 19th century Emperor Napoleon I. of France had occupied great parts of the German states and incorporated some parts into the French empire. After the Reichsdeputationshauptschluss in 1803 Napoleon redrew the borders between German states. He dissolved clerical territories, like bishoprics of Mainz, Münster etc., he also dissolved numerous smaller dominions, especially in western and southern parts of Germany. German states which were allied with him, were increased and finally the Rhine Federation was established in 1806 and the Holy Roman Empire was dissolved. Probably unwillingly Napoleon prepared in this way the German unification. Finally, Austria and Prussia were defeated and surrendered in 1806. In 1806 also Hamburg was occupied by French troops and the city was incorporated to the French Empire in 1810 together with the Hansa cities Bremen and Lübeck.
German Legion:
The kingdom of Hannover, being part Great Britain, was occupied by France and Prussia in 1803(?). After the Prussian defeat and the treaty of Tilsit (1807) France occupied the whole kingdom. Later in 1810 the southern part however was incorporated into the new established Kingdom of Westphalia, which was ruled by a brother of Napoleon. After Hannover had been occupied by France and Prussia the "King's German Legion" was established. The legion was fighting against France everywhere, especially in the peninsula war in Portugal and Spain(1808-1814). Looking at the flag image there were at least four battalions.
Description of flag:
It was a Union Jack of unknown ratio (though 5:7 would match the source and was very common for military flags). Upon its centre was a garland of Tudor roses, shamrocks and thistles, the sign for Scotland. In the middle was a black oval, fimbriated golden, with a golden inscription in capitals: "KING'S(next line) GERMAN LEGION (next line) IV.BATTALION". The garland is topped by a crown.
Source:
Cigarette ALBUM "Die Welt in Bildern Album 8 : Historische Fahnen", edited between 1928 and 1932. The flag is depicted in the ALBUM on p.48, image no.174.
Klaus-Michael Schneider, 8 January 2009
The King's German Legion was comprised of Germans (75% were Hanoverian, 17% were from elsewhere in Germany, and the other 7.5% were other nationalities). There were eight line battalions (which carried colours), two light battalions (which did not carry colours), and from 1806, two heavy cavalry regiments and three of light cavalry.
The KGL colours followed British practice, and would be in the ratio 12:13. The regulation size was 182.9cm on the staff by 198.1cm in the fly (6 feet by 6 feet 6 inches for non-metric fans). The Album picture is incorrect in some details: the centre was dark blue, not black, and was circular. The wreath was the conventional British-style Union Wreath, consisting of roses, thistles and shamrocks - it did not contain oak leaves. It did not extend all the way around the centre, and the crown was positioned lower.
Ian Sumner, 8 January 2009
See also drawings on Warflag and a colour photo at http://www.koenigreich-hannover.de/truppenfahne.html
Jan Mertens, 9 January 2009