This page is part of © FOTW Flags Of The World website
Loos-en-Gohelle (Municipality, Pas-de-Calais, France)
Last modified: 2021-06-26 by ivan sache
Keywords: loos-en-gohelle |
Links: FOTW homepage | search | disclaimer and copyright | write us | mirrors

---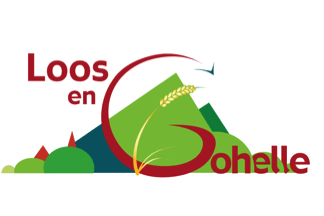 Flag of Loos-en-Gohelle - Image by Ivan Sache, 1 February 2021
---
See also:
---
Presentation of Loos-en-Gohelle
The municipality of Loos-en-Gohelle (6,855 inhabitants in 2018; 127 ha) is located just north-west of Lens. Originally known as Lothae, Lo, Lohes, Loez or Lhoes, the municipality was eventually renamed to Loos in 1791. For the sake of differentiation from Loos-lez-Lille, the municipality was renamed to Loos-en-Gohelle in 1937; this prompted Loos-lez-Lille to shorten its name to Loos, which re-established some confusion.
The phoenix featured on the municipal arms recalls that the town was totally destroyed in 1213, 1303, 1513 and 1648, during the battle won by the Prince of Condé over the Spaniards. Loos-en-Gohelle was suppressed once again in 1915; the artillery shellings did not leave either a standing building or tree.
Coal was found in Loos-en-Gohelle in July 1850 by the Compagnie de Vicoigne, which already exploited mines near Valenciennes. Industrial extraction started only 23 years later, in 1873; the western part of the municipal territory was allocated to the Compagnie de Béthune while the remaining part was allocated to the Société des mines de Lens, which inaugurated its first shaft in 1891.
During the First World War, Loos-en-Gohelle was located on the frontline; threatened by the possible use of the galleries by the Brits to invade their positions, the German ordered in autumn 1915 to flood the mines. In spite of the order given by Hindenburg, upon request of President Woodrow Wilson as a preamble to armistice, to stop "illegal and inhuman war practices", Luddendorf ordered the destruction of the coal mines of the north of France; in a few days, 220 shafts were suppressed. Loos-en-Gohelle then contributed to 3% of the yearly coal production (20 million tons).
In 1946, 18 private companies were nationalized to form the Houillères du bassin du Nord et du Pas-de-Calais (HBNPC). The narrow (less than 5 m in diameter) shafts in the Lens southern sector were operated with material dating to the post-war reconstruction. Shaft No. 19 was inaugurated in 1960 on a site located close to railways and to a place convenient for the storage of spoil. Instead of the traditional iron headframe, shaft No. 19 was served by a concrete tower of 66 m in height, soon nicknamed "the skyscraper". The increase in coal production (up to six extraction sites were operated) caused the emergence of seven spoil tips on the municipal territory of Loos-en-Gohelle. It is possible that the mayors of the bigger, neighboring towns of Liévin and Lens privileged in their towns the building of miners' estates, which were much more profitable for the local finances and commerce than spoil tips.
Coal mining caused a demographic boom in Loos-en-Gohelle, whose population increased from 858 inhabitants, mostly farmer, in 1851, to 2,405 in 1880 and 7,944 in 1962. The population then declined to 7,733 in 1968.
Shaft No. 19, expected to be operated for 70 years, was eventually closed in 1986.
[Hervé Gardinal. 1990. L'activité minière à Loos-en-Gohelle de 1875 àànos jours. Revue du Nord 72:288, 1025-1032]
Little has remained in Loos-en-Gohelle from the mining period but the command base of shaft No. 19, the concrete tower having been saved from destruction and registered as historical monument in September 2009, and the two spoil tips of shafts No. 11 and No. 19, deemed Europe's highest spoil tips (184 m and 186 m).
Soon after the closure of the mines, Loos-en-Gohelle experienced a dramatic restructuring towards sustainable development and, more recently, ecological transition. Base 11/19 was established around the concrete tower as a reference pole for sustainable development.
[Loos-en-Gohelle, ville pilote du Développement Durable, January 2011]
Ivan Sache, 1 February 2021
---
Flag of Loos-en-Gohelle
The flag of Loos-en-Gohelle (photo) is white with the municipal logo.
Selected in 2002 in a public contest, the logo features the two emblematic spoil tips of shafts No. 11 and No. 19. The wheat spike recalls that Gohelle is one of the "grain barns" of northern France and that some 20 farms are still active in Loos-en-Gohelle, where 800 ha are registered as nature reserve for agricultural use. The Regional Service of Plant Protection (SRPV), depending on the Ministry of Agriculture, was established in Loos-en-Gohelle in 1985, as well as the Biological Control unit of the Regional Federation of Control of Pests and Diseases (FREDON Hauts-de-France).

Olivier Touzeau, 28 December 2018