This page is part of © FOTW Flags Of The World website
Isbergues (Municipality, Pas-de-Calais, France)
Last modified: 2021-06-19 by ivan sache
Keywords: isbergues |
Links: FOTW homepage | search | disclaimer and copyright | write us | mirrors

---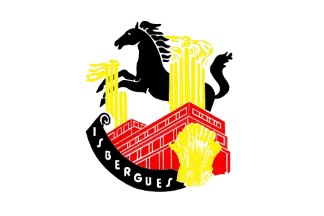 Flag of Isbergues - Image by Olivier Touzeau, 26 December 2020
---
See also:
---
Presentation of Isbergues
The municipality of Isbergues (8,745 inhabitants in 2018; 1,437 ha; municipal website) is located 10 km north of Douai. The municipality was established on 1 January 1996 vas the merger of the former municipalities of Molinghem, Berguette, and Isbergues.
The town is named for St. Isbergue, daughter of Pepin the Short and sister of Charlemagne, who was invoked to cure diseases of the skin and eyes.
Isbergue used to meet her confessor, St. Venant near the fountain subsequently known as St. Isbergue's fountain. Venant recommended her to disobey her father and to refuse to marry a Scottish prince. After she had prayed the Lord to repel the prince and all other pretenders, she was affected be leper. Upset, the prince ordered his servants to behead Venant and to throw his head into river Lys.
To heal Isbergue, a doctor suggested she drinks a beverage composed of one third eel juice, one third vinegar and one third honey, to no avail. An angel appeared to Isbergue and predicted her she would be healed as soon as she eats the first fish caught in the Lys. Her father immediately ordered his bodyguards to bring back the first fished eel, to no avail. Fishers advised them to wait until the next moon-rise, which they did; they quickly found among a bunch of boughs a headless body on which an eel sat. St. Isbergue ate the eel and was healed. An old, blind lady, recognized Venant's body by touching a wound on his leg she had healed long time ago, and recovered her vision. Isbergue retired in a monastery where she died in 808.
St. Isbergue was originally known as St. Gille / Gisle / Giselle / Gisele, while the village was known as Peterberg. The pilgrims, however, nicknamed the place Gisleberg, Gisle's mountain. The village was mentioned in 1138 as Isberga; the name evolved to Ybergha (1202), Hiberghe (1209), Iberghe (1296), Yberghe (1316), Diberghe (1375), Iberga (1512), Ybergue (1515), Isebergue (1520), and Ysbergue (1559). The final "s" of Isbergues appears to have been added more recently, at an unknown date since quite recent documents still list the town as Isbergue.
Aciéries de France established in 1881 steelworks that would be Isbergues' main source of income and employment for more than one century. Known as "The Cathedral", the factory caused a demographic boom in Isbergues, whose population increased from 800 to more than 2,000.
The steelworks originally produced rails for the emerging railways industry. A new factory was inaugurated in 1934 to produce steel sheets for car manufacturers, which was modernized in 1955.
Brand new steelworks were established in 1973 to produce stainless steel based on the continuous casting process; the industrial complex then employed nearly 5,000 workers and nearly 50% of the town's population.
Taken over by ArcelorMittal, the steelworks were closed in 2006 and subsequently partially re-opened as a recycling unit.
[La cathédrale d'Isbergues, 2007; Isbergues et les aciéries]
Ivan Sache, 10 April 2021
---
Flag of Isbergues
The flag of Isbergues (photo) is white with the municipal logo.
The garbs of wheat, taken from the municipal coat of arms, "Azure two wheat garbs or on a mullet pierced of the same", symbolize the prosperity of the town, together with the powerful metallurgical industries.

"Azure three garbs or" were the arms of the Le Sergeant lineage. Louis Joseph Thomas Le Sergeant (1742-1807), represented Nobility at the State General and at the subsequent Constituent Assembly (1789-1791). He served as the Mayor of Saint-Omer in 1797, 1800-1802, and 1806-1807.
His nickname, Le Sergeant d'Isbergues, recalls that he was lord of Isbergues and emphasizes differentiation from his brothers Antoine Emmanuel Joseph Le Sergeant d'Acq (1746-1781), Célestin Fidèle Omer Le Sergeant de Bayneghem (1748-1797), and Antoine Alexis Joseph Le Sergeant de Monnecove (1749-1833).
[Les Le Sergeant seigneurs d'Acq et d'Isbergues]

The horse is a far-fetched reference to Le Sergeant d'Isbergues. In the book Le clergé du diocèse d'Arras, Boulogne & Saint-Omer pendant la Révolution (1789-1802), Vol. 1 L'ancien clergé - Les États Généraux (text), published in 1884 in Arras, Augustin Victor Deramecourt (1841-1906; Bishop of Soissons, 1898-1906), quotes an allegory of the Representatives of the Bailiwick of Artois at the State General written by a Mr Fourdin, from Précent. The eight Representatives are each portrayed as a horse, the most famous of them being Robespierre ("The Enraged", "vicious like a mule"). Le Sergeant is described as follows: "Le Sergent, as an honest purebred horse, has all qualities; ardor without vivacity; soft, wise, with smooth moves; perfectly tamed; he may sometimes need a spur but as he will probably be over-sensible, using the legs will be enough."

Olivier Touzeau & Ivan Sache, 10 April 2021