This page is part of © FOTW Flags Of The World website
France: Modern monarchist flags
Last modified: 2016-11-20 by ivan sache
Keywords: monarchist |
Links: FOTW homepage | search | disclaimer and copyright | write us | mirrors

---
See also:
---
Monarchists in modern France
The three main parties calling for the restoration of monarchy in France are the Bonapartists, the Legitimists and the Orleanists.
In 1830, the July Revolution ousted King Charles X and the Bourbons were succeeded by the junior Orleanist branch; the enthronment of Louis-Philippe as "King of the French" started a dynastic quarrel that is still alive, although the probability of monarchic restoration in today's France is less than tiny. The supporters of the Bourbons became known as Legitimists.
The subsequent "merging" of the Legitimists and Orleanists failed because of the renunciation of Count of Chambord to the the throne in 1873. After the Count's death in 1883, some Legitimists recognized the Orleanist claimants (Legitimist-Orleanist claimants), while other supported claimants from the only remaining Bourbon senior branch (Legitimist-Anjou claimants). Those were the descendants of King Philip V of Spain, Louis XIV's second grandson, whose renunciation to the throne of France is considered as invalid by the "pure" Legitimists.
The current claimants to the throne are Henri VII (b. 1933), Count of Paris, Duke of France, supported by the Orleanists, and Louis XX (b. 1974), Duke of Anjou, supported by the Legitimists.
Ivan Sache, 1 September 2010
---
Legitimists

Legitimist proposal of national flag - Image by Ivan Sache, 1 September 2010
The Legitimist party considers, as expected, the plain white flag as the sole French national flag. Remember that Louis-Philippe accepted the Tricolor flag and that Chambord renunciated because he refused to drop Henry IV's white flag for the Tricolor flag.
Ivan Sache, 1 September 2010
---
Cercle Saxe-Hussards

Flag of Cercle Saxe-Hussards - Image by Ivan Sache, 1 September 2010
The Legitimist party has set up a think-tank called Cercle Saxe- Hussards (website), named for the 4th Hussar Regiment. Originating in the Fischer Chasseurs Regiment, founded in 1743, the Conflans Hussars Regiment (1776) was renamed Saxon Hussar Regiment on 1 March 1789. On 1 January 1791, all the regiments were renamed and renumbered, and the Saxon Hussar became the 4th Hussar Regiment. In 1792, the regiment was incorporated into the Northern Army commanded by Dumouriez (1739-1823); in May, Dumouriez deserted and joined the émigré armies set up by the exiled Royalists and the European powers.
The flag of the Cercle Saxe-Hussards is black with a white cross, on the model of the regimental colors under the Ancient Regime. Black represents mourning of Kings Louis XVI and Louis XVII, as well as "the obscure night in which France is plunged"; black is also a symbol of hope, representing "the darkness from which everything can emerge".
Ivan Sache, 1 September 2010
---
Orleanists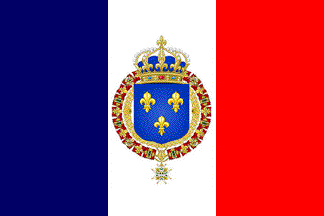 Orleanist proposal of national flag - Image by Ivan Sache, 8 November 2011
The Orleanist Royal flag, offered for sale (La Couronne blog), is the French Tricolor (as recognized by King Louis-Philippe, the ancestor of the Orleanist pretender), charged in the middle with the Royal arms.
Ivan Sache, 8 November 2011