This page is part of © FOTW Flags Of The World website
Flag of David O'Keefe 1880s-1901 (Yap, Micronesia)
Last modified: 2020-11-28 by ian macdonald
Keywords: o'keefe david |
Links: FOTW homepage | search | disclaimer and copyright | write us | mirrors

---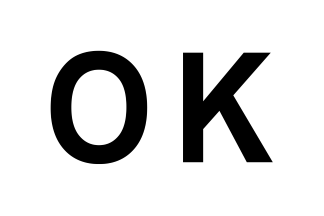 image by Olivier Touzeau, 27 October 2020

---
See also:
---
Description of the flag
David Dean O'Keefe (1824 or 1828 – 1901) was an Irish-American ship captain who become a historical and political figure on the island of Yap. O'Keefe turned himself "King of Yap, Monarch of Mapia and Sovereign of Sonsoral" but was in fact simply a prosperous trader. O'Keefe emigrated to the United States in 1848 and established himself in Savannah, Georgia. In 1871 he captained a ship to the South Pacific. After landing on Yap he became powerful by using tools from Hong Kong and East Asia to more easily create Rai (the famous stone money from Yap). In 1901 he died on the ship Santa Cruz returning to Savannah, probably because of a typhoon.
"His Majesty O'Keefe" by Lawrence Klingman, and Gerald Green (1950) is the story of O'Keefe's life on Yap. A film of the same name starring Burt Lancaster (Director: Byron Haskin) was made in 1954.

According to Klingman and Green: O'Keefe initially flew the Confederate Stars and Bars as his national flag, but subsequently exchanged this for the Union Jack, and then for a personally-designed ensign - a green shamrock on a field of red, white and blue stripes over three green sprouting coconuts, a disc of white stone money, and the red letters, O.K. In the 1954 movie, a banner with the green shamrock is shown: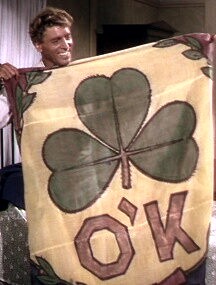 image by Olivier Touzeau, 27 October 2020
from: https://anotherfilmblog.wordpress.com/2010/05/31/his-majesty-okeefe-byron-haskin-1953/

A complete article about the history of David O'Keefe can be read here: https://www.smithsonianmag.com/history/david-okeefe-the-king-of-hard-currency-37051930/ (article by Mike Dash published in smithsonianmag.com on July 28, 2011)
By the early 1880s, David O'Keefe was rich enough to build himself a red brick home on Tarang, an island in the middle of Yap's harbor. Aside from a large library of all the most fashionable books—the captain enjoyed a reputation as an avid reader—he imported a piano, silver utensils and valuable antiques, and his property included four long warehouses, a dormitory for his employees, a wharf with moorings for four ships, and a store known as O'Keefe's Canteen that sold the locals rum at 5 cents a measure. There were always plenty of people milling about: the canteen was run by a man named Johnny who was said to be a thief, a drunkard and a mechanical genius; Dolibu was waited on by two cooks and a houseboy; and there was also a Yapese loading crew paid "fifty cents a day plus some grub and drink." And though Yap was, nominally, part of Spain's overseas empire after 1885 (and German after 1898), O'Keefe flew his own flag over Tarang —the letters OK in black on a white background.
The source for the description of this flag is given here: http://micsem.org/pubs/articles/historical/frames/O'Keefefr.htm:
O'Keefe's headquarters on Terang was a showpiece of tropical elegance with a two-story red brick house, a spacious warehouse, living quarters for the workers, and a long stone wharf. Over the island, in place of the Union Jack that once flew there, was O'Keefe's own ensign - the initials OK in black on a white background
Source: Entry for 3 July, in John Rabe, Private Journals, Hawaiian and Pacific Collection, University of Hawai'i Library, Honolulu (hereinafter Rabe's journals); Hezel, The First Taint of Civilization, 266.

In 2014, the flag of O'Keefe was raised again for the first time. See: http://www.visityap.com/todo_news_okeefeflag.html:
Terang Island, Yap : O'Keefe's flag to be raised after 113 years "His Majesty O'Keefe!" That's how the author of a book on the trader David Dean O'Keefe entitled his biography. O'Keefe may not have been a king, nor even a chief, but he was a prosperous trader on Yap who helped make the island the trade center of the Western Carolines. He also had his own flag that he flew over his estate on Terang Island--at least until the Germans ordered him to take it down. O'Keefe's flag will fly over Terang once again, when O'Keefe's great granddaughter, Victorine O'Keefe Huevelman, raises the emblem--a large black OK on a field of white--on Friday, June 20 as part of Yap's annual Homecoming Day. The flag-raising, scheduled for 3 PM, is open to the public and boat transportation to Terang is available. The celebration of David Dean O'Keefe's legacy will be continued during the events of the Homecoming Day on Saturday, June 21
Images of the flag raised in 2014:
https://www.facebook.com/101225319960262/photos/pb.101225319960262.-2207520000.1405340305./658871414195647/?type=3&theater
https://sailing-helena.blogspot.com/2014_11_01_archive.html where you can see the Flag raising by Captain O'Keefe's great granddaughter Victorine Heuvelman

Olivier Touzeau, 27 October 2020