This page is part of © FOTW Flags Of The World website
Avellaneda (Municipality, Castilla y León, Spain)
Last modified: 2017-01-08 by ivan sache
Keywords: avellaneda |
Links: FOTW homepage | search | disclaimer and copyright | write us | mirrors

---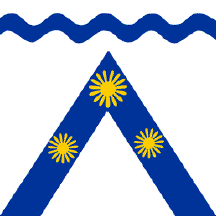 Flag of Avellaneda - Image by Ricardo Gil Turrión, 12 December 2016
---
See also:
---
The municipality of Avellaneda (19 inhabitants in 2015; 1,023 ha) is located 75 km south-west of Ávila. Located at 1,350 m above sea level, the village experienced a dramatic loss of population along the 20th century; it still counted 465 inhabitants in 1920, 269 in 1970, and 101 in 1981.
Avellaneda might be connected with the enigmatic Alonso Fernández de Avellaneda, author of the apocryphal second part of Don Quixote, published in 1614 in Tarragona as Segundo tomo del ingenioso hidalgo don Quijote de la Mancha, and better known as Quijote de Avellaneda.
Published nine years after Don Quixote, the apocryphal book might have been the stimulus for the writing of the second part of Cervantes' work, which was published one year later, including bitter critic of the apocryphal work.
The genuine identity of Alonso Fernández de Avellaneda is still a matter of discussion. The mainstream theories, however, consider this author's name as the pseudonym taken by Gerónimo de Passamonte (1553-1605), a writer who, like Cervantes, fought in the Battle of Lepanto (and was portrayed in the first part of Don Quixote under the name of Ginés de Pasamonte). Members of Lope de Vega's circle might also have been involved in the writing.
The direct connection between Alonso Fernández de Avellaneda and the village of Avellaneda was substantiated In 1967 by a noted local historian, Arsenio Guti&eacute:rrez Palacios. He provided evidence that the priest who served the parish of Avellaneda from 1597 to 1616 was named Alonso Fernández de Zapata. The journalist Francisco López Hernández, complaining that the village of Avellaneda had been totally excluded from the official celebrations of the 400th anniversary of the publication of Don Quixote, pointed out that only a familiar of the Province of Ávila could have known some precise details included in the apocryphal book. The Avellaneda hypothesis appears to have gained in credibility; Castalia's edition of the apocryphal Don Quixote mentions it, supported by a detailed study by Pr Gómez Canseco.
[Diario de Ávila, 9 November 2009]
Ivan Sache, 12 December 2016
---
The flag and arms of Avellaneda are prescribed by an Agreement adopted on 15 December 2014 by the Municipal Council, signed on 17 February 2015 by the Mayor and published on 22 April 2015 in the official gazette of Castilla y León, No. 76, p. 28,790 (text).
The symbols, which are supported by a memoir written by Ricardo Gil Turrión, are described as follows:
Flag: Quadrangular flag, in proportions 1:1. White with a blue chevron standing on the flag's lower edge, in width 1/5 of the flag's width, charged with three 15-petalled yellow flowers placed one and two, and with a blue fess wavy with five crests, in width 1/10 of the flag's width, its median point being located 1/10 from the flag's upper edge.
Coat of arms: Spanish shield rounded-off in base. Argent a chevron azure pointing upwards in width 1/5 of the shield's width charged with three flowers or each with 15 petals placed one and two ensigned with a fess wavy azure in base a walnut azure in pale. The shield surmounted by a Spanish Royal crown closed.
The chevron symbolizes a mountain and the geographical location of the village. The chevron was selected as the most schematic representation of mountain, as opposed to more figurative ones, for the sake of simplicity and harmony of the design. Azure was selected as the complementary colour of or, the issue being to limit the number of colours used in the design, for the sake of cost reduction.
The three yellow flowers represent the three boroughs (Upper, Middle, and Lower) that forms the village. The flower is a schematic representation, with 15 petals - an heraldic innovation - representation of an endemic species of the Sierra de Gredos, Senecio coincyi*. Accordingly, the shield features a mountain harbouring emblematic flowers, displayed in the most elegant manner.
The waves representing the Avellaneda ravine are placed in chief, which is unusual in heraldry. indicating that water flows down from the highest mountains.
The walnut (avellaneda) makes the arms canting. Its traditional heraldic representation was used, azure, for the same reasons as for the chevron.
The field of the shield is argent, symbolizing snow that covers the mountains every winter.
The Royal Crown follows the model recently adopted by Felipe VI.
[Designer's Facebook post, 5 September 2014]
*Identified in 1890 by the French botanist Georges Rouy (1851-1924) from samples collected by Auguste-Henri Cornut de la Fontaine de Coincy (1837-1903) in the Hoyocasero pinewood, Senecio coincyi Rouy has been listed since 2007 as "in danger of extinction" in the Record of the Protected Flora in Castilla y León (data). No longer found in Hoyocasero, the plant has its distribution limited to 13-14 population nuclei scattered over the Sierra de Gredos and the Sierra de Villafranca (municipalities of Avellaneda, Santiago del Collado, Piedrahíta, Navalperal de Tormes, San Juan de Gredos, San Martín de la Vega del Alberche, Navarredonda de Gredos, San Martín del Pimpollar, Piedralaves, and El Tiemblo, all located in the Province of Ávila.
A conservation project funded by the Government of Castilla y León and led by scientists from the Universities of Salamanca and Madrid allowed the reintroduction of 200 plants on the discovery's sits. Protection of other endangered populations has been increased, while other sites are prospected for potential reintroduction.
[Press release]
Ivan Sache, 12 December 2016