This page is part of © FOTW Flags Of The World website
Krupp Shipping and Logistics (Germany)
Krupp Schiffahrt und Spedition
Last modified: 2019-07-10 by

klaus-michael schneider
Keywords: krupp | krupp spedition and rhederei | krupp seeschiffahrt | krupp binnenschiffahrt | neu seeschiffahrt | triband | rings(3) | intertwined | saltire | disc |
Links: FOTW homepage | search | disclaimer and copyright | write us | mirrors

---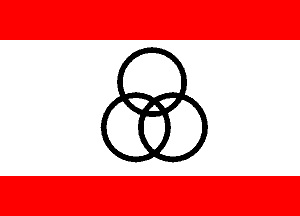 image by Jarig Bakker, 21 Jan 2005 See also:
---
Krupp, Essen
The renowned Krupp steel factory is already represented and the predecessor, already painted by António Martins-Tuválkin (message of 18 Feb 2007, 'Houseflags in 12 postcards (12th part)') will no doubt join it: black with white saltire and in centre red disk bearing white initials 'FK' i.e. Friedrich Krupp.
The red-white-red flag illustrated - from a 1926 source - was its successor and may have been made in ca. 1:5:1 proportions but the post-WW2 flag rather had 1:2:1. The source just had to be a German eBay offer again: no. 150184249706 (end 25 Nov 2007) put up by "seil65". Interestingly, this flag is said to have served on push boat HERKULES VI for photo-ops; dimensions given as 115 cm x 185 cm. According to "seil65" - "Krupp Binnenreederei" at Duisburg was taken over by Imperial Reederei in 2002 whereas I was convinced this had already happened in 1999, and by Haniel.
Be that as it may, essential information on the three rings is found here, relevant quote: "Since 1875 three rings have been the worldwide symbol of products made by Krupp and serve at the same time as a reminder of the seamless forged and rolled railway tires invented by Krupp and patented in Prussia in 1853." More details are given on this page; the tiny illustration is clickable. At one time there existed a variant with differently coloured stripes
Jan Mertens, 28 Feb 2008
F. Krupp, Essen, triband red-white-red, proportioned c. 1:5:1; on white three intertwined black circles. This is of course the big steel firm.
Image after Brown's Flags and Funnels of British and Foreign Steamship Companies, compiled by F.J.N. Wedge, Glasgow, 1926 [wed26]
Jarig Bakker, 21 Jan 2005
The earliest flag known is the quartered black and white version shown by António Martins-Tuválkin as "Krupp earlier flag" being shown by Lloyds 1882 who give it as being for F. Krupp of London and Essen. Their version does show a larger oval [see image 1 below] which I would think to be more likely than the smaller oval shown by Griffin which appears in their 1883 and 1895 editions [I have not come across an 1891 edition but the references of No. 543 on P21 equate to the 1895 edition which is given as being the 3rd edition with a supplementary index of 175 additional flags suggesting that it may well be a reprint plus additions of 1891].
The Reed 1891 edition also shows the quartered flag although it has the initials reversed as "KF" instead of "FK" and lists it under Krupp Bros. An error I would imagine.
The black flag with white saltire etc shown by António Martins-Tuválkin as the "Krupp earliest flag" thus becomes "the second flag" and is shown by Reed 1901. Possibly the change resulted from the change in control with Alfred Krupp dying in 1887 being succeeded by his son Friedrich Alfred. It is also shown in Lloyds 1904 and like the 1912 edition ascribes to Krupp'sche Spedition and Rhederei of Rotterdam [the showing of Rhederi in the 1912 edition is offset by Rhederei in the index]. The online Krupp histories do not have much to say about their shipping interest and they were obviously only a minor part but it seems logical they would at some stage find it more convenient to handle their own shipping and mention is made of opening up and acquiring shipping in the Netherlands. This flag is also shown by the Massary Cigarette card collection of 1930 but that is probably sourced from something like Lloyds 1912.
The red-white-red with 3 black interlocking rings shown by Jarig being sourced from Brown 1926 shows that it was well in use pre 1930. It is also shown by The Lloyd Reedereiflaggen cigarette cards of 1933 who made a lot of use of Brown 1926 [it is shown here for Friedrich Krupp A.G and K.-R., Fried. Krupp's Reederij en Transportbedrijf of Rotterdam]. After this it is not mentioned until post WW2 with Krupp Seeschiffahrt GmbH being formed c.1957 with the flag being shown by US Navy 1961and finally by Brown 1995. In 2001 Bergesen d.y. ASA took a 51% holding and in 2002 the name of Krupp Seeschiffahrt GmbH was changed to Neu Seeschiffahrt GmbH. The main part of Krupp had by then [1999] been merged in ThyssenKrupp A.G.
Neale Rosanoski, 11 Dec 2009
---
Krupp earlier flag#1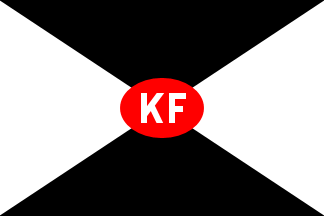 <>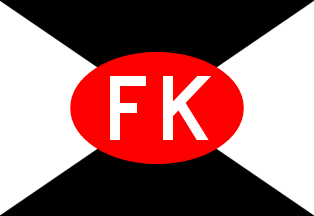 images by Eugene Ipavec, 15 Dec 2009, after images sent by Neale Rosanoski, 11 Dec 2009
---
Krupp earlier flag#2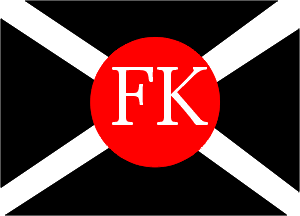 image by António Martins-Tuválkin, 18 Feb 2007

...Meaning the saltire flag, already present in the on-line 1912 Lloyds Flags & Funnels: No. 370 (three circles on funnel) 'Krupp'sche Spedition und Rheder(e) i, Rotterdam (Fried. Krupp A.G., Essen, Ruhr)' i.e. 'Krupp's Forwarding and Shipping [Company]...' where the Dutch connection implies traffic on the Rhine.
So: flag divided per saltire recorded in 1891, saltire proper in 1912 - dates of adoption not known yet.
Image after "Houseflags in 12 postcards (12th part)".
Jan Mertens, 2 Apr 2008
---
Krupp earliest flag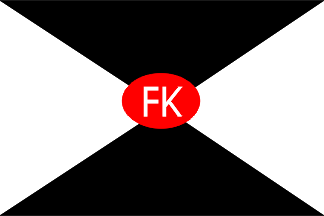 image by António Martins-Tuválkin, 1 Aug 2008 and Jan Mertens, 2 Apr 2008

There is an even earlier version in Griffin's "Flags national and mercantile" of 1891 [gfi83].
With my thanks to Ian Sumner and M. Schmöger, see no. 543 on p. 21: divided per saltire, black (upper and lower parts) and white (left and right), a small red oval in the centre bearing white initials "FK" standing for Fried[rich] Krupp, Essen.
This older (or oldest ?) version uses the German national colours of that period and shows a certain relationship to its successor (see Ant?nio's message "Houseflags in 12 postcards (12th part)" of 18 Feb 2007).
Jan Mertens, 1 Apr 2008
---
Triband reported 1926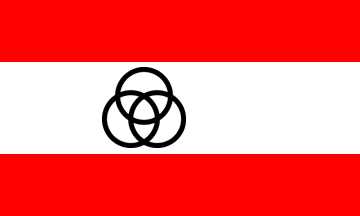 image by António Martins-Tuválkin, 1 Aug 2008

May I argue that this (as the orange variant) seems to be rather 2:3:2??
Source: photo located by Jan Mertens, 28 Feb 2008
António Martins-Tuválkin,
---
NEU Seeschiffahrt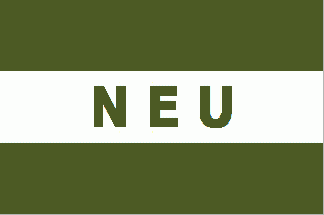 image by Klaus-Michael Schneider, 31 Mar 2009

The company is located in Hamburg. The flag is an olive green over white over olive green horizontal triband with an olive green inscription "NEU" in the middle of the white stripe.
Source: I spotted this flag at Außenalster in November 2009
Klaus-Michael Schneider, 26 May 2010
---
F. Krupp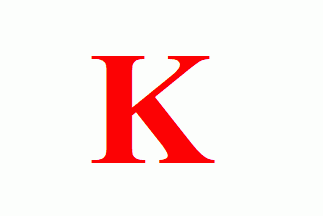 image by Klaus-Michael Schneider, 7 July 2019

The company was based in Bremen. The flag was white displaying a red serifed initial "K". (editorial note: Though Friedrich Krupp played an important role in the family in the 19th century, it is not known, whether this company is related to Krupp, Essen - kms
Source: Flaggenbuch 1905, part V, p.11, image no.8
Klaus-Michael Schneider, 7 July 2019
---
back to K-companies main page click here