This page is part of © FOTW Flags Of The World website
Masthead Ensigns of Prussian War Ships 1871-1918
S.M.S. Brandenburg and S.M.S Preussen
Last modified: 2012-10-08 by pete loeser
Keywords: s.m.s. brandenburg | s.m.s. preussen | eagle (red) | eagle (black) |
Links: FOTW homepage | search | disclaimer and copyright | write us | mirrors

---
On this page:
See also:
---
Masthead Ensigns of the S.M.S. Brandenburg and S.M.S Preussen
The flag plates in Schlawe 1913 show two flags labeled Toppflagge S.M.S. Brandenburg and Toppflagge S.M.S. Preussen. I would think Toppflagge probably translates as "masthead flag". S.M.S. was the German abbreviation for His Majesty's Ship.
The text describes these as "special flags" (besondere Flaggen) and says:
Die besonderen Toppflaggen der Schiffe "Brandenburg" und "Preussen" werden beim Flaggenschmuck an Stelle der Kriegsflagge als Toppflagge geführt. Die Flaggen sind mit Genehmigung Sr. Majestät den Schiffen von den betreffenden Provinzen gewidmet worden; sie erinnern an die ehemalige brandenburgische und preussische Flotte, die Vorläuferin der heutigen deutschen Marine.
I believe that would mean:
The special masthead flags of the ships "Brandenburg" and "Preussen [Prussia]" will are flown as masthead flags in place of the naval ensign when ships are full-dressed. The flags were bestowed on the ships of the concerned provinces by permission of His Majesty; they commemorate the former Brandenburg and Prussian fleet, the forerunner of today's German Navy.
The modern German frigate Brandenburg also flies the red eagle flag of its namesake Land according to the Brandenburg police website:
"Sponsorship (or adoption) of the Federal Navy's Type 123 frigate named Brandenburg has existed since the ship's christening in 1992 by Ingrid Stolpe, wife of the Minister-President [of Brandenburg]. The Land took up the sponsorship at the request of the Federal Ministry of Defense... A flag with the red eagle has already been presented. It will be hoisted at the yardarm in foreign ports and is therefore the first connection between the crew and the Land Brandenburg. A red eagle is also mounted on the outside of the hull. As a humorous emblem of the sponsorship, a red stuffed eagle is found on board in the chief petty officer's mess, called by the beautiful name of Manfred Breuler von Brandenburg and displayed on special occasions."
My translation may be spotty here.
Joseph McMillan, 18 December 2001
---
S.M.S. Brandenburg Ensign - Late 17th Century
Image by Mario Fabretto, source CISV archives
The flag for S.M.S. Brandenburg is white, 2:3, with an elaborate rendering of the red eagle of Brandenburg: red displayed, talons and beak gold, with the blue escutcheon with gold scepter of the archchamberlain of the Holy Roman Empire on its breast; crowned with electoral cap, scepter in right talon and sword in left.
Joseph McMillan, 18 December 2001
---
S.M.S. Preussen Ensign - 19th Century
Prussian War Ensign 1818-1867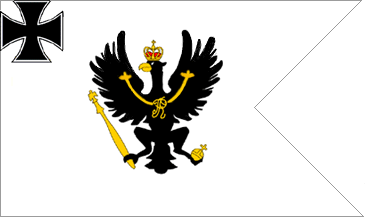 2:3 Image by Jaume Ollé
The flag for S.M.S. Preussen is also white, but with a shallow swallowtail. It has the black eagle of Prussia, 1892 model, with an Iron Cross roughly 1/3 of the hoist flush against the upper hoist edges.
Joseph McMillan, 18 December 2001
---